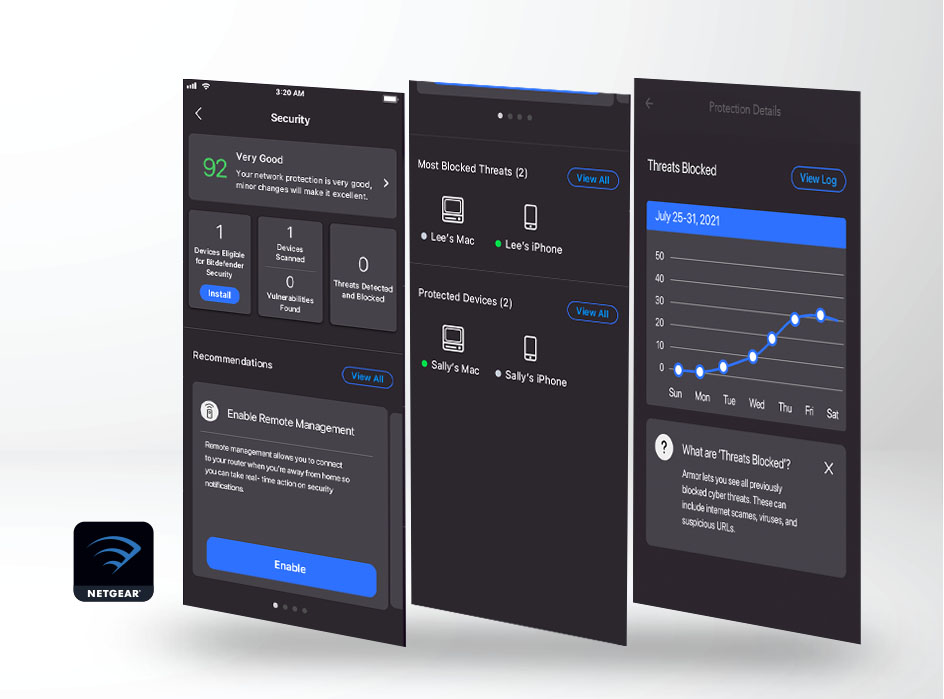 Easy Setup and Use with the Nighthawk App
With the Nighthawk app, setup takes just minutes, so you can start enjoying better WiFi sooner. You can also see your connected devices, run an internet speed test, manage your NETGEAR service subscriptions, and more from the palm of your hand.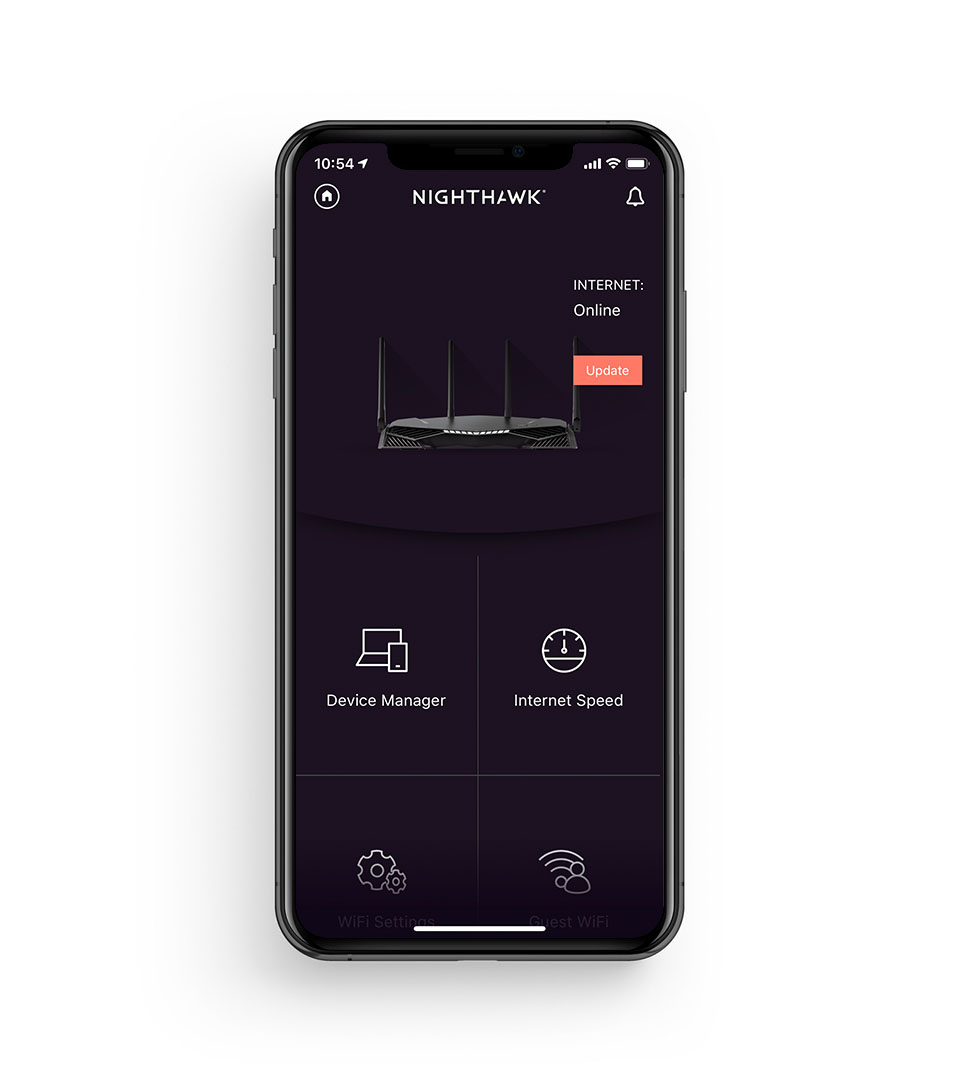 Network management just a tap away, with the Nighthawk App 
Nighthawk App makes it easy for you to install your router and get quick access to your network information. Features include:
One simple management dashboard
View the status of your network, notifications, and all the feature your router offers.
Pause Internet
Pause the Internet to any device.
Internet Speed Test
Check the broadband speeds from your service provider.
Smart Parental Controls
Easily manage content & time online with Smart Parental Controls.
And more...
Monitor your Internet traffic, update firmware, share WiFi with guests and much more.
NETGEAR Armor
NETGEAR Armor cybersecurity keeps your network and private data safe from online threats, at home and on the go. One subscription protects an unlimited number of connected devices, from phones and laptops to thermostats and security cameras.
YOUR PEACE OF MIND IS OUR PRIORITY
Much more than anti-virus and anti-malware, NETGEAR Armor creates a protective shield across all your devices at home and on the go, from PCs and phones to vulnerable smart devices.
Smart Parental Controls and Internet Filtering
Smart Parental Controls allows your family to manage all of your home's connected devices. Parents can filter online content and limit time online as well as set an Internet bedtime for every connected device in the home. Easily pause the Internet and check what kids are up to online.
Remotely manage your home network
The Nighthawk App lets you easily monitor and control your home WiFi from anywhere. You can even setup Amazon Alexa and Google Assistant voice commands for your network using the new remote management feature.
FREQUENTLY ASKED QUESTIONS
The NETGEAR Nighthawk app is a simple-to-use platform for managing all your Netgear Nighthawk devices and services. It offers a clear dashboard containing high-level information about your network overall, your Wi-Fi settings, internet speed, parental control and security settings, and more. The Nighthawk app provides convenient access to your NETGEAR router's features and allows you to manage your network from anywhere.
The Nighthawk app allows you to conveniently access all the various features of your router. For example, if you have a Nighthawk Tri-band Mesh WiFi 6 System, you can fully control it, including completely pausing your Wi-Fi and running system updates. The Nighthawk app provides access to set up and monitor smart parental control features for each device. For maximum protection of your network and devices, the Nighthawk app allows you full access and control of your Netgear Armor security settings.
Furthermore, the app allows you to monitor & control features like internet speed, guest Wi-Fi, traffic meter and more. Remote access means you can carry out all of the App's functions from anywhere you want.
You need the Nighthawk app in order to see your connected devices and access your router features, all from the palm of your hand. Alternatively, you can install and manage your NETGEAR router without using the Nighthawk app. To do so you will need to launch a web browser from a computer or mobile device that is connected to your router's network and use NETGEAR router login. However, using the Nighthawk app is the easiest way to manage your router's settings and wireless network.