Advanced cyber threat protection for your home and all your devices.
Powerful Security On Your NETGEAR Router
Protect Your Family From Cyber Threats
Unlimited devices covered*
All your personal devices and your smart home devices
Remote protection for your devices even away from home WiFi
Check out if your router supports NETGEAR Armor
Download the Nighthawk App (for Nighthawk routers) or Orbi App (for Orbi WiFi Systems) to activate NETGEAR Armor and receive real-time security updates.
A $69.99 per year subscription covers all your devices after 90 days of FREE cyber threat protection
Stay Safe Online With Advanced Security
A critical layer of online security, NETGEAR Armor actively safeguards you from cyber threats, such as ransomware, malware, botnets and more, by actively blocking known malicious sites and applications. Instant notifications warn you whenever you or someone in your family visit websites that may try to scam, infect or steal your personal information.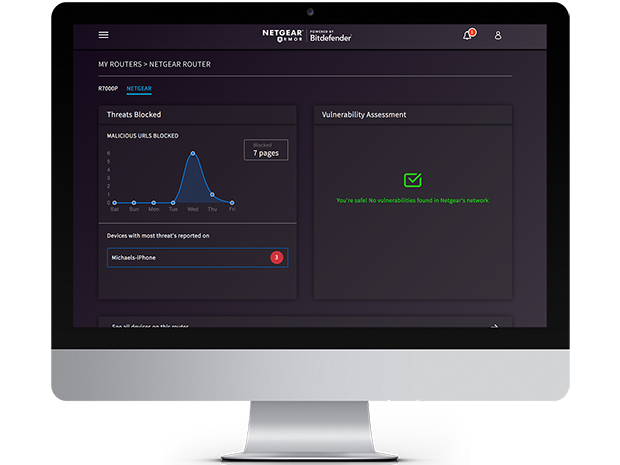 Network & Devices Vulnerability Checks
Hackers are constantly finding new ways to target devices, such as thermostats, lights, appliances, outlets and cameras that can lead to unauthorized access, data theft, or malicious attacks. NETGEAR Armor regularly scans all Internet connected devices to keep you safer from potential security vulnerabilities. Armor also checks for open ports, password strength, firmware versions, and other potential security weaknesses.

Scanning is fast and with minimal impact on your system performance, since it occurs in the cloud to maximize power and efficiency.
The More Layers Of Security The Better
Advanced cybersecurity on your WiFi router is good. Added security on your router, plus all your smartphones, tablets, and computers is even better.

NETGEAR Armor comes with award winning Bitdefender cybersecurity for all your Windows and macOS computers as well as Android and iOS devices. Take this extra security wherever you go, whether it be to your local café or on the road and knowing you have an extra layer of protection against cyber threats.

To download BITDEFENDER TOTAL SECURITY 2019, go to armor-install.com on the device you want to install local protection on.
Protection Even When Away From Home
NETGEAR Armor empowers you to eliminate vulnerabilities or simply know the status of your home network and devices, anytime, anywhere.

Get instant notifications when malicious threats are detected, block unknown devices from joining your home network or take action on vulnerabilities as they are discovered easily through the Nighthawk App.
Supported WiFi Systems and Nighthawk Routers
Coming soon to other NETGEAR routers. Stay in the know .
Industry-leading Bitdefender security to protect all Windows, MacOS, iOS and Android devices from cyber threats. With NETGEAR Armor powered by Bitdefender you have the protection that automatically blocks access to phishing or fraudulent web pages and detect suspicious web and network traffic, on the network or for your devices when away from your network.
Learn More
Our support and community always has your back
Check out our community pages for any questions you may have. Help is always just a click away.