Wi-Fi 6 - The New Standard of WiFi
CAPACITY. SPEED & RANGE. EFFICIENCY.
Improved Network Capacity for More WiFi Devices
Wi-Fi 6 (802.11ax) is designed to give you a smoother and more enjoyable wireless experience in your hyper-connected home. By opening up more available channels, supporting more simultaneous streams per user and reducing interference, Wi-Fi 6 improves network capacity and average throughput by 4 times as compared to today's Wi-Fi 5.
CAPACITY
Improved Performance for Your Smart Home
Wi-Fi 6 features evolutionary technology OFDMA, which dramatically increases network capacity. By efficient data packet bundling and scheduling, more transmissions can be sent at the same time, thereby reducing contention and the wait time between transmissions. This results in better bandwidth utilization, a substantial increase in efficiency and reduced latency, allowing for multiple IoT devices to be connected to your network without impacting the bandwidth available for data-intensive applications.
Learn More about OFDMA
SPEED & RANGE
Ultra-Fast Speeds Over Larger Areas
With up to twelve WiFi streams, increased bandwidth, and faster encoding via MU-MIMO and 1024 QAM, Wi-Fi 6 delivers far greater speeds more effectively. Wi-Fi 6 also delivers greater range than the previous generation WiFi standards. Watch Netflix by your pool or Skype from your garden office—now it's easier than ever to maintain fast, reliable connections over larger expanses.
EFFICIENCY
Benefits all Existing Devices
A Wi-Fi 6 router can provide significant efficiency improvement to your existing network and also helps existing WiFi devices have faster speed. Enjoy a better connected home experience as you stream 4K, Ultra-HD movies, download large files, and seamlessly use multiple smart devices with maximum WiFi coverage. Wi-Fi 6 (802.11ax) supports all current WiFi devices and is backwards compatible with Wi-Fi 5 and earlier generation WiFi devices.
Additional Features of Wi-Fi 6
8x8 Multi-User Mimo (MU-mimo)

Supports up to eight simultaneous streams, or the number of users that can be served at the same time. Allows more reliable audio and video playback on your smart TV, media streamer, smartphones, and other compatible devices.

Data Efficiency with 1024 QAM

Wi-Fi 6 increases throughput by up to 25 percent due to a higher quadrature amplitude modulation (QAM). Essentially, more data is transmitted per data packet.

Resource Scheduling

Wi-Fi 6 intelligently schedules the transmission of data packets—this managed approach results in fewer transmission clashes, improved resource utilization, and an impressive increase in your WiFi network efficiency.

Spatial Reuse with Color Codes

Wi-Fi 6 uses BSS coloring, which guides the decision to transmit or defer, thereby decreasing channel contention problems. The result is increased throughput per access point.

Dual-band 2.4GHz and 5GHz Technology

Concurrent dual-band operation makes Wi-Fi 6 ideal for all home connectivity requirements, from IoT sensor transmissions to high-end video streaming.

Backwards Compatibility with Previous WiFi Standards

Wi-Fi 6 supports all current WiFi devices and is backwards compatible with 802.11a/b/g/n/ac WiFi devices.
Nighthawk® Wi-Fi 6 Routers
The routers do not support all the mandatory features as ratified in Draft 3.0 of IEEE 802.11AX specification.
Introducing Mesh WiFi for the Gigabit Home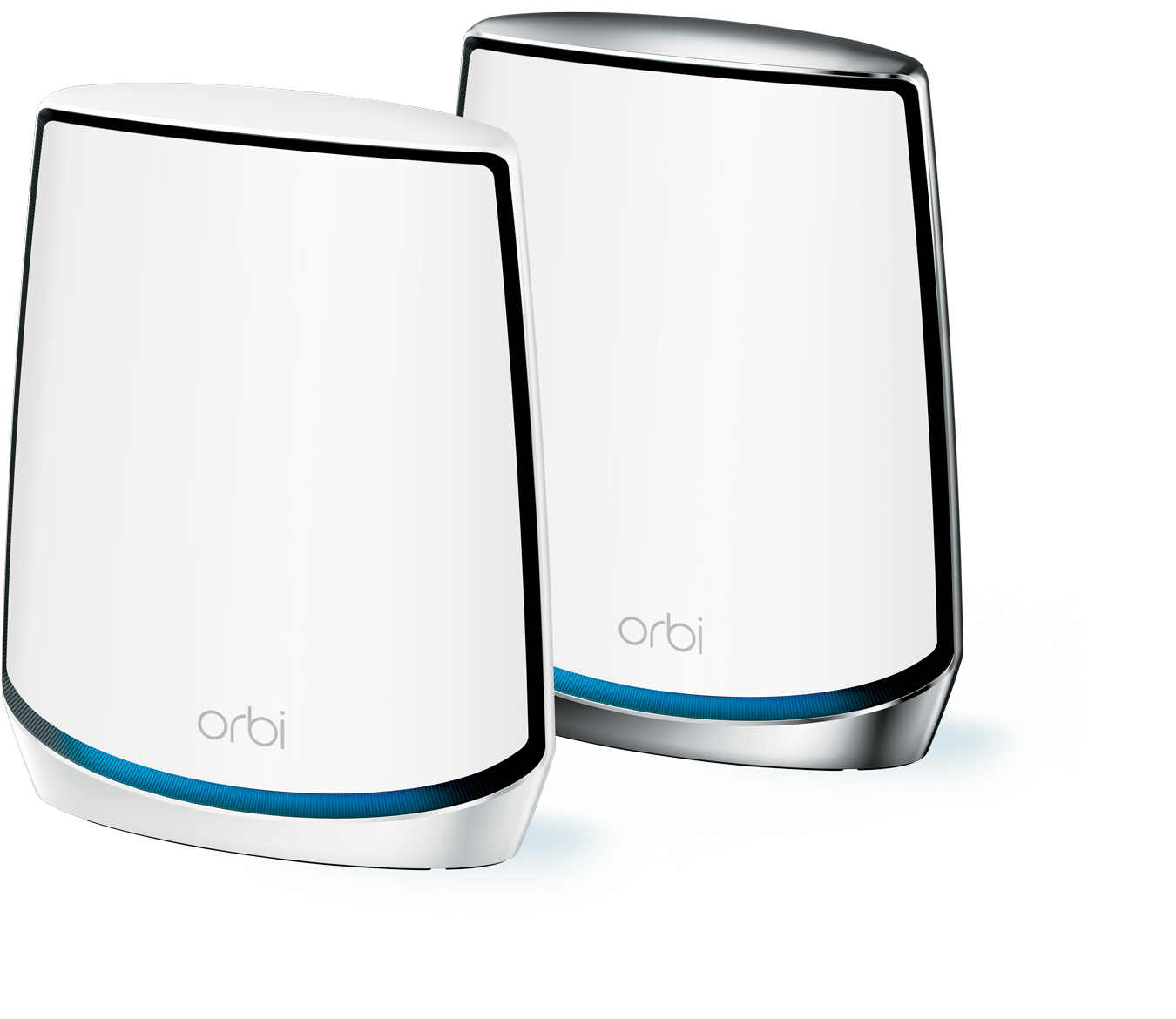 Orbi WiFi System with Wi-Fi 6 (802.11ax) Technology
Gigabit wireless speeds with 12-Streams WiFi
Tri-band with dedicated 4x4 AX backhaul
Powerful quad-core processor
COMING SOON