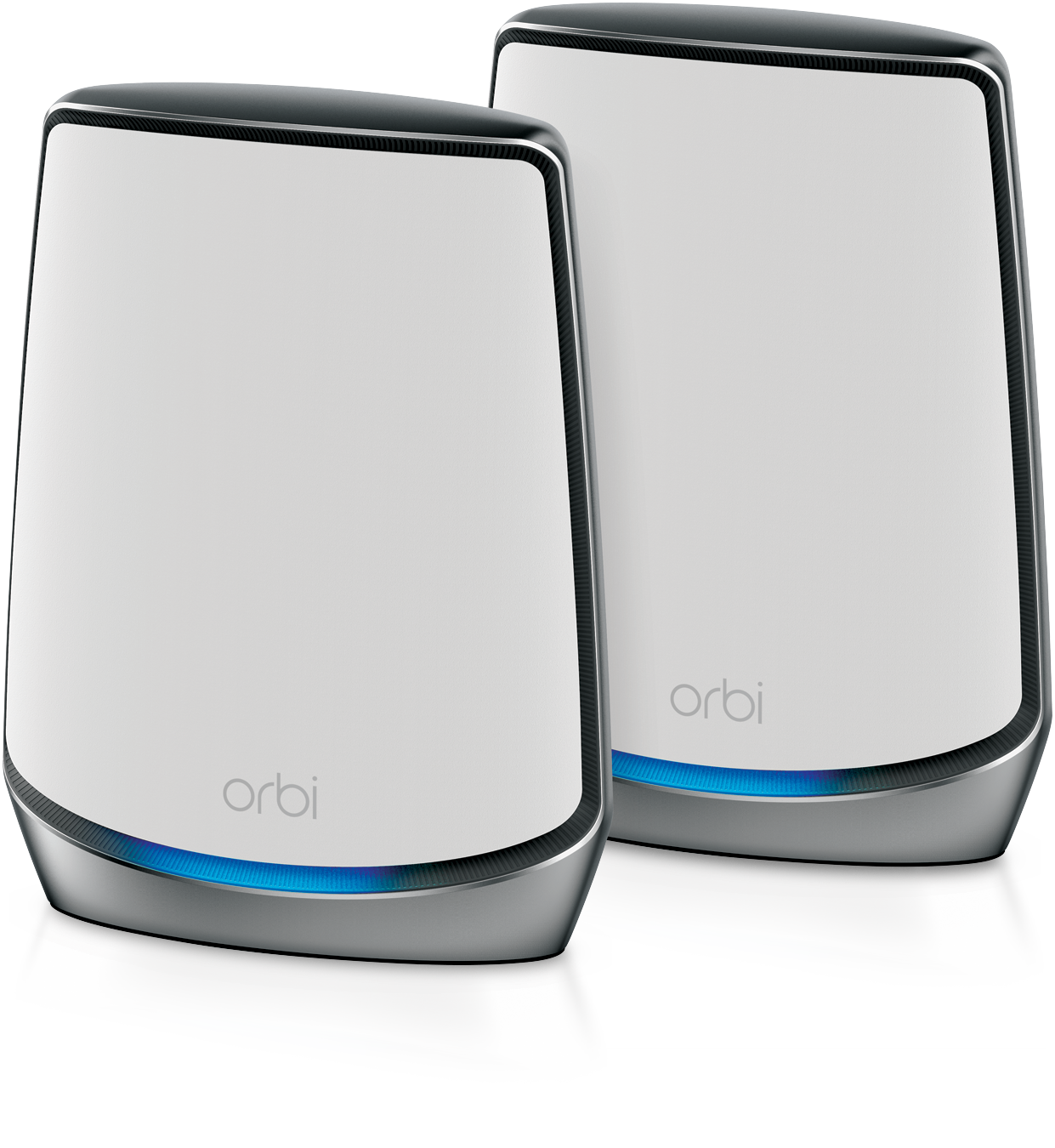 +
With WiFi this advanced, you're going to want it everywhere.
"Quite simply, [Orbi WiFi 6 is] streets ahead [of the competition] and… the fastest mesh system I've ever used. It also has the widest and highest quality coverage I've seen."
- Gordon Kelly
The best WiFi. Everywhere.
The Orbi WiFi 6 Whole Home Mesh System gives you the capacity to stream, surf, work and learn from home, and do more on your devices than ever before, all at once. Orbi ensures that all your devices are connected to great WiFi, no matter where they are in the home.
Capacity. Speed. Efficiency.
CAPACITY
Upgrade your WiFi to first class.
With Orbi WiFi 6, you get up to 4X more device capacity than WiFi 5, so you can connect and stream on all your devices without affecting speed or reliability.
SPEED
The fastest WiFi ever.
Orbi WiFi 6 handles traffic better, so you can stream in ultra-HD 4K without being slowed down by your smart lightbulbs, speakers, or baby monitor. It's like driving on a sixteen-lane superhighway instead of a congested four-lane highway.
EFFICIENCY
Give those batteries a breather.
Nobody likes charging their batteries any more than they need to. Orbi WiFi 6 improves your network's efficiency by up to 40 percent, allowing you to save battery across all your WiFi 6 devices.
WiFi for the latest smart devices.
Your newest smartphones and laptops are likely compatible with WiFi 6. By upgrading to WiFi 6, you can connect your smart devices to the best WiFi available to take advantage of the highest performance and the fastest speeds.
Connect to WiFi with peace of mind
NETGEAR Armor is a cybersecurity solution that protects your network and keeps your private data safe, both at home and on the go. Protect an unlimited number of devices, including smartphones, laptops, smart TVs, and even security cameras and smart thermometers, from threats before they strike. Select NETGEAR WiFi solutions come with NETGEAR Armor built-in so you can stream, game, video call, and more with complete peace of mind. Learn more about NETGEAR Armor here.
Never Worry About WiFi Again.
More speed. More coverage. Orbi WiFi 6 uses NETGEAR's patented tri-band mesh technology with a dedicated backhaul to provide the ultimate smart home experience with seamless roaming.
Better on mobile.
With the NETGEAR Orbi app, you can install your mesh system in a few steps – just connect your mobile device to the router network and the app will walk you through the rest. When you're set up, you can use the dashboard to pause internet on your connected devices, run an internet speed test, set up Smart Parental Controls, and much more.
is a big deal.
6 is up to 12 streams… at once.
6 is 4X more capacity.
6 is a 40% increase in data throughput.
6 is a longer battery life for your devices.
6 is a proper home for all smart devices.
6 is a welcome mat to 8k streaming.
6 is 100% backwards compatible.
6 is the biggest revolution in WiFi, ever.
When it comes to WiFi, NETGEAR has been an industry leader for over 20 years. We pride ourselves on providing the most innovative, reliable, and cutting-edge networking solutions possible. Rest assured that NETGEAR's suite of WiFi 6 solutions gives you access to the most advanced WiFi out there.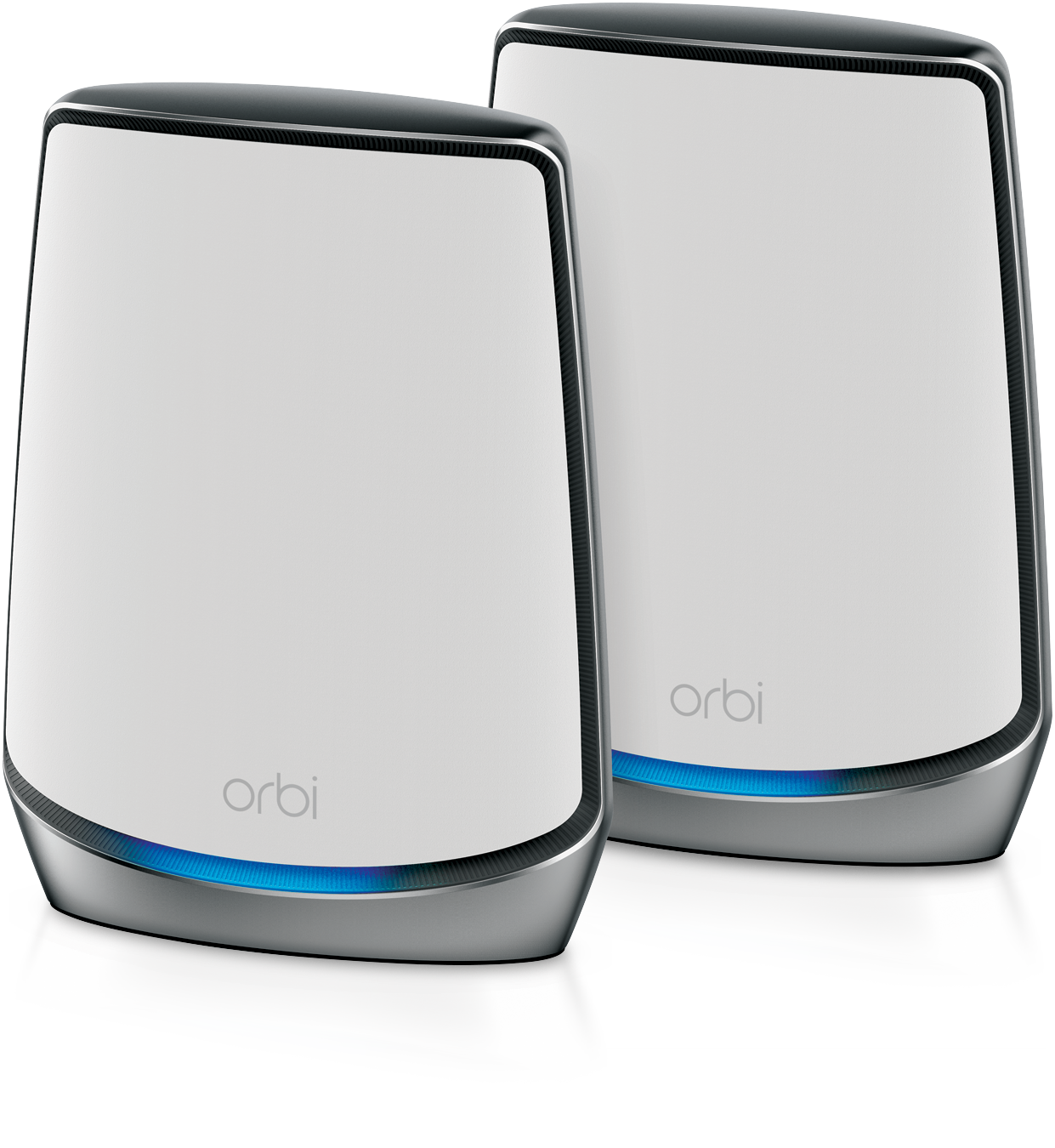 RBK852: Orbi™ WiFi 6 AX6000 Mesh WiFi System (2-pack)
Add to Cart
learn more ›
Whole home mesh WiFi System covers up to 5,000 sq. ft.
Powerful WiFi 6 (11 AX) Mesh Technology
4X increased capacity compared to WiFi 5 (11 AC)
More bandwidth for more connections
Multi-Gig internet speeds (2.5G Ethernet port or link aggregation)
Easy to set up and use with the Orbi app
RBK853: Orbi™ WiFi 6 AX6000 Mesh WiFi System (3-pack)
Add to Cart
learn more ›
Covers up to 7,500 sq. ft.
4X increased network capacity for more devices
More bandwidth for more connections
Multi-Gig internet speeds
Easy to set up and manage with the Orbi app
RBK854 : Orbi™ WiFi 6 AX6000 Mesh WiFi System (4-pack)
Add to Cart
learn more ›
Covers up to 10,000 sq. ft
4X increased network capacity for more devices
More bandwidth for more connections
Multi-Gig internet speeds
Easy to set up and manage with the Orbi app
RBK752 : Orbi™ WiFi 6 AX4200 Mesh WiFi System (2-pack)
Add to Cart
learn more ›
Covers up to 5,000 sq. ft
4X increased network capacity for more devices
Seamless and consistent Mesh WiFi Coverage
Maximizes internet speeds to every connected device
Easy to set up and manage with the Orbi app
RBK753 : Orbi™ WiFi 6 AX4200 Mesh WiFi System (3-pack)
Add to Cart
learn more ›
Covers up to 7,500 sq. ft
4X increased network capacity for more devices
Seamless and consistent Mesh WiFi Coverage
Maximizes internet speeds to every connected device
Easy to set up and manage with the Orbi app
RBK754 : Orbi™ WiFi 6 AX4200 Mesh WiFi System (4-pack)
Add to Cart
learn more ›
Covers up to 10,000 sq. ft
4X increased network capacity for more devices
Seamless and consistent Mesh WiFi Coverage
Maximizes internet speeds to every connected device
Easy to set up and manage with the Orbi app