---
Enjoy 93% lower ping and eliminate lag
Maximize every millisecond by adding NETGEAR Game Booster to your Orbi System. Reduce ping by up to 93%* with Game Booster's custom Geo-Filter and Ping Heatmap. Block laggy servers and make sure you always have the best possible connections for your favorite games.
NETGEAR Game Booster is a paid subscription ($49.99 annually) and is only available on specific Orbi products.†
Create a fast lane for gaming
Network Priority
NETGEAR Game Booster unlocks incredible performance with easy-to-use Network Priority tools that allow you to quickly and easily eliminate lag, allocate bandwidth by traffic type, and prioritize devices and apps so you never sacrifice quality gameplay again.
Minimize ping by connecting to faster servers near you
Ping Heatmap and Geo-Filter
Are you sure you're accessing the best server every time? Quickplay usually puts you in the first open server available, but often that connection can be less than desirable. You'll always connect to the lowest-ping servers available with these powerful features working together.
Ping Heatmap: View and analyze ping for servers from your preferred games, create a ping schedule for them, and see servers' historical data to better strategize your picks.
Geo-Filter: Dramatically reduce lag by putting servers under your control. Choose servers based on distance and ping rate in Geo-Filter or Geo-Fencing mode. Save the best-performing servers and block undesirable ones.
Block ads at the router level
Adblocker
NETGEAR Game Booster offers the revolutionary ability to control ads and web tracking at the router level when enjoying online content.
Adblocker: Automatically block all ads and web tracking on websites and any connected (non-browser-based) device. Block specific content with personalized allow and block lists. Also prevent the tracking of your family's online behavior.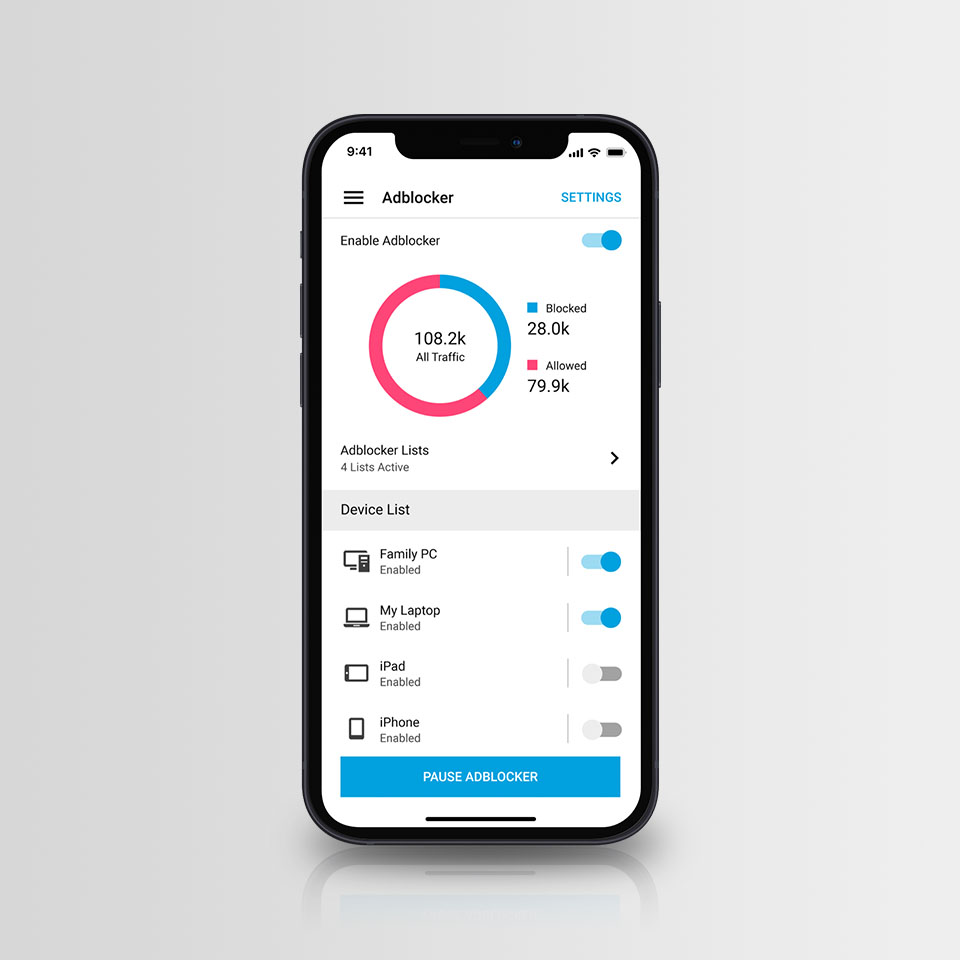 Frequently Asked Questions
Footnotes:
* Using Dumas OS software reduces ping rate by up to 93%, from 275ms to 64ms vs non congestion 49ms ping rate, when all QoS features (Congestion Control, bandwidth allocation, and traffic prioritization) are enabled on the XR1000 and PS4, Testing was performed using 100Mbps down/20Mbps up internet connection with multiple devices consuming the 100Mbps connection. Tested with significant congestion on network, including Call of Duty" Black Ops 4, BitTorrent downloading, and HD video streaming. (The actual performance may vary as a result of Internet connection and environmental factor)
†Orbi 750, 850 series