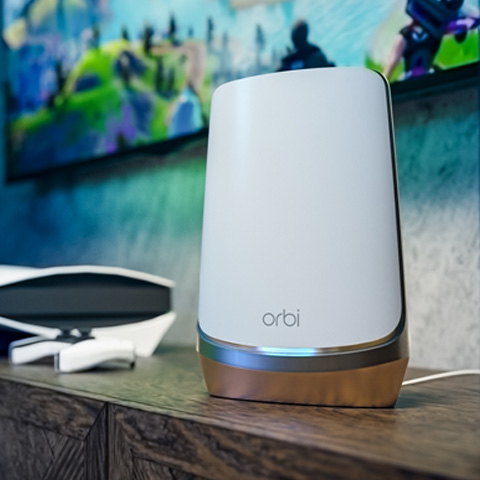 ---
Take your gameplay to the next level with NETGEAR Game Booster. Eliminate lag, take control of your servers, and find your competitive edge with the all-new service coming soon to Orbi.
NETGEAR Game Booster is a paid subscription. Pricing details to follow closer to launch of the service. NETGEAR Game Booster is only available on specific Orbi products.†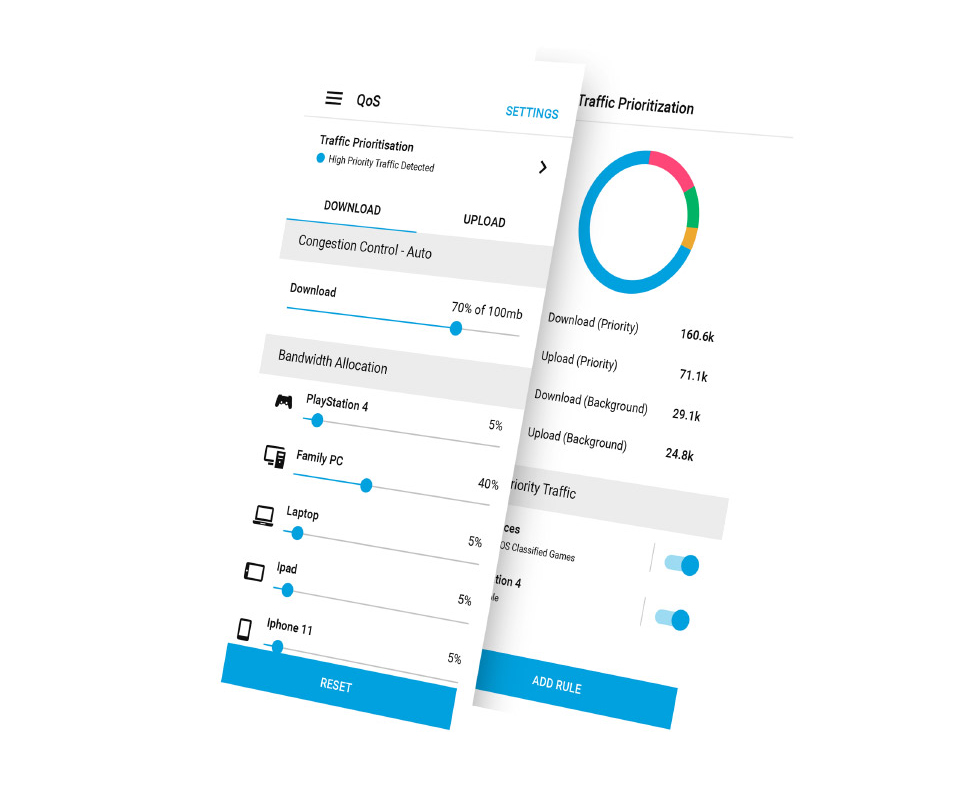 Create a Fast Lane for Gaming
Smooth gameplay and sharp graphics require a reliable connection with low latency. Prioritize bandwidth for your favorite games and apps without slowing anyone else down.
Jump to Hyper Speed
Take your gaming to the front of the line and make sure nothing in your network slows you down. Put gaming devices first in line for connecting to the internet or shift to your laptop for solid connection for online meetings while working from home.
Mix and Match Network Priorities
Share bandwidth across all your network traffic types to get the perfect mix for your home. Allocate your bandwidth by genre: VoIP, media sharing, gaming, and more. Create, mix, and match your network priorities on the fly.
Unlock Unmatched Power
Optimize gameplay by putting the servers under your control. Block laggy matches on questionable servers to ensure you always get the smoothest gameplay possible.
No Bad Servers, More Great Games
Avoid lag-heavy matchups by keeping games close to home. Intuitively draw your own filters to control where you play and say goodbye to games with players lagging half a world away.
The Best Ping, Anytime
Ping Heatmap helps you discover the servers that give you the edge on your favorite game, no matter when you play. Find the lowest-ping servers and never worry about latency and lag again.
Interruption-Free Internet
Block ads on every device connected to your router, including smart TVs, gaming consoles, mobile apps, and more. Stop giving bandwidth to ads and enjoy a smoother, faster connection.
Block Unwanted Content
Keep your devices safe from ads, tracking, and malicious content with constantly-improving blocklists to keep you out of harm's way.
Personalized Protection
Easily block specific content in your home by adding your own personal allow and block lists. You control your content.
Try it First
Save your spot to access Game Booster on your Orbi system before anyone else
Frequently Asked Questions
Footnotes:
† Sign up is for participation in the Early Access Program for NETGEAR Game Booster Service. Signing up for the Early Access Program places the user in a queue for an invitation to participate. Access is first come, first served and not all users may gain access to the service based on hardware requirements and userbase size. NETGEAR Game Booster is only available on specific Orbi Routers and not having the specified Router will negate access to the Early Access Program. Once accepted, information on how to access the service will be sent out to all invited participants.
* Using Dumas OS software reduces ping rate by up to 93%, from 275ms to 64ms vs non congestion 49ms ping rate, when all QoS features (Congestion Control, bandwidth allocation, and traffic prioritization) are enabled on the XR1000 and PS4, Testing was performed using 100Mbps down/20Mbps up internet connection with multiple devices consuming the 100Mbps connection. Tested with significant congestion on network, including Call of Duty" Black Ops 4, BitTorrent downloading, and HD video streaming. (The actual performance may vary as a result of Internet connection and environmental factor).