Bring the Marvel Universe home
Marvel and Meural have teamed up to bring unique artwork and imagery to your home that pays tribute to the iconic superheroes of the Marvel Universe. Choose content from collections charting the evolution of beloved characters such as Spiderman, showcasing classic and renowned comic-book covers, and celebrating renowned artists from across Marvel's history.
Marvel Studios Movie Posters
Since 2008, legions of Marvel fans—both old and new—have enjoyed the live-action exploits of their favorite Marvel Super Heroes. This collection presents the original posters for ten pivotal movies from Marvel Studios—thrilling, action-packed films that allow audiences across the globe to journey into the cosmic depths of the mighty Marvel Cinematic Universe!
Spider-Man: Across the Ages
Since his first appearance in 1962, Spider-Man has leapt (and wall-crawled) through many adventures, and a number of renowned comic artists have contributed to the character's evolution. This collection showcases the work of some of the most celebrated artists to ink Spidey over the last 50+ years, including John Romita Sr., Steve Ditko and Mark Bagley.
The Age of Marvels
The skies are full of the Marvel Universe's heroes, ready to battle the villains who threaten their world. Yet living in the shadow of these extraordinary icons are ordinary men and women who view the "Marvels" with a mixture of fear, disbelief, envy and admiration. "Marvels", a four-issue limited series comic book published in 1994, explored ordinary life in a world full of superhumans, and was written from the perspective of fictional news photographer Phil Sheldon. Creators' Kurt Busiek and Alex Ross' realistic portrayal of the Marvel Universe won the industry's highest honors, with three Eisner Awards in 1994. This collection showcases Alex Ross' stunning, highly original and award-winning artwork from the series.
Art for everyone
No two people are alike, and neither is your taste in art. Meural Canvas unlocks the ability to access 30,000+ artworks - even your own photography - and display what's distinctly you. Choose from specially curated Marvel content and showcase the many facets of your personality from a single frame.
Learn More
Meural Members enjoy priority access and save 50% on unique Marvel images and playlists.
Non-members can purchase playlists for $29.95 and individual artwork for $3.95.
The WiFi Photo Frame
A crystal-clear 15.6" full HD display with a premium wood grain trim.
Starting at $299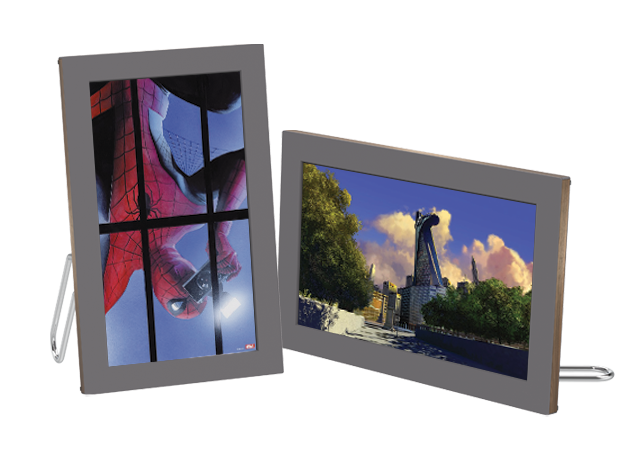 The Canvas II
Now available in two sizes and four colors with a sleek, modern frame design.
Starting at $399