AXE11000 WiFi Router (RBRE960)
Orbi 960 Series Quad-Band WiFi 6E Router, 10.8Gbps
AXE11000 WiFi Router (RBRE960)
Orbi 960 Series Quad-Band WiFi 6E Router, 10.8Gbps
The ultimate 10 Gig WiFi 6E Router with speeds up to 10.8Gbps and coverage up to 200 sq. m.
WiFi 6E opens up a new 6GHz band, delivering dedicated top speeds to the latest WiFi 6E-ready laptops, phones, & tablets
10 Gig internet port unleashes the fastest download speeds of today & tomorrow. Connect to the latest cable or fiber Internet service up to 10Gbps
Patented antenna design boosts WiFi coverage & delivers high-performance WiFi across your entire home
Expand WiFi coverage with a push of a button by adding an Orbi 960 satellite (sold separately) and leverage your WiFi investment for years to come
NETGEAR Armor™ software protects your WiFi with a shield of security across your PC, phone, camera, TV, Echo, etc.
Compatible with any Internet Service Provider
NEW
ORBI 960 Series Router
6GHz BAND
for lightning-fast speed
INTERNET PORT
for fastest internet speeds
EXPANDABLE COVERAGE
with each Orbi 960 satellite
up to 200 sq. m.
WiFi coverage
up to 10.8Gbps
maximum WiFi speed
up to 200
concurrent devices
WIFI 6E,
THE FASTEST
WIFI EVER.
Orbi adds a new 6GHz WiFi 6E
band — a superhighway for today's
new WiFi 6E devices, providing the
fastest speed and the greatest device
capacity.
SMOOTHEST
STREAMING EVER.
ON ALL SCREENS,
ALL AT ONCE.
16 simultaneous WiFi streams deliver instant, uninterrupted video everywhere in your house at the same time.
WIRED CONNECTIONS.

FASTER THAN EVER.
BIGGER MEANS BETTER
Orbi's tall elegant shape is no coincidence. Under the hood of an award-winning design, our patented antenna array ensures superior WiFi coverage across your entire property.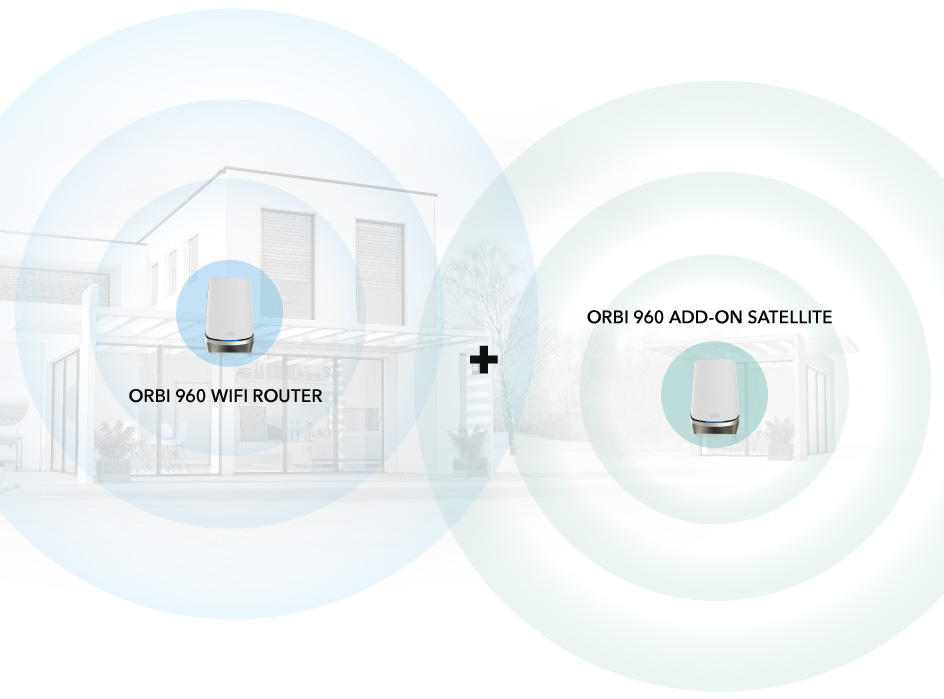 WIFI THAT GROWS WITH YOU
Expand WiFi Coverage by 200 sq. m. with each additional satellite
ORBI QUAD-BAND
Turbocharged WiFi Performance
Exclusive Quad-Band technology with a Dedicated Backhaul "express lane" for WiFi to travel directly between router and satellites means you get maximum, unimpeded whole-home WiFi speed that stays fast even with hundreds of devices connected​

ESSENTIAL ALL-IN-ONE INTERNET SECURITY
You wouldn't leave your door unlocked at night. Treat your WiFi with the same level of security. NETGEAR Armor keeps your family and your connected devices safe with an automatic shield of protection for your network to stop hackers, password thieves, ransomware, and brute force attacks.
REST EASY, KNOWING YOU'RE COVERED
NETGEAR ProSupport extends coverage beyond our standard 90-day tech support and limited 1-year warranty, giving you VIP coverage for any and every possible scenario
CONNECTED KIDS ARE PROTECTED TOO
Easily manage kids' time and accessibility online across all connected devices using Smart Parental Control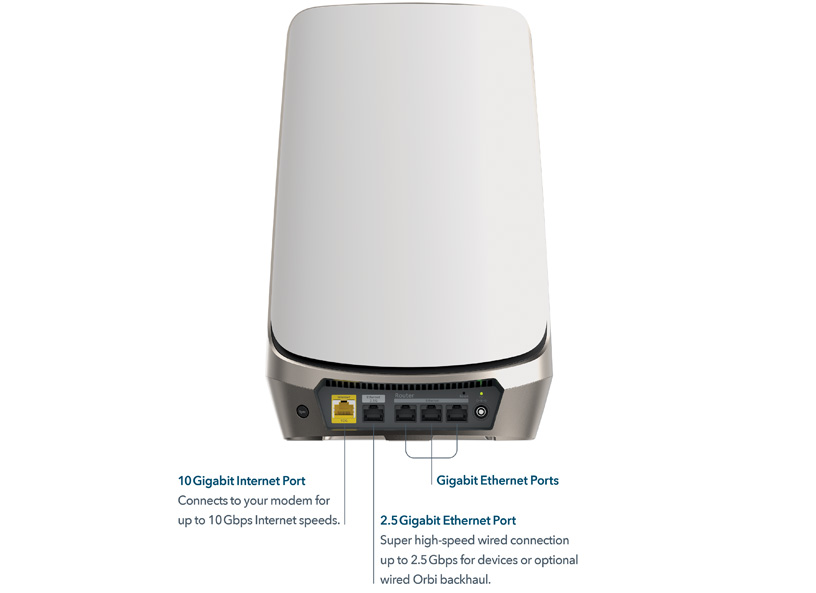 Dimensions: 11in x 7.5in x 3.3in each
Weight: 3.0lb each
WiFi Coverage :

200 sq. m.

Antennas :

Twelve (12) high-performance internal antennas with high-power amplifiers

Beamforming :

Implicit & Explicit Beamforming for 2.4GHz, 5GHz & 6GHz bands MU-MIMO capable for simultaneous data streaming to multiple devices

Processor :

Powerful Quad-Core 2.2GHz processor

AXE11000 Quad-Band WiFi :

Orbi AXE11000 Router (1200 + 2400 + 2400 + 4800Mbps)†

Router Ports :

One (1) 10Gbps Multi-Gigbit Ethernet WAN port
One (1) 2.5Gbps Multi-Gigabit Ethernet LAN port
Three (3) 10/100/1000Mbps Gigabit Ethernet LAN ports

Memory :

512MB NAND Flash and 1GB RAM

Security :

NETGEAR Armor Internet security Powered by Bitdefender® for your home with automatic protection, updates, & alerts that monitors and helps safeguard all connected devices from hackers and data theft
Standards-based WiFi Security (802.11i, 128-bit AES encryption with PSK).
Supports WPA3, the latest and cutting-edge WiFi security protocol.
Guest WiFi Network is easy to setup separate & secure Internet access for guests

NETGEAR Smart Parental Controls™: Easily manage your kids' time online across their connected devices. Learn more at www.netgear.com/spc

Works with Amazon Alexa and the Google Assistant :

Yes
This product is backed by a NETGEAR limited 2-year Hardware Warranty

Find troubleshooting tips to diagnose product issues in our knowledge base

Extend your warranty & technical support within 90 days of product purchase [US only].
One (1) Orbi Router (RBRE960)
One (1) 2m Ethernet cable
One (1) Power adapter
Quick start guide
Footnotes:
† Maximum wireless signal rate derived from IEEE 802.11specifications. Actual data throughput and wireless coverage will vary and be lowered by network and environmental conditions, including network traffic volume, device limitations, and building construction. NETGEAR makes no representations or warranties about this product's compatibility with future standards. Up to 10.8Gbps wireless speeds achieved when connecting to other 802.11ax 10.8Gbps devices.
†† Gigabit service plans & compatible cable modem required for gigabit or multi-gig internet speeds.
1 NETGEAR Armor™ is free during the trial period. A yearly subscription, after the trial period, protects your connected devices. Visit www.netgear.com/armor
3 6GHz band is limited to indoor range. Clients must support 6GHz band (WiFi 6E).