NETGEAR INTRODUCES NIGHTHAWK SWITCH FOR ULTRA-SMOOTH VR GAMING AND HD MEDIA STREAMING
One-click optimized settings enable easy offloading of high-bandwidth applications from your home WiFi network to ensure best performance and high quality voice and video IP calls
LAS VEGAS — January 4, 2017 — NETGEAR®, Inc. (NASDAQ: NTGR), the leading provider of networking devices that power today's smart home,is launching a versatile, high performance, easily configurable, Layer 2 switch for expert gaming and HD media streaming.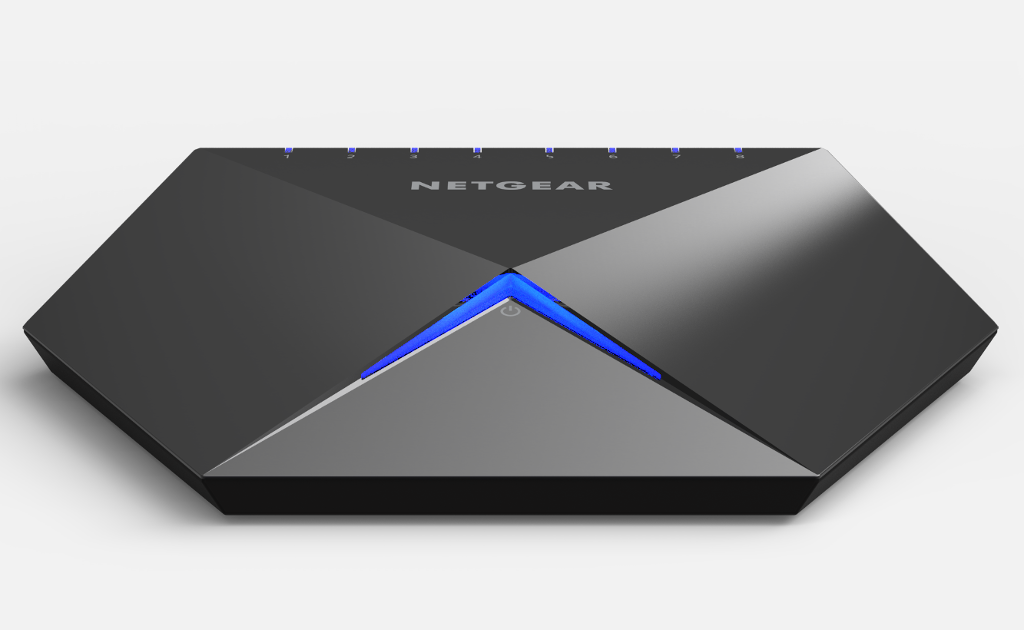 The Nighthawk S8000 8-port Gaming and Media Switch (GS808E) offers the industry's first consumer-friendlyadvanced switching technology packaged in a sleek, modern design that you'll be proud to display in your home. An ideal addition to your network,connectingyour Playstation®, Xbox®, Wii®, and other gaming consoles, it will be showcased this week in the NETGEAR suite at the CES® trade show.
The Nighthawk S8000 8-port Gigabit Ethernet Switch extends the speed and performance of the NETGEAR Nighthawk family of WiFi routers, already the fastest on the market. It provides your wired deviceswith ultra-smooth gaming and streaming soyou can host a multi-user gaming party, video chat in HD with friends, surf the internet at blazing speeds, or stream HD content from the internet or your own local storage — without competing for bandwidth on your wireless network.
"With the Nighthawk S8000 Gaming and Media Switch,NETGEAR is tacklingthe problem of overloaded wireless networks head-on. 4K video streaming, VR gaming and non-stop high-speed web surfing throughout the home are putting a severe burden on home networks that are struggling to provide reliable, lag-free connections," said Richard Jonker, vice president of SMB and Switching Product Line Management for NETGEAR. "Beyond its sleek and stylish good looks, the Nighthawk S8000 Switch offers ultra-smooth, ultimate performance switching with a highly intuitive user interface that makes setup, advanced configuration, and optimization all stress-free."
Each Gigabit Ethernet port on the Nighthawk S8000 Switchcan be configured differently, bringing complete versatility to users, and these settings can be defined and saved on the switch, and accessed from the web-based GUI. Pre-configured settings automatically configure ports for gaming, media streaming, or as a standard LAN port for seamless surfing, VoIP or video calls. In addition, link aggregation (LAG), or "port trunking",means you can use multiple ports to create an aggregated connection of up to 4Gbps concurrently to any other link aggregation-capable device, such as NETGEAR ReadyNAS® storage.
Key Features and Benefits of the Nighthawk S8000 Switch
The Nighthawk S8000 Gigabit Ethernet Switch seamlessly integrates with any Nighthawk router and includes the full set of NETGEAR Web Managed (Plus) Switch software features. Some of its key attributes include:
Sleek, durable, "cool-touch" premium zinc alloy housing design with soft-touch no-slip base
Easy, one-click optimized configuration presets for gaming, media streaming, or standard networking, plus two user-defined configurations
Port-based and 802.1p/DSCP-based QoS (Quality of Service) for 4 levels of network traffic prioritization
Auto "denial-of-service" (DoS) prevention
IGMP snooping support for multicast optimization
Loop detection and broadcast storm controls
Rate limiting and priority queuing for better bandwidth allocation
Port trunking/link aggregation (LAG) enables increased throughput beyond 1Gbps [up to 4Gbps] or to provide redundancy across the link(s)
Industry-leading limited 3-year warranty and multiple support options
Pricing and Availability
The NETGEAR Nighthawk S8000 8-port Gaming and Media Switch (GS808E) will be available in March 2017 worldwidethrough a broad variety of retailand ecommerce partners, authorized resellers, and DMR channels. The expectedretail price for the U.S. is $99.99.
See all CES-related news from NETGEAR at www.netgear.com/ces.
About NETGEAR, Inc.
NETGEAR(NASDAQ: NTGR) is a global networking company that delivers innovative products to consumers, businesses and service providers. The Company's products are built on a variety of proven technologies such as wireless(WiFi and LTE), Ethernet and powerline, with a focus on reliability and ease-of-use. The product line consists of wired and wireless devices that enable networking, broadband access and network connectivity. These products are available in multiple configurations to address the needs of the end-users in each geographic region in which the Company's products are sold. NETGEARproducts are sold in approximately 28,000 retail locations around the globe, and through approximately 27,000 value-added resellers,as well as multiple major cable, mobile and wireline service providers around the world. The company's headquarters are in San Jose, Calif., with additional offices in approximately 25 countries. More information is available from the NETGEAR investor page or by calling (408) 907-8000.Connect with NETGEAR on Twitter, Facebook and our blog.
©2017NETGEAR, Inc.NETGEAR, the NETGEARlogo,Nighthawk, and ReadyNASare trademarks and/or registered trademarks ofNETGEAR, Inc. and/or its affiliates in the United States and/or other countries. Other brand and product names are for identification purposes only and may be trademarks or registered trademarks of their respective holder(s). The information contained herein is subject to change without notice. NETGEARshall not be liable for technical or editorial errors or omissions contained herein. All rights reserved.
Safe Harbor Statement under the Private Securities Litigation Reform Act of 1995 for NETGEAR, Inc.: This press release contains forward-looking statements within the meaning of the U.S. Private Securities Litigation Reform Act of 1995. Specifically, statements concerningNETGEAR's business and the expected performance characteristics, specifications, reliability, market acceptance, market growth, specific uses, user feedback and market position of NETGEAR's products and technology are forward-looking statements within the meaning of the Safe Harbor. These statements are based on management's current expectations and are subject to certain risks and uncertainties, including, without limitation, the following: the actual price, performance and ease-of-use of NETGEAR's products may not meet the price, performance and ease-of-use requirements of customers; product performance may be adversely affected by real world operating conditions; failure of products may under certain circumstances cause permanent loss of end user data; new viruses or Internet threats may develop that challenge the effectiveness of security features in NETGEAR's products; the ability of NETGEARto market and sell its products and technology; the impact and pricing of competing products; and the introduction of alternative technological solutions. Further information on potential risk factors that could affect NETGEARand its business are detailed in the Company's periodic filings with the Securities and Exchange Commission. NETGEARundertakes no obligation to release publicly any revisions to any forward-looking statements contained herein to reflect events or circumstances after the date hereof or to reflect the occurrence of unanticipated events.
Source: NETGEAR-G
U.S. Media Contact: Nathan Papadopulos, (408) 890-3889, NPapadopulos@netgear.com
U.S. Sales Inquiries: (408) 907-8000, sales@netgear.com
U.S. Customer Inquiries: (888) NETGEAR