NETGEAR SMART PARENTING CONTROLS NAMED AS CES 2021 INNOVATION AWARDS HONOREE FOR THE SOFTWARE AND MOBILE APPS CATEGORY
Award-winning proprietary service helps parents manage their children's' time online across their connected devices while promoting safe and healthy habits for today's digital-first generation
San Jose, Calif. – January 11th, 2021 – NETGEAR®, Inc. (NASDAQ:NTGR), the leading provider of networking products that power businesses and smart homes, today announced that its NETGEAR Smart Parental Controls™ service was named a CES® 2021 Innovation Awards Honoree. Smart Parental Controls is an easy way for parents to manage their children's online activity across all their connected devices, including gaming consoles and Smart TVs. NETGEAR values the recognition by the Consumer Technology Association and the elite panel of industry expert judges who have selected NETGEAR for this innovative application.
As the world continues to work, learn and entertain from home, children are more engaged than ever with their personal devices by staying connected through social media, gaming and other forms of online entertainment.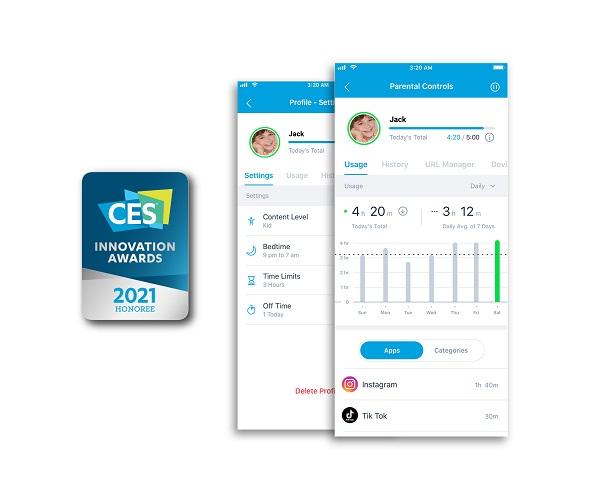 In order to help with developing a balance between time on and offline, NETGEAR's Smart Parental Controls creates internet schedule time limits to automatically shut down online access, which also includes specific apps. Parents can also take advantage of access to deeper insights and more features to help automatically block explicit content online and promote healthy digital habits with your kids on their connected devices.
NETGEAR Smart Parental Controls is the simple way for parents to manage, monitor, and control the content their young children and teenagers see online.
The best-in-class technology creates an efficient management system to supervise all the devices in a single household. Managing app access and creating time limits on addicting social media sites is easier than ever.
Cloud-based device tracking ensures that rules and safety remain a top priority even when a parent is not physically present to supervise online activity whether on WiFi or mobile data.  Coupled with the My Time app, kids can monitor themselves, and view the remaining time they can spend online.
As a simple solution to unplug from the always-on connected world, Smart Parental Control provides a number of key features for the modern family, including:
Profiles – Create custom profiles for your children to assign and organize their connected devices all in one app.
Pause –– Take a break. One tap to pause your entire internet either on an individual device or for all your kids.
Usage*i–– Get an overview of your children's internet activity across their connected devices.
History —Take a look at every website they visited on a given day or as far back as you'd like.
Filter*–– Easily select the most age-appropriate content filters. Use our recommended pre-set filter or customize it to fit the needs of your family.
Time Limits*–– Set a limit and step away from the screen. Limit daily internet time for individual websites and apps.
Bedtime* – Schedule a bedtime for children's devices and encourage healthy sleep schedules.
Rewards* –– Motivate and inspire by rewarding good behavior with more screen time for favorite games or set a later bedtime for a sleepover.
Off Time* –– Schedule internet Off Time during dinner or family gatherings. No need to take away a device from the children.
My Time App* —The kids' companion app, My Time, empowers you by eliminating the need for spontaneous bribes and provides more guidance for your children by letting them see an overview of established internet rules that has been sent by the parents.

Availability:
Currently NETGEAR Smart Parental Controls™ is available on the Orbi Tri-band Mesh WiFi System (RBK50) in limited release for US customers but is expected to become available on Nighthawk WiFi 6 routers and Orbi WiFi 6 Mesh systems within the 2021 calendar year. The basic service is included and Premium with additional features includes a subscription fee of $69.99 annually or $7.99 a month after the free 30-day trial.
About CES Innovation Award:
The CES Innovation Awards program, owned and produced by the Consumer Technology Association (CTA)®, is an annual competition honoring outstanding design and engineering in consumer technology products across 28 product categories. An elite panel of industry expert judges, including members of the media, designers, engineers and more, reviewed submissions based on innovation, engineering and functionality, aesthetics and design. 
About NETGEAR, Inc.

NETGEAR® (NASDAQ: NTGR) has pioneered advanced networking technologies for homes, businesses, and service providers around the world since 1996 and leads the industry with a broad range of award-winning products designed to simplify and improve people's lives. By enabling people to collaborate and connect to a world of information and entertainment, NETGEAR is dedicated to delivering innovative and advanced connected solutions ranging from mobile and cloud-based services for enhanced control and security, to smart networking products, video over Ethernet for Pro AV applications, easy-to-use WiFi solutions and performance gaming routers to enhance online game play. The company is headquartered out of San Jose, Calif. with offices located around the globe. More information is available from the NETGEAR Investor Page or by calling (408) 907-8000. Connect with NETGEAR: Twitter, Facebook, Instagram and the NETGEAR blog at NETGEAR.com.
Source: NETGEAR-G

U.S. Media Contact: Nathan Papadopoulos, (408) 890-3889, NPapadopulos@netgear.com 
U.S. Sales Inquiries: (408) 907-8000, sales@netgear.com
___________________________
i*Only available with a NETGEAR Smart Parental Controls Premium subscription, $69.99/year or $7.99/month after a 30-day free trial, no credit card required for trial.