Kick-Start Your Home-Based Business With NETGEAR
Easy and affordable WiFi and networking solutions for your start-up.
Did you recently switch gears to starting your own business at home?
There are many reasons why you started your business and the many benefits of having your own business are well known.
Just to mention a few, increased flexibility, full authority, investing in personal interests, and more.
Whether you conduct classes online, provide online tutoring, or have an online store or service, the first thing you need is to set up a business grade WiFi network.
Identifying Your WiFi Needs
Need to Augment
If your current WiFi network meets your whole household's internet needs, such as streaming videos and movies, playing online games, you are almost there!
An independent safe WiFi network for uninterrupted and uncontested connection for your business is highly recommended. You need to augment your current WiFi.
Need to Overhaul
If your current WiFi network does not satisfy your current need and is laggy or glitchy, replacing your WiFi network throughout your home is highly recommended.
A WiFi system that is high performance and can create a sub-network just for your business would be your best option.
Augment Your Current Network
If Your Work Space Is Near The Internet Gateway

Consider an access point with multiple built-in gigabit Ethernet ports to connect wired devices such as a scanner-printer and a networked attached storage
Use an Ethernet cable to connect the access point to the internet gateway
Pick a desktop access point that does not require additional hardware, software or cloud-based controllers
If your workspace is far from the internet gateway

Choose a Gigabit Ethernet switch and connect one of the Ethernet ports to the LAN port in the internet gateway, and another Ethernet port to a WiFi access point near your workspace
Remove the need for a power cord to the access point with a switch that has PoE (Power-over-Ethernet). NOTE: you will need a PoE access point
Gigabit Ethernet switch also serves as a reliable, high-speed network connection to your wired devices (printer, network attached storage, etc.)
Overhaul Your Current Network
A Whole New System

High performance, multi-satellite WiFi system is recommended
A WiFi system is usually comprised of a router and a number of satellites
It is best to place the router unit close to the internet gateway, connected by an Ethernet cable
Satellite unit(s) provide coverage for your entire house. Make sure each satellite is within the range of the router
Dedicate a satellite just for your business! Place one of the satellites in or near your workspace
Specifications to be Considered

Coverage: Pick the WiFi system whose coverage area is appropriate for the size of your home
Speed: Pick the highest speed WiFi system for your budget. You can tell the speed of the WiFi system by reading the number behind "AC" for WiFi 5 or "AX" for WiFi 6
Dedicated backhaul: Dedicated WiFi connection for maximum and uncontested throughput. The key word you should look for in a product's specification is tri-band, i.e. 5GHz and 2.4GHz bands for client devices, and another 5GHz band dedicated for backhaul
Ethernet ports in the satellite: Wired network devices that you can connect to the network anytime
Addressing Security Concerns
As you start your business, start off with something simple that still offers a high degree of security:

Choose an access point or WiFi system that offers at least three SSIDs
Consider designating one SSID for your work, and the other two either for your household, guests, or your Internet of Things, like surveillance cameras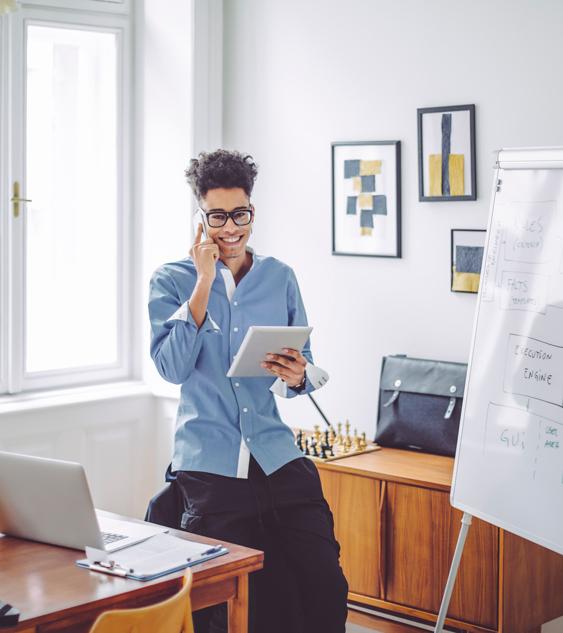 As your business grows and starts to accumulate digital properties, you need to start putting that data in devices that are permanently connected to the network, such as a desktop computer, or a network attached storage.

SSID, which is a good way to protect wireless devices, will no longer be sufficient
Look for WiFi devices that support VLAN (virtual local area network) features
With VLAN, you put your work-related devices on a separate network designated for business
NETGEAR Solutions for Home-Based Businesses
Whether you need to augment or overhaul your network, choose the best wireless solution for your home-based business needs.
Expand Your Wired Connectivity with Control and Security
You are starting up a business from home, there is no IT professional to help you prepare for network growth. NETGEAR Plus Switches are easy to set up, provide fundamental network features and more:
Plug-and-play switches that allow your wired network to be set up quickly and easily
Configure your network using a user-friendly web GUI
Separate sub-networks for your business with secure VLANs so you can have a work and a home network.
PoE models are available so you can power PoE devices you might have such as wireless access points, surveillance cameras: GS305EP, GS30EPP, GS308EP, GS308EPP
Explore NETGEAR Plus Switches