AX1800 WiFi Satellite (RBS350)
Orbi Dual-Band WiFi 6 Add-on Satellite, 1.8Gbps
AX1800 WiFi Satellite (RBS350)
Orbi Dual-Band WiFi 6 Add-on Satellite, 1.8Gbps
Break free from limitations with strong, seamless WiFi coverage throughout your 160 sq. m. home. Connect up to 25 devices on your network and enjoy smooth streaming, gaming, and browsing simultaneously.
WiFi 6: The Fastest WiFi Ever
With WiFi 6, you get the fastest speeds available, and up to 4X more device capacity than WiFi 5. Stream in ultra HD 4K/8K, video call, and more without getting interrupted or slowed down, even as you connect more devices to your network. It's like upgrading your WiFi to first class.
Ultra-Fast WiFi
Combined WiFi speeds of up to 1.8Gpbs for high-definition gaming and streaming.
Antennas
High-powered amplifiers and 3 dual-band internal antenna.
4 WiFi Streams
Enjoy smooth 4K/8K UHD streaming and lag-free gaming with 4 WiFi 6 streams.
Powerful Processor
1.8GHz combined processor boosts wireless, wired, and WAN-to-LAN.
Gigabit Speeds Where You Need Them
Get consistent speeds everywhere with 2 Gigabit Ethernet ports.
Ultimate Range
WiFi coverage throughout medium to large-sized homes.
More Capacity, More Battery Life
Enjoy more devices simultaneously with 4X the capacity than before and improved efficiency for longer battery life.
Antennas
High-powered amplifiers and 3 dual-band internal antenna.
Simultaneous Dual-Band
Reduces interference for better connections to more WiFi devices.
Beamforming+
Boosts speed, reliability, and range of WiFi connections.
Orbi App
Set up your WiFi, customize your settings, and enjoy your new Orbi WiFi in minutes.
Voice Control
Use voice commands to control your home WiFi network. Works with Amazon Alexa and the Google Assistant.
Move Freely
Orbi creates one seamless network, so as you move from room to room, your signal won't drop.
Faster Downloads and Smoother Streaming
Stream data to multiple devices simultaneously with Multi-User MIMO (MU-MIMO) technology.
Learn more
Learn more
Ready for Your Smart Home
Delivers 4x better performance than AC WiFi and allows more devices to connect and stream simultaneously.
Learn more
Learn more
Powerful 18.GHz Quad-Core Processor
Built for performance at an ultimate level, enjoy stronger, more reliable streaming and gaming experiences.
Built for Gigabit Internet Speeds Everywhere
You've paid for the fastest internet speeds – now experience them everywhere in your home.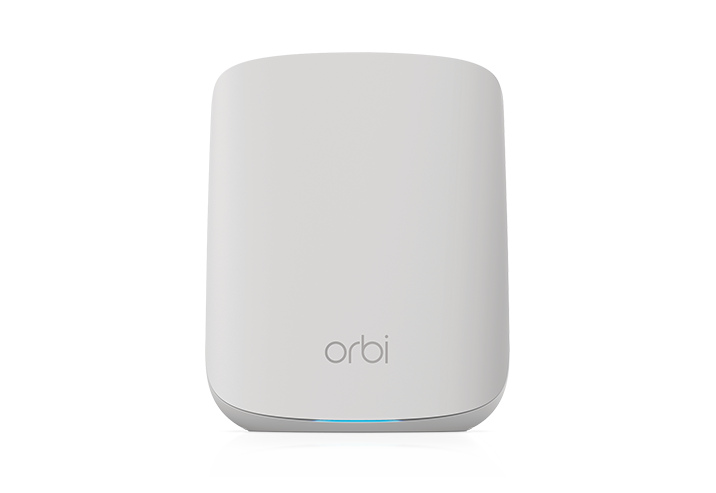 Dimensions :

5.7 x 7.0 x 2.4in

Weight :

1.46lb
WiFi Coverage :

160 sq. m
Orbi AX1800 Satellite (600 + 1200Mbps)†
Simultaneous dual-band WiFi
MU-MIMO capable for simultaneous data streaming
Implicit & Explicit Beamforming for 2.4GHz & 5GHz bands
Powerful quad-core 1.8GHz processor

Antenna :

Two (2) high-performance internal antennaswith high-power amplifiers

Ports :

Two (2) 10/100/1000Mbps Gigabit EthernetLAN ports
This product comes with a limited Warranty that is valid only if purchased from a NETGEAR authorised reseller.

† Maximum wireless signal rate derived from IEEE 802.11specifications. Actual data throughput and wireless coverage will vary and be lowered by network and environmental conditions, including network traffic volume, device limitations, and building construction. NETGEAR makes no representations or warranties about this product's compatibility with future standards. Up to 1,800Mbps wireless speeds achieved when connecting to other 802.11ax 1,800Mbps devices.
One (1) Orbi Satellite (RBS350)
One (1) 12V/1.5A power adapters
Quick start guide