Gigabit Unmanaged Switch Series (GS108)
8-Port Gigabit Ethernet Unmanaged Switch
Gigabit Unmanaged Switch Series (GS108)
8-Port Gigabit Ethernet Unmanaged Switch
Get networks up and running with plug-and-play unmanaged switches. Set it and forget it, energy-efficient switches are built like tanks and last for decades.
ETHERNET PORT CONFIGURATION
8 Gigabit ports
PLUG-AND-PLAY
Simple set up with no software to install or configuration needed and zero maintenance
FULL PERFORMANCE
Non-blocking switching architecture for maximum throughput at wire speed
Reliable Performance
Superior network performance at non-blocking rate delivers true Gigabit speed with no compromise
High Quality
Durable metal case and long product life
Energy Efficient
Energy Efficient Ethernet (IEEE 802.3az) standard, which reduces energy consumption when there is light traffic on an active port or when there is no link or no activity detected
SILENT OPERATION
The fanless design means zero added noise wherever its located, making it ideal for noise-sensitive environments
ENERGY EFFICIENT
Designed to optimize power usage lowering its cost to operate
Metal Case
Durable and Rugged
VERSATILE MOUNTING OPTIONS
Supports desktop or wall placement, and includes wall mounting kit in the box
STANDARDS-BASED DESIGN
Ensure interoperability with any standards-based PDs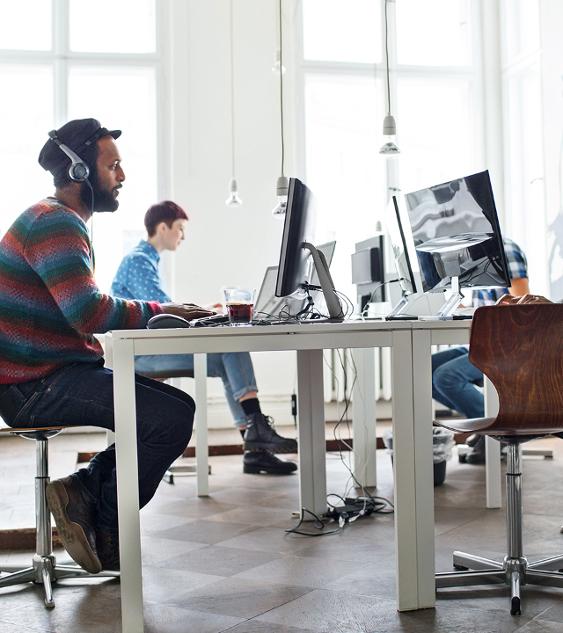 Plug-and-Play
No configuration necessary - perfect for SOHO small-medium businesses and home office / entertainment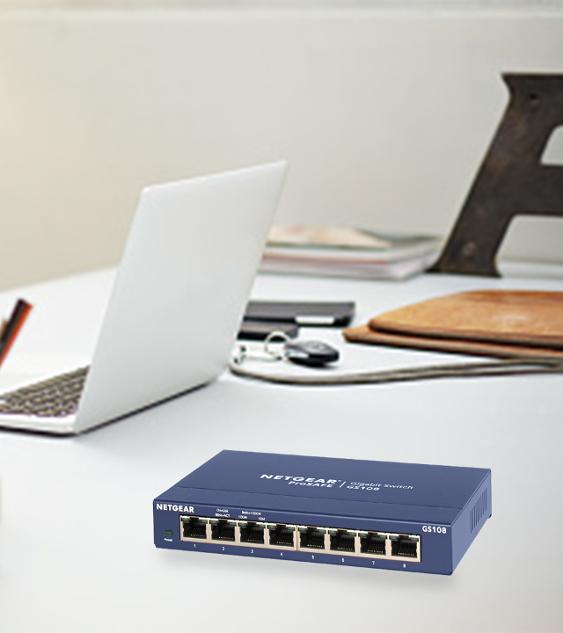 Smart Energy Savings
Energy efficient Ethernet (IEEE 802.3az) cuts energy consumption during little or no activity on active ports.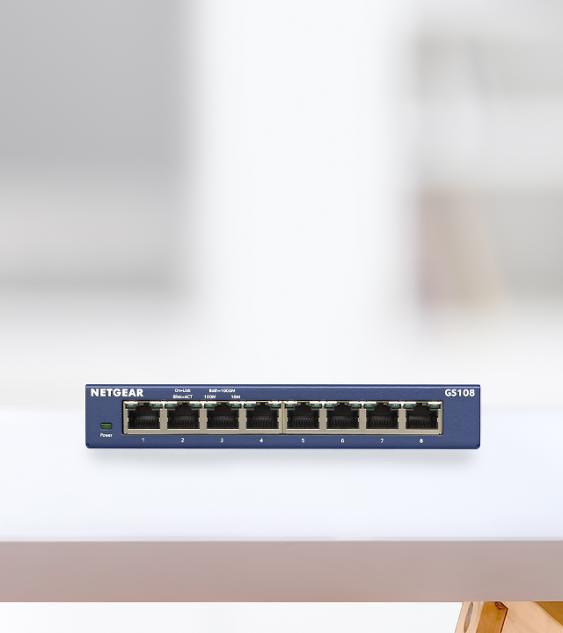 Built to Last:
Switches are housed in a solid, compact metal case and rigorously tested for reliability.
Designed for Zero-Noise Operation
Passively cooled fanless design to protect your business environment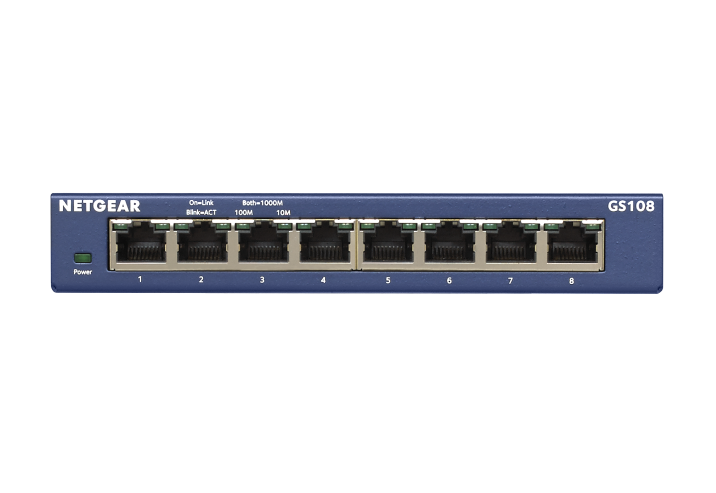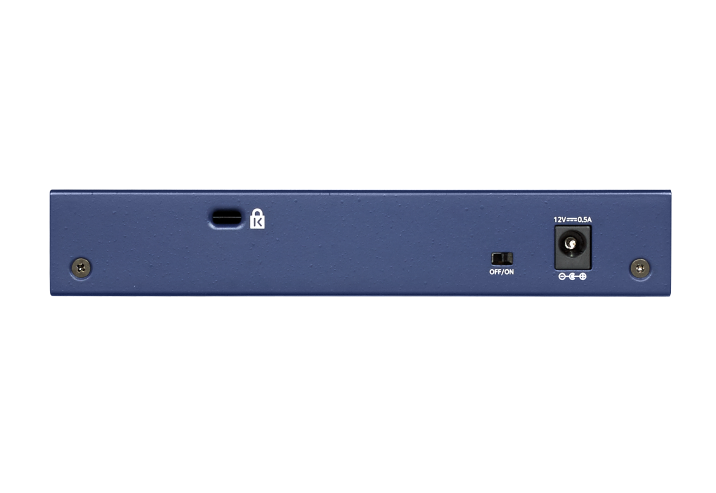 Weight :

0.47 kg (1.04 lb)

Dimensions :

158 x 102 x 27 mm (6.2 x 4.0 x 1.1 in)
Product name :

NETGEAR 8-Port Gigabit Ethernet Unmanaged Switch (GS108)

Speed :

10/100/1000Mbps Gigibit Ethernet

Number of Ports :

8

PoE ports :

n/a

Total PoE Budget :

n/a

Loop Detection :

n/a

Short cable power saving :

n/a

Energy Efficient Ethernet Support (IEEE 802.3az) :

Yes

Jumbo Frame Support :

Up to 9K packet size

Queue WRR Ratio :

1:2:4:8

MAC Table Size :

4K

Packet buffer size :

192KB

IEEE 802.1p QoS :

Yes

Operating Temperature :

32° to 104°F (0° to 40°C)

FCC Class :

B

Energy Efficient Ethernet support :

Yes - Compliant with IEEE802.3az Energy Efficient Ethernet mode

Jumbo frame support :

9,216 bytes
Warranty :

3-Year Warranty

Technical Support (online, phone) :

90 days free from date of purchase

Extended ProSupport Support and Warranty Available