Increase your Cybersecurity with Orbi
The Orbi Whole Home Mesh WiFi System has received much love since its initial introduction back in the summer of 2016. Orbi was even named by Time Magazine as one of the Best Inventions of 2018!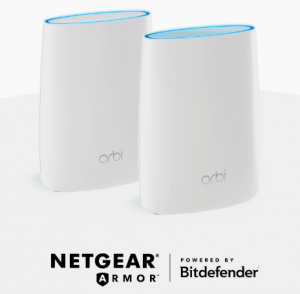 And now, Orbi is taking awesome to a whole new level. NETGEAR Armor™, an advanced cybersecurity solution, is now available worldwide on Orbi (RBR50) routers, to keep all of your devices safe and secure from cyber-attacks and viruses.
Internet security is nothing to take lightly. With cybercrime at an all-time high, and on the rise, NETGEAR Armor™ automatically scans your network and your devices to halt these hacks, viruses and phishing scams from infecting your network and devices.
This isn't your typical anti-virus software.
NETGEAR Armor™ actually provides protection for all of your Windows, Mac and Android devices, including desktop computers, laptops, tablets, smartphones, as well as all of your connected smart devices that do not employ a recognized OS. Do you have a smart TV? How about a security camera? Or a garage door opener, or a smart thermostat? All of these connected devices are actually vulnerable to hacking and can now be protected by NETGEAR Armor™.
With NETGEAR Armor™, you will have a complete cybersecurity solution that gets installed right on your router, and protects all of the internet-connected devices in your home from viruses, malware, identity-theft, hacking and more, whether you're in your home or on the go. The moment threats are detected, immediate notifications are sent to your smartphone (via the Orbi app) or computer alert.
When you are at the airport, mall or coffee shop, do you use public WiFi? Public WiFi networks are well known to be a haven for cyber criminals, as these networks generally have little to no security. However, when you have NETGEAR Armor™, which includes Bitdefender Total Security software, you can rest assured that your devices will remain secure as you travel. The Total Security software provides added protection when traveling outside of your home network.
Worry-free internet should not be just be left to your wishful thinking. Activate NETGEAR Armor™ on your Orbi router today, for free!
Proven Cyber Security – NETGEAR Armor™ is powered by award-winning cyber security from Bitdefender, which detects, anticipates and neutralizes the newest dangers anywhere in the world in as little as 3 seconds thanks to the largest security delivery infrastructure on the globe.