1-Year NETGEAR Insight Subscription Included
Multi-Gigabit Ethernet Smart Switches (MS510TXM)
8-Port Multi-Gigabit/10G Ethernet Smart Switch with 2 SFP+ Ports
1-Year NETGEAR Insight Subscription Included
Multi-Gigabit Ethernet Smart Switches (MS510TXM)
8-Port Multi-Gigabit/10G Ethernet Smart Switch with 2 SFP+ Ports
Provides 4 ports 1G/2.5G and 4 ports multi-gig/10G with 2 dedicated 10 Gigabit fiber ports for WiFi 6 AP connectivity, IP surveillance and mobility. Includes 1-year of Insight Premium or Pro subscription.
Traffic Management
Auto Negotiation of speed and duplex modes
IEEE 802.3x Flow Control
Dynamic MAC address management
IEEE 802.1Q-based VLAN
Auto Voice VLAN
Auto Video VLAN (selected models)
VLAN routing (selected models)
QoS based on WRR, strict priority, or both
Port-based and IEEE 801.2p-based QoS
TCP/UDP-based QoS
DiffServ
IPv4 and IPv6-based QoS (selected models)
DSCP Support
Rate Limiting (ingress, or egress)
Link Aggregation and LACP
Switch Management
Insight mobile app or Insight Cloud Portal
Web browser-based management GUI
Smart Control Center Software for multi-switch management
IP Access List
IPv6 Management
Configurable Management VLAN
SNMP v1/v2c and v3
Standard MIBs (RFC1213, RFC1643, and RFC1493)
RMON group 1, 2, 3, 9
Firmware Upgrade through Smart Control Center (TFTP)
Firmware download (to switch) and upload (to server) through TFTP/HTTP
Configuration and Image Upload (to PC) through HTTP
Configuration Download (to Switch) thru TFTP/HTTP and upload (to server)
Memory & FLASH log
Syslog (server)
System password protection
Security
MAC lockdown
MAC lockdown by number of MACs
IEEE 802.1x port authentication
Dynamic VLAN Assignment
Guest VLAN
TACACS+
3 HTTPS /SSL versions
TLS session
Trusted MAC
IPv4, L4-based Access Control List (ACL)
IPv6-based ACL (selected models)
Multicast Efficiency
IGMP snooping, v1, v2 and v3
IGMP Snooping querier
Blocking of unknown multicast traffic
MLD snooping
Spanning Tree, Routing and Stacking
IEEE 802.1D, IEEE 802.1w RSTP and MSTP
Option to enable/disable BPDU flooding when STP is disabled
Static routing with 32 static routes (Selected models)
Hosted ARP table size of 512 (Selected models)
Reliability, Performance and Troubleshooting
Port mirroring both on ingress and egress traffic
Jumbo frame support
Broadcast Storm control
Cable diagnostics
Loop Detection
DoS Prevention
IEEE 802.1ab LLDP
LLDP-MED
Dual Image
SNTP
Option to enable/disable the flooding of EAPOL when 802.1x is disabled
Protected ports
DNS client
DHCP clients
DHCP snooping
Ping and traceroute client
Energy Efficient Ethernet (IEEE 802.3az) compliant (Selected models)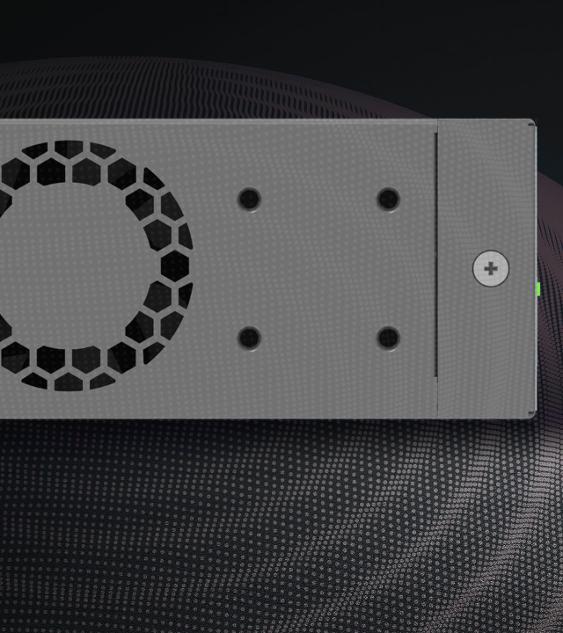 NETGEAR IP Camera and WiFi Automation
Simplify the onboarding process of IP cameras and wireless access points to provide better Quality of Service (QoS) and auto-enabling multicast with the Auto-Camera and Auto-WiFi feature
Provides classification for digital camera and wireless access point packets
Automatically placed in a camera and wireless access point VLAN and then be prioritized above other packets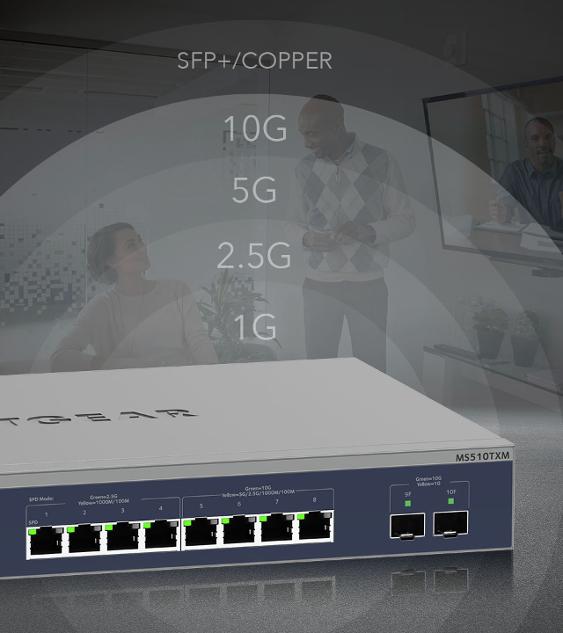 Room to Move
5 different ports available: 1G, 2.5G, 5G, 10G; SFP+ and Copper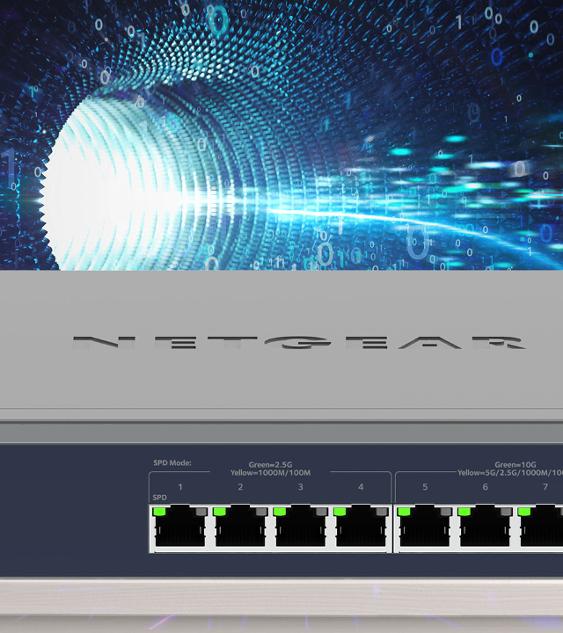 Secure Your Data
Defend with Access Control, DiffServ QoS policies, LACP Link Aggregation, Private VLANs, Denial of service protection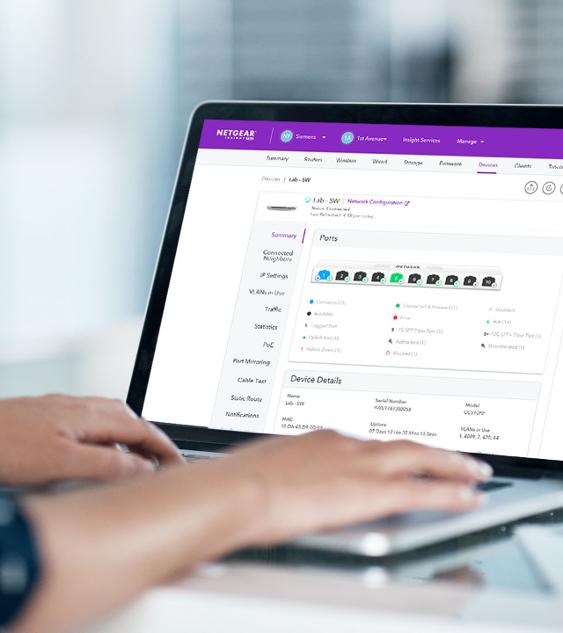 Cloud Management
Optional remote access for configuration, management, and monitoring through the NETGEAR Insight Cloud Portals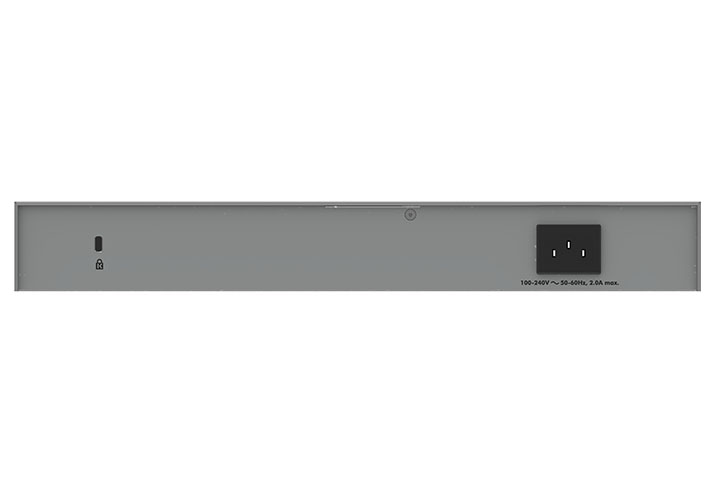 Dimensions (W x D x H) :

330 x 206 x 43 mm ( 13.0 x 8.12 x 1.7 in)

Weight :

2.08 kg (4.25 lb)
Multi-gigabit copper ports :

4 (1G/2.5G)

Multi-gigabit/10 Gigabit copper ports :

4 (1G/2.5G/5G/10G)

SFP+ ports :

2

Max MAC entries :

32K

Buffer size :

16Mbit

VLAN (Number Supported) :

256

VLAN routing :

Yes

Dynamic VLAN assignment :

Yes

MLD Snooping :

Yes

Static route :

Yes (32)

Host ARP table :

512 ARP

EEE :

Yes

DoS Prevention :

Yes

Internal/External PSU :

Internal

Max power (worst case, all ports used, line-rate traffic) :

47W

Fans :

2

Acoustic Noise Level @25C :

25.0 dBA

Operating Temperature :

0 to 50C (32 to 122F)

MTBF: :

1,059,519 hrs (121 yrs)
Warranty:

This product is backed by a NETGEAR ProSAFE ® Limited Lifetime Hardware Warranty .
Lifetime Next Business Day Hardware Replacement. Click here for coverage, availability and terms and conditions.

Support :

ProSUPPORT 24x7 Advanced Technical Support via phone for 90 days (Remote diagnostics performed by our technical experts for prompt resolution of technical issues). ProSUPPORT coverage can be extended by purchasing one, three, or five year contracts.
ProSUPPORT Lifetime 24x7 Advanced Technical Support via chat.