NETGEAR INTRODUCES FIRST AC CABLE MODEM WIFI ROUTER WITH VOICE SUPPORT FOR COMCAST XFINITY CUSTOMERSTO PURCHASE
Bundle VoIP with cable internet and AC WiFi service, save on rental fees and enjoy improved 4K HD video streaming& online gaming
LAS VEGAS — January 4, 2017 — NETGEAR®, Inc. (NASDAQ: NTGR), the leading provider of networking devices that power today's smart home and small and medium-sized businesses, is introducing the new Nighthawk® AC1900 WiFi Cable Modem Router for XFINITY® Internet and Voice (C7100V). With a built-in DOCSIS® 3.0-certified cable modem for blazing-fast downloads, and super-fast integrated AC WiFi for fast mobile connections, this is the first AC WiFicable modem routerfor Comcast® XFINITY Voice service that can be purchased without a contract.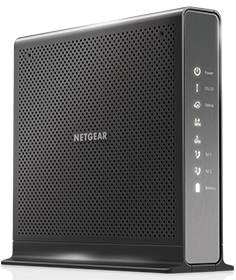 Designed to support extreme broadband speeds, Nighthawk AC1900 WiFi DOCSIS 3.0 Cable Modem Routerwill act as the hub of your home network delivering on both reliable and fast internet connections —even during peak usage hours.  C7100V with support of 24x8 channel bonding (24 downstream and 8 upstream) maximizes the speed of your cable service up to 960Mbps*, idealfor the top levels of your XFINITY Double Play and Triple Play service plans.
Nighthawk C7100V is designed to automatically prioritize voice traffic to ensure call clarity. With two integrated telephone lines withoptionalbattery backup capabilities,and support for enhanced calling features such as 3-way conferencing, caller ID, call forwarding and more,C7100V is an ideal choice for a home office.
With the Nighthawk C7100V, you'll enjoy WiFi speeds up to 1.9Gbps**for the devices connecting over WiFi on your home network, and withthe four Gigabit Ethernet(GbE) ports you can connect desktop computers, gaming consoles, smart TVs or network attached storage for high-speed wired connectivity.
"We are proud to introduce another member to our growing cable product portfolio to meet the needs of Double &Triple Play Customers of Comcast Xfinity Voice services. This is not only the first AC Cable modem router for Comcast Xfinity Voice services but also integrates AC1900 WiFifor fast WiFi connectivity with 24 channel bonding to support the highest levels of Xfinity Internet services for DOCSIS 3.0."said Sandeep Harpalani, senior director of product marketing for NETGEAR Home Networking. "Our C7100V WiFi Cable Modem Router carries the Nighthawk name, NETGEAR's hallmark for quality, reliability and performance."
Key Technical Features and Benefits
Three-in-one (3-in-1) device: High-Speed Cable Modem, WiFi Router and XFINITY Voice
Built-in DOCSIS 3.0 cable modem (24x8 channel bonding) enables up to 960Mbps* download speeds for all your streaming, download and online gaming needs, and prioritizes XFINITY Voice
High-speed cable modem router with AC1900 WiFi offers speeds up to 1.9Gbps** forWiFi devices such as smartphones, tablets, computers, and game consoles
Two (2) integrated telephone lines support3-way conference calling, caller ID, call forwarding, and more enhanced calling features
Powerful dual-core 1.6GHz combined processor boosts performance for streaming and gaming
Four (4) 10/100/1000 LAN Gigabit Ethernet ports offer high-speed wired connectivity
Beamforming+ technology for 2.4/5GHz bands boosts speed, reliability and range for all WiFi mobile devices
NETGEAR ReadySHARE® USB port enables wireless access and sharing of content on a USB hard drive or printer from any device in your home network
Top security capabilities including WPA/WPA2—PSK, double (SPI/NAT)firewall protection, denial-of-service (DoS) attack prevention, separate and secure guest network access, and Parental Controls for safer web surfing
NETGEAR genie® support makes it easy to install, monitor, control and repair your network whether you're at home or away
Optional battery backup supports up to 8 hours of standby and 5 hours of talk time during power outages(battery sold separately)
Seamless compatibility with XFINITY Double Play and Triple Play service plans and no equipment rental fees
XFINITY customers can install the Nighthawk AC1900 WiFi Cable Modem Router (C7100V)without a service call thanks to thefast, web-based self-activation capability.
Follow NETGEAR news during CESfrom at www.netgear.com/ces2017.
Availability
The NETGEAR Nighthawk AC1900 WiFi Cable Modem Router for XFINITY Internet and Voice (C7100V) is planned for availability later in the year at an MSRP of $299.99 in the U.S.
About NETGEAR, Inc.
NETGEAR(NASDAQ: NTGR) is a global networking company that delivers innovative products to consumers, businesses and service providers. The Company's products are built on a variety of proven technologies such as wireless(WiFi and LTE), Ethernet and powerline, with a focus on reliability and ease-of-use. The product line consists of wired and wireless devices that enable networking, broadband access and network connectivity. These products are available in multiple configurations to address the needs of the end-users in each geographic region in which the Company's products are sold. NETGEARproducts are sold in approximately 28,000 retail locations around the globe, and through approximately 27,000 value-added resellers,as well as multiple major cable, mobile and wireline service providers around the world. The company's headquarters are in San Jose, Calif., with additional offices in approximately 25 countries. More information is available from the NETGEAR investor page or by calling (408) 907-8000.Connect with NETGEAR on Twitter, Facebook and our blog.
©2017NETGEAR, Inc. NETGEAR, the NETGEARlogo, NETGEAR genie, Nighthawk, READYNAS and ReadySHAREaretrademarks and/or registered trademarks ofNETGEAR, Inc. and/or its affiliates in the United States and/or other countries. DOCSIS is a trademark of Cable Television Laboratories, Inc.Other brand and product names are for identification purposes only and may be trademarks or registered trademarks of their respective holder(s). The information contained herein is subject to change without notice. NETGEARshall not be liable for technical or editorial errors or omissions contained herein. All rights reserved.
* Maximum cable rate is derived from DOCSIS® 3.0 specifications and actual throughput will vary depending on your Internet subscription with your provider.
** Maximum wireless signal rate derived from IEEE standard 802.11 specifications. AC1900 equals 600Mbps at 2.4GHz 802.11n with 256 QAM support + 1300Mbps at 5GHz 802.11ac. Up to 1300Mbps wireless speeds achievable when connecting to other 802.11ac devices. Actual data throughput and wireless coverage will vary. Network conditions and environmental factors, including volume of network traffic, building materials and construction, and network overhead, lower actual data throughput rate and wireless coverage. NETGEAR makes no express or implied representations or warranties about this product's compatibility with any future standards.
Safe Harbor Statement under the Private Securities Litigation Reform Act of 1995 for NETGEAR, Inc.: This press release contains forward-looking statements within the meaning of the U.S. Private Securities Litigation Reform Act of 1995. Specifically, statements concerningNETGEAR's business and the expected performance characteristics, specifications, reliability, market acceptance, market growth, specific uses, user feedback and market position of NETGEAR's products and technology are forward-looking statements within the meaning of the Safe Harbor. These statements are based on management's current expectations and are subject to certain risks and uncertainties, including, without limitation, the following: the actual price, performance and ease-of-use of NETGEAR's products may not meet the price, performance and ease-of-use requirements of customers; product performance may be adversely affected by real world operating conditions; failure of products may under certain circumstances cause permanent loss of end user data; new viruses or Internet threats may develop that challenge the effectiveness of security features in NETGEAR's products; the ability of NETGEARto market and sell its products and technology; the impact and pricing of competing products; and the introduction of alternative technological solutions. Further information on potential risk factors that could affect NETGEARand its business are detailed in the Company's periodic filings with the Securities and Exchange Commission. NETGEARundertakes no obligation to release publicly any revisions to any forward-looking statements contained herein to reflect events or circumstances after the date hereof or to reflect the occurrence of unanticipated events.
Source: NETGEAR-G
U.S. Media Contact: Nathan Papadopulos, (408) 890-3889, NPapadopulos@netgear.com
U.S. Sales Inquiries: (408) 907-8000, sales@netgear.com
U.S. Customer Inquiries: (888) NETGEAR