Just in time for Mother's day: AWARD-WINNING ARLO BABY HD MONITORING CAMERA IS NOW SHIPPING
CES Innovations Awards Honoree, 1080p HD video monitoring camera combines smart analytics, 2-way audio, ambient air sensors, music player, and a night light into an adorable baby-friendly package
SAN JOSE — May 11, 2017 — NETGEAR®, Inc. (NASDAQ: NTGR), the worldwide leader in home networking and smart home security products, is now shipping the award-winning Arlo™ Baby Smart HD Monitoring Camera (ABC1000).  Announced at CES® 2017, this unique camera with a cute, nursery-friendly design, is loaded with innovative smart baby monitoring features, going far beyond traditional baby monitors to provide what busy parents need to keep the whole family safe and at ease.
The thoughtfully designed Arlo Baby offers a long list of features such as a music player, ambient sensors for monitoring air quality, temperature and humidity, and a built-in multi-colored dimmable night light. Arlo Baby also provides everything you could possibly want in a baby monitoring device, with remote access to video, live streaming and recording, two-way audio, and advanced night vision capabilities, enabling parents to watch over their baby in crystal-clear 1080p HD video, day and night, from anywhere. With a built-in rechargeable battery, Arlo Baby camera can go untethered, allowing parents to move the camera around the house when needed. The Arlo smart analytics platform provides real-time, customizable alerts when motion or sound is detected. Arlo Baby can even tell you if the detected sound is your baby's crying.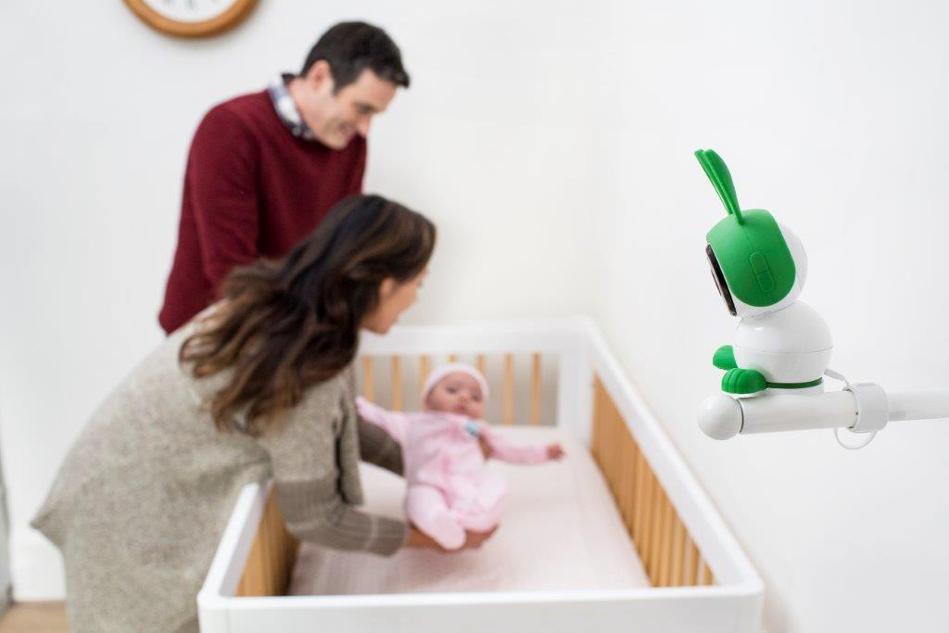 With a rolling 7 days of free cloud recordings, Arlo Baby monitoring camera will ensure you never miss a precious moment. Arlo Baby's appearance can even be personalized by turning the camera into adorable characters such as a bunny, a kitten, or a puppy to be a friendly addition to your nursery.
Features of Arlo Baby
1080p HD Quality – Watch your baby in crystal clear HD video, day or night, from anywhere in the world.
Advanced Night Vision – Near invisible infrared LED lights automatically switch on to let you see how your baby is sleeping from the mobile app even in total darkness.
Two-way Audio – Listen in and talk to your baby straight from your smart phone from anywhere, even when away from home.
Motion and Sound Alerts – Receive push notifications or email on your phone when your baby moves or makes a sound. Arlo Baby can even tell you if the sound is a baby crying.
Rechargeable Battery – Move the camera freely around your home for wire-free monitoring of your baby using the integrated rechargeable battery.
Temperature, Humidity and Air Quality Sensors – Ensure your baby's comfort with live reporting of your nursery's ambient conditions. Receive a push notification or email when anything is not in the desired range.
Music Player – Soothe your baby to sleep or enjoy playtime with a collection of built-in lullabies, white noise, and nature sounds. Discover your favorite sounds from a selection available in the free Arlo Cloud Library.
Night Light – To provide comfort to your baby or help guide you in a dark room, Arlo Baby is equipped with a multi-colored, dimmable LED night light that can be managed remotely.
Mobile Access – Watch over your baby from anywhere through your smartphone, tablet, or PC.
Free Cloud Recordings – Keep your precious moments with free rolling 7 days of secure cloud recording. More storage options and 24/7 continuous recording available.
Pricing and Availability:
Arlo Baby Smart HD Monitoring Camera (ABC1000) is available now from major retailers, at a price of $249.99.
Arlo Baby Accessories
Optional Arlo Baby accessories sold separately include:
Arlo Baby Stand – Offers an elevated viewing angle into a crib or the playroom for an ideal monitoring vantage point. ($39.99)
Characters —Turn your Arlo Baby camera into a friendly kitten or a charming Dalmatian puppy with these optional accessories. ($19.99)
Visit Arlo.com to learn more about Arlo Baby Monitoring Camera and other Arlo Smart Home Security camera options for your home and business.
About Netgear, Inc.
Netgear (NASDAQ: NTGR) is a global networking company that delivers innovative products to consumers, businesses and service providers. The Company's products are built on a variety of proven technologies such as wireless (WiFi and LTE), Ethernet and powerline, with a focus on reliability and ease-of-use. The product line consists of wired and wireless devices that enable networking, broadband access and network connectivity. These products are available in multiple configurations to address the needs of the end-users in each geographic region in which the Company's products are sold. NETGEAR products are sold in approximately 28,000 retail locations around the globe, and through approximately 27,000 value-added resellers, as well as multiple major cable, mobile and wireline service providers around the world. The company's headquarters are in San Jose, Calif., with additional offices in approximately 25 countries. More information is available from the NETGEAR investor page or by calling (408) 907-8000. Connect with NETGEAR on Twitter, Facebook and our blog.
©2017 NETGEAR, Inc. NETGEAR, the NETGEAR logo, and Arlo are trademarks and/or registered trademarks of NETGEAR, Inc. and/or its affiliates in the United States and/or other countries. Other brand and product names are for identification purposes only and may be trademarks or registered trademarks of their respective holder(s). The information contained herein is subject to change without notice. NETGEAR shall not be liable for technical or editorial errors or omissions contained herein. All rights reserved.
Safe Harbor Statement under the Private Securities Litigation Reform Act of 1995 for NETGEAR, Inc.: This press release contains forward-looking statements within the meaning of the U.S. Private Securities Litigation Reform Act of 1995. Specifically, statements concerning NETGEAR's business and the expected performance characteristics, specifications, reliability, market acceptance, market growth, specific uses, user feedback and market position of NETGEAR's products and technology are forward-looking statements within the meaning of the Safe Harbor. These statements are based on management's current expectations and are subject to certain risks and uncertainties, including, without limitation, the following: the actual price, performance and ease-of-use of NETGEAR's products may not meet the price, performance and ease-of-use requirements of customers; product performance may be adversely affected by real world operating conditions; failure of products may under certain circumstances cause permanent loss of end user data; new viruses or Internet threats may develop that challenge the effectiveness of security features in NETGEAR's products; the ability of NETGEAR to market and sell its products and technology; the impact and pricing of competing products; and the introduction of alternative technological solutions. Further information on potential risk factors that could affect NETGEAR and its business are detailed in the Company's periodic filings with the Securities and Exchange Commission. NETGEAR undertakes no obligation to release publicly any revisions to any forward-looking statements contained herein to reflect events or circumstances after the date hereof or to reflect the occurrence of unanticipated events.
Source: NETGEAR-G
U.S. Media Contact: Nathan Papadopulos, (408) 890-3889, NPapadopulos@netgear.com
U.S. Sales Inquiries: (408) 907-8000, sales@netgear.com
U.S. Customer Inquiries: (888) NETGEAR