AC2200 LTE Mesh Router (LBR20)
Orbi 4G LTE Advanced Modem + Tri-Band Mesh WiFi Router
AC2200 LTE Mesh Router (LBR20)
Orbi 4G LTE Advanced Modem + Tri-Band Mesh WiFi Router
The Orbi™ 4G LTE Advanced WiFi Router is compatible with select Orbi satellites to create a mesh WiFi system, covering up to 1,500 sq. ft. with speeds of up to 2.2 Gbps. An integrated wireless modem lets you access 4G LTE speeds for always-on WiFi at home. Works with all major 4G LTE network operators.

Award-Winning, Unmatched Performance
Tri-band mesh technology creates the ultimate WiFi experience. It uses a third dedicated WiFi connection between your router and satellites to deliver maximum speeds throughout every square inch of your home, even hard-to-reach places. Stay constantly connected on all your devices, even as you move through the house.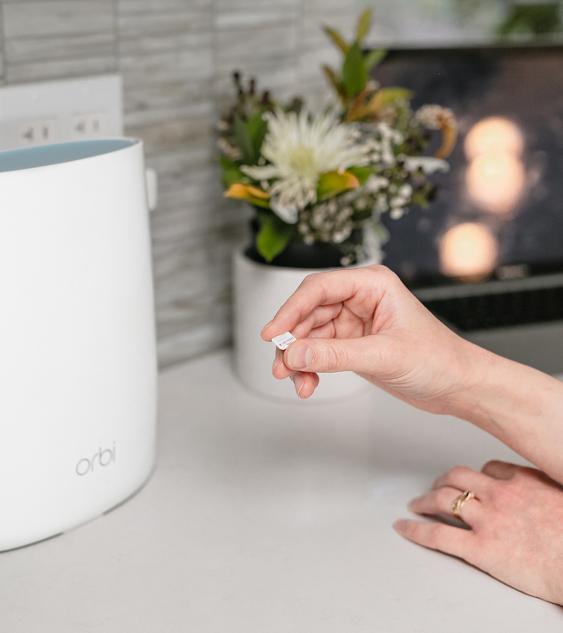 Always-On Internet
4G LTE is a reliable internet solution in places where wired broadband is limited or unavailable. Use 4G LTE as your primary Internet, or seamlessly switch over to 4G LTE when your existing internet service fails. The Orbi™ 4G LTE Advanced WiFi Router is compatible with major service providers.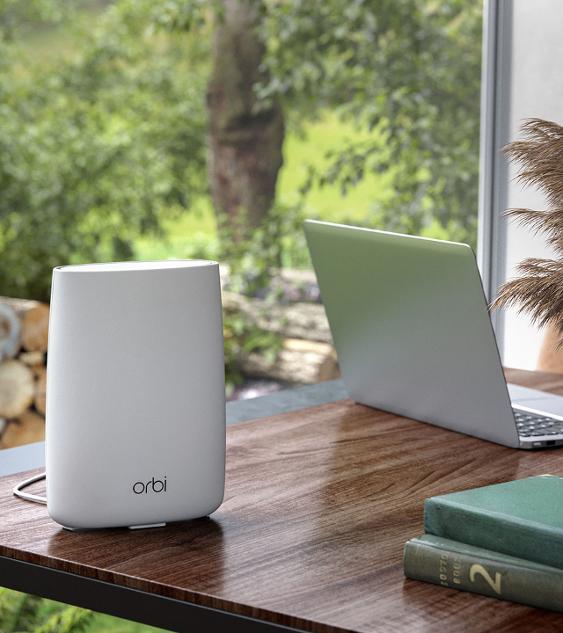 Speeds and Style
Enjoy a sleek, modern design and super-fast speeds of up to 2.2 Gbps. Internal antennas help to cover up to 1,500 sq. ft.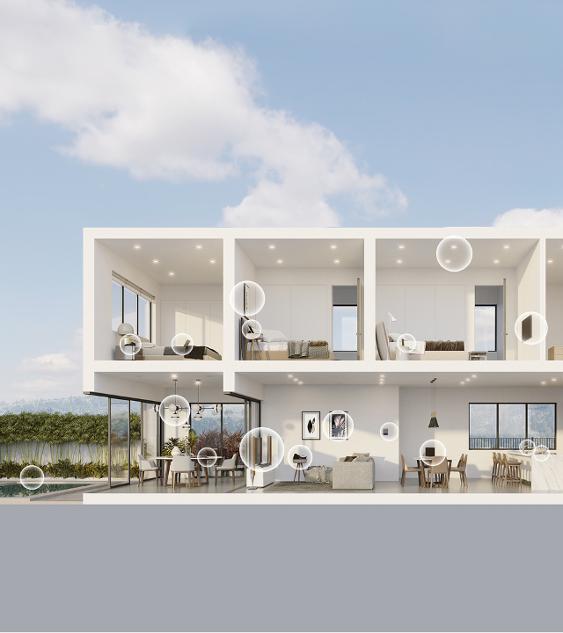 Expandable Coverage
Compatible with select Orbi satellites to extend coverage to every part of the house, even hard-to-reach places. Stream, video call, game, and more from any room.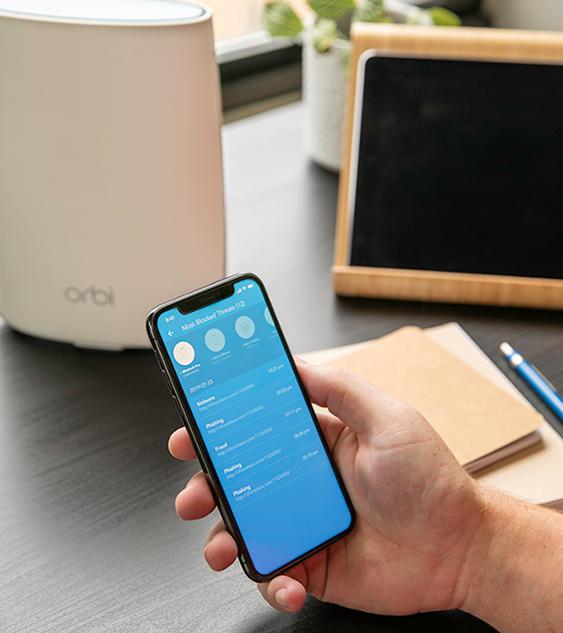 Ease of Use
With the Orbi app, you can set up your WiFi in just minutes and manage your Orbi from the palm of your hand.

NETGEAR Armor
NETGEAR Armor cybersecurity keeps your network and private data safe from online threats, at home and on the go. One subscription protects an unlimited number of connected devices, from phones and laptops to thermostats and security cameras.
Performance
• Super-Fast WiFi Award-winning tri-band technology lets you enjoy speeds of 2.2 Gbps for uninterrupted ultra HD streaming and gaming.
• Integrated Wireless Modem delivers fast internet speeds from the 4G LTE mobile network. Simply insert a Nano SIM card from your preferred mobile network.
• Ethernet Ports Two Gigabit Ethernet ports (1 WAN, 1 LAN) keep your wired devices connected.
Protection
• NETGEAR Armor Cybersecurity Protect an unlimited number of connected devices from internet threats, both at home and on the go.
• Smart Parental Controls Manage and monitor your kids' screen time. Pause internet when it's homework time, create profiles for each child, and more.
Security
• Guest WiFi Have visitors? Set up a separate, secure guest network with its own name and password.
• Encryption Rest assured your WiFi is encrypted in accordance with WiFi security standards.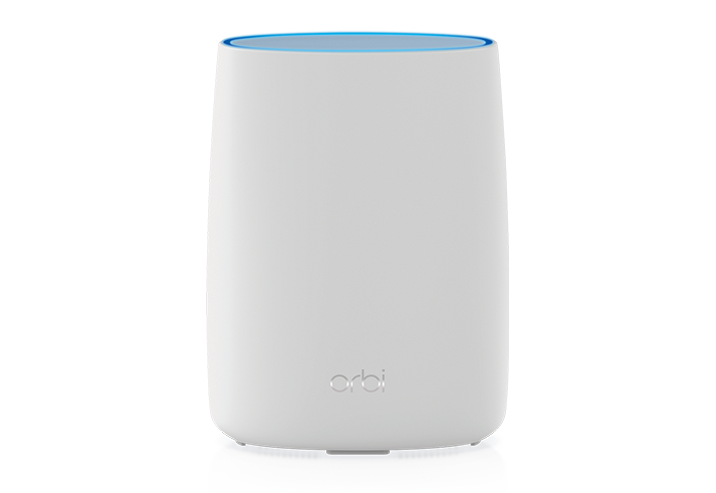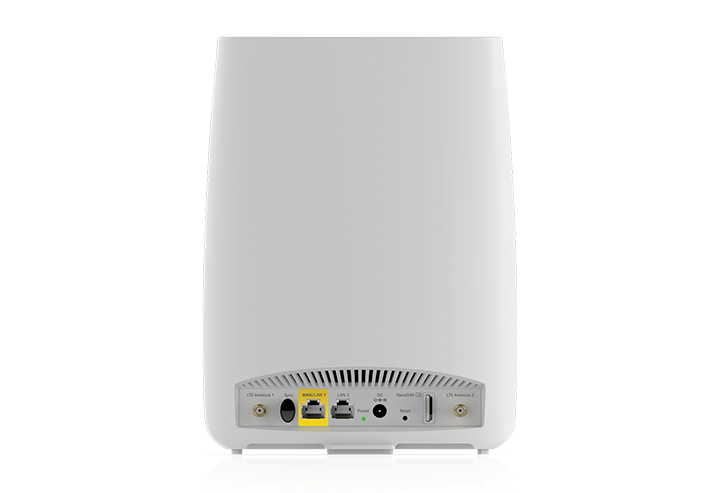 Dimensions :

6.7 x 3.1 x 8.9in

Weight :

1.72lb
WiFi Coverage :

1,500 sq.ft.

Orbi 4G LTE Advanced Router (AC2200) :

Implicit & Explicit Beamforming for 2.4GHz & 5GHz bands, MU-MIMO capable for simultaneous data streaming to multiple devices, Powerful Quad-Core 710MHz processor

AC2200 Tri-Band WiFi :

2.4GHz (400Mbps†) + 5GHz (866Mbps†) for WiFi devices to connect to the Internet

Dedicated Backhaul :

2X2 (866Mbps), 5GHz (866Mbps†) dedicated WiFi link for faster data connections between Orbi Router and (additional) Orbi Satellite

LTE Support :

Built in 4G LTE Modem. LTE Category 18, capable of up to 1.2 Gbps. 4G LTE Band (LTE FDD): B2,4,5,7,12,13,14,17,25,26,29,30,66,71. 4G Band (LTE-TDD): B41. 3G Band: B1,4,5

Ports :

Two (2) external SMA type antenna ports (antenna not included), Two (2) 10/100/1000Mbps Gigabit Ethernet ports (1 WAN + 1 LAN)

Security :

Advanced cyber threat protection for your PC, Mac® and mobile devices with NETGEAR Armor™ Standards-based WiFi Security (802.11i, 128-bit AES encryption with PSK), Guest WiFi Network is easy to setup separate & secure Internet access for guests, Circle® Smart Parental Controls to manage content and time online for all your devices.

Works with Amazon Alexa and the Google Assistant :

Yes
Warranty :

This product is backed by a NETGEAR limited 1-year Hardware Warranty.

†Maximum wireless signal rate derived from IEEE 802.11 specifications. Actual data throughput and wireless coverage will vary and be lowered by network and environmental conditions, including network traffic volume, device limitations, and building construction. NETGEAR makes no representations or warranties about this product's compatibility with future standards. Up to 2,200Mbps wireless speeds achieved when connecting to other 802.11ac 2,200Mbps devices.

†† Network must support subset of the 4G LTE bands listed under the Technical Specifications.

Support :

24/7 basic technical support provided for 90 days from purchase date, when purchased from a NETGEAR authorised reseller.
One (1) Orbi LTE Router (LBR20)
One (1) 2m Ethernet cable
One (1) 12V/2.5A power adapter
Quick start guide
By clicking "Sign up" you agree that NETGEAR Inc. and NETGEAR International Limited may email you personalized marketing about products and services. You can revoke this consent with effect for the future by clicking on the unsubscribe link at the end of each marketing email. Please see our privacy policy for more information.