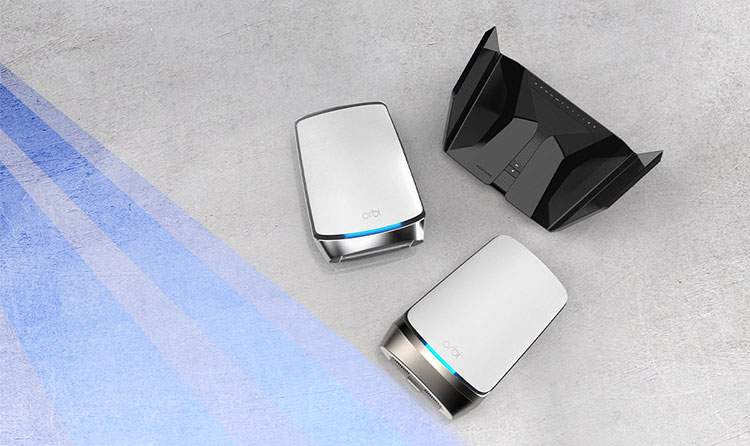 Tri Band & Quad Band Routers
---
NETGEAR's Tri-band and exclusive Quad-band mesh routers unlock the fastest speeds, provide the lowest latency, highest quality, and overall best WiFi available today.
MORE BANDS, MORE POWER
Today's connected devices need WiFi bandwidth like never before. Most WiFi mesh systems have two bands— 2.4GHz and 5GHz—to deliver a wireless connection to all your devices. They use these same bands to communicate between router and satellites, taking up critical bandwidth and slowing down connectivity to your devices.
DEDICATED CONNECTION
NETGEAR's mesh systems take it a step further. A second 5GHz band facilitates an exclusive connection between router and satellites, powering performance throughout the home without ever impacting the bandwidth to your devices. Tri-band mesh technology keeps all your devices connected with flawless performance.
WELCOME WIFI 6E - THE WORLD'S FASTEST, MOST ADVANCED WIFI
The newest WiFi 6E technology adds an all-new 6GHz band— an ultra-exclusive WiFi superhighway that works in tandem with the 2.4GHz and 5GHz bands to deliver the fastest speed and greatest device capacity ever.
THE WORLD'S FIRST QUAD-BAND SYSTEM
Orbi WiFi 6E 960 Series provides an exclusive, dedicated connection between router and satellites— the first ever Quad-band mesh system. Meticulously crafted for even the most demanding smart homes, NETGEAR Quad-band mesh with gigabit+ speeds to every device, lets you experience streaming, gaming, and connecting like you've never imagined.