Gigabit Unmanaged Switch Series (GS108PP)
8-Port Gigabit Ethernet High-power PoE+ Unmanaged Switch with FlexPoE (123W)
Gigabit Unmanaged Switch Series (GS108PP)
8-Port Gigabit Ethernet High-power PoE+ Unmanaged Switch with FlexPoE (123W)
8 PoE+ ports with 123W total power budget, and includes NETGEAR FlexPoE allowing to reduce the power budget to 83W or even 60W (w/separately purchased power supply modules)
PLUG AND PLAY
Simple setup with no software or configuration needed
POWER-OVER-ETHERNET
8 PoE+ ports with 123W total power budget, and includes NETGEAR FlexPoE allowing to reduce the power budget to 83W or even 60W (w/separately purchased power supply modules)
FLEXIBLE MOUNTING
Mount on rack, desktop, or wall
SMALL SIZE, METAL CASE AND SILENT OPERATION
Durable quality, space saver, and quietness for peace of mind
LIFETIME LIMITED WARRANTY & NEXT BUSINESS DAY REPLACEMENT
NETGEAR has your back to ensure your network is up and running
STURDY METAL CASE, DESKTOP/RACKMOUNT FORM FACTOR WITH QUIET FANS
Can be placed on desk or on mounted rack and will operate quietly with assured durability
Choice of Fast Ethernet and Gigabit Ethernet connectivity
Energy-efficient technology for power savings
PoE power auto-balance - the switch automatically balances the PoE power based on the device needs independent of PoE class detected, at a very granular level.
Auto-MDI/MDIX eliminates the need for crossover cables
Non-blocking switching architecture for maximum throughput at wire speed
Auto-negotiation for automatic connection at the highest common speed between switch and an end device
Power-over-Ethernet (PoE) option available for powering IP Security Cameras, VoIP phones, wireless access points, and other PD-powered devices
Power-Over-Ethernet (PoE) and PoE+ options available for powering IP Security Cameras, VoIP phones, wireless access points, and other PoE-powered devices
These PoE+ Switches are not just flexible in terms of placement they are also flexible in terms of PoE power
Built-in PoE power selector switch that allow for optional / interchangeable power adapters* (sold separately) that can be used to increase (or decrease) the PoE power available on the switch
The flexible mounting system gives you the flexibility to place them in a desktop environment, wall mount them, or even rack-mount (accessories included)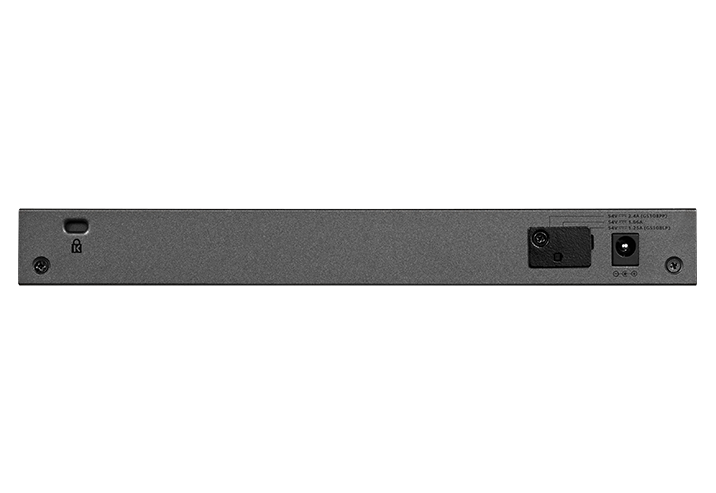 Dimensions (W x D x H): 236 x 102 x 27 mm
9.29 x 4.02 x 1.06 in

Weight: 0.6kg



Model Description :

GS108PP 8-Port High-power PoE+ Gigabit Ethernet Unmanaged Switch with 123W total power budget.

Speed :

Gigabit

Number of Ports :

8

PoE Ports / Max power outlet :

8 PoE+ ports, up to 30W per port

Energy Efficient Ethernet support :

Yes

Jumbo frame support :

Yes

MAC table size :

4K

Packet buffer size :

192KB

PoE Auto balance :

Yes

PoE budget :

Up to 123W
Warranty :

This product is backed by a NETGEAR Limited Lifetime Hardware Warranty.
Lifetime Next Business Day Hardware Replacement. Click here for coverage, availability and terms and conditions.

Support :

ProSUPPORT 24x7 Advanced Technical Support via phone for 90 days (Remote diagnostics performed by our technical experts for prompt resolution of technical issues). ProSUPPORT coverage can be extended by purchasing one, three, or five year contracts.
ProSUPPORT Lifetime 24x7 Advanced Technical Support via chat.