ARLO NOW WORKS WITH SMARTTHINGS TO MAKE THE HOME SMARTER AND MORE SECURE
Use SmartThings to Monitor Your Home Inside and Out with NETGEAR Arlo Wire-free HD Cameras
SAN JOSE, Calif. — August 30, 2016 — NETGEAR®, Inc.(NASDAQ: NTGR), the leading provider of smart home security cameras, today announced the Arlo Wire-free HD Security Camera's integration with Samsung's SmartThings. The collaboration will enable Arlo Wire-free cameras to interact with devices on the SmartThings platform, while also adding video recording to its Smart Home Monitor security solution.

The Arlo camera makes a great addition to SmartThings Smart Home Monitor as an elegant, and easy-to-use security solution. The camera can be triggered to record video clips by other devices that are part of Smart Home Monitor, such as door, window, or motion sensors. It can also act as a motion detector, to trigger other SmartThings devices, such as turning on lights as a person enters a room or approaches a house.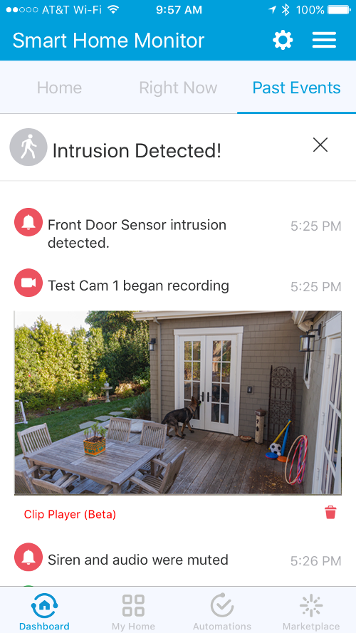 Accessing Arlo smart cameras within the SmartThings app will make living smart easier than ever. An open platform with a thriving ecosystem, SmartThings brings freedom of choice in devices, and now with the integration of Arlo smart cameras, smart home monitoring has near limitless possibilities. Users may view the live feed from Arlo smart cameras directly within the SmartThings app, right alongside their other devices, offering home monitoring and remote control within a single interface. SmartThings is the easiest way to turn a home into a smart home, with an open platform that has one of the largest ecosystems of compatible devices.

"Arlo's mission is to deliver products that make it incredibly simple for people to keep an eye on their property, kids, pets and everything else that matters most in their lives," said Pat Collins, senior vice president of Arlo products at Netgear. "By working with Samsung SmartThings to make our innovative, 100% wire-free, HD smart cameras compatible with their platform, we are now able to offer customers the added benefits of seamless connectivity between Arlo and many other smart devices."
"Interoperability with the most popular and technically advanced devices on the market is key to achieve mass consumer adoption for the smart home," said Brett Worthington, General Manager for Americas and Vice President of Global Business Development, SmartThings. "At SmartThings, we're committed to building an open platform with a robust third party ecosystem, and are excited to deliver our customers even more capabilities with the Netgear Arlo camera integration available today."
Availability
The SmartThings app is available now and support for Arlo smart cameras is included as of today's announcement.
About NETGEAR, Inc.
NETGEAR (NASDAQ: NTGR) is a global networking company that delivers innovative products to consumers, businesses and service providers. The Company's products are built on a variety of proven technologies such as wireless (WiFi and LTE), Ethernet and powerline, with a focus on reliability and ease-of-use. The product line consists of wired and wireless devices that enable networking, broadband access and network connectivity. These products are available in multiple configurations to address the needs of the end-users in each geographic region in which the Company's products are sold. NETGEAR products are sold in approximately 28,000 retail locations around the globe, and through approximately 29,000 value-added resellers, as well as multiple major cable, mobile and wireline service providers around the world. The company's headquarters are in San Jose, Calif., with additional offices in approximately 25 countries. More information is available from the NETGEAR investor page or by calling (408) 907-8000. Connect with NETGEAR on Twitter and Facebook.
About SmartThings
SmartThings is the easiest way to turn a home into a smart home, bringing users peace of mind, savings, and convenience. As an open platform with a thriving ecosystem, SmartThings also brings users freedom of choice in devices and limitless possibilities. SmartThings is headquartered in Palo Alto, CA and operates independently as a wholly owned subsidiary of Samsung Electronics.
©2016 NETGEAR, Inc. NETGEAR, the NETGEAR logo, and Arlo are trademarks and/or registered trademarks of NETGEAR, Inc. and/or its affiliates in the United States and/or other countries. Other brand and product names are for identification purposes only and may be trademarks or registered trademarks of their respective holder(s). The information contained herein is subject to change without notice. NETGEAR shall not be liable for technical or editorial errors or omissions contained herein. All rights reserved.
Safe Harbor Statement under the Private Securities Litigation Reform Act of 1995 for NETGEAR, Inc.:This press release contains forward-looking statements within the meaning of the U.S. Private Securities Litigation Reform Act of 1995. Specifically, statements concerning NETGEAR's business and the expected performance characteristics, specifications, reliability, market acceptance, market growth, specific uses, user feedback and market position of NETGEAR's products and technology are forward-looking statements within the meaning of the Safe Harbor. These statements are based on management's current expectations and are subject to certain risks and uncertainties, including, without limitation, the following: the actual price, performance and ease-of-use of NETGEAR's products may not meet the price, performance and ease-of-use requirements of customers; product performance may be adversely affected by real world operating conditions; failure of products may under certain circumstances cause permanent loss of end user data; new viruses or Internet threats may develop that challenge the effectiveness of security features in NETGEAR's products; the ability of NETGEAR to market and sell its products and technology; the impact and pricing of competing products; and the introduction of alternative technological solutions. Further information on potential risk factors that could affect NETGEAR and its business are detailed in the Company's periodic filings with the Securities and Exchange Commission. NETGEAR undertakes no obligation to release publicly any revisions to any forward-looking statements contained herein to reflect events or circumstances after the date hereof or to reflect the occurrence of unanticipated events.
Source: NETGEAR-G
U.S. Media Contact: Nathan Papadopulos, (408) 890-3889, Npapadopulos@netgear.com
U.S. Sales Inquiries: (408) 907-8000, sales@netgear.com
U.S. Customer Inquiries: (888) NETGEAR