NETGEAR EXPANDS FAMILY OF STANDALONE SMART MANAGED SWITCHES FOR HIGH-DENSITY POWER-OVER-ETHERNET DEVICES
Three powerful new 8-port and 16-port switching options with PoE+ and L2+/L3 Lite features for growing small- and medium-sized businesses
SAN JOSE, Calif. — April 24, 2017 — NETGEAR®, Inc. (NASDAQ: NTGR), the leading provider of networking devices that power today's smart home and small and medium-sized businesses (SMBs), is introducing three new ProSAFE® Smart Managed Switches to support dense deployment of modern, high-power devices requiring Power-Over-Ethernet and PoE+. The new standalone switches are designed with varying PoE port counts and PoE power budgets to meet the current and future needs of wireless converged networks. These new switches represent an ideal solution for SMBs looking for network efficiency, operational cost savings, and ease of management — especially in the hospitality, catering, education, and retail industries.
Purposely designed for converged networks where voice, video, data are carried on a single network platform, the three new NETGEAR Smart Managed Switches offer PoE+ functionality along with powerful Layer 2+ and Layer 3 Lite features: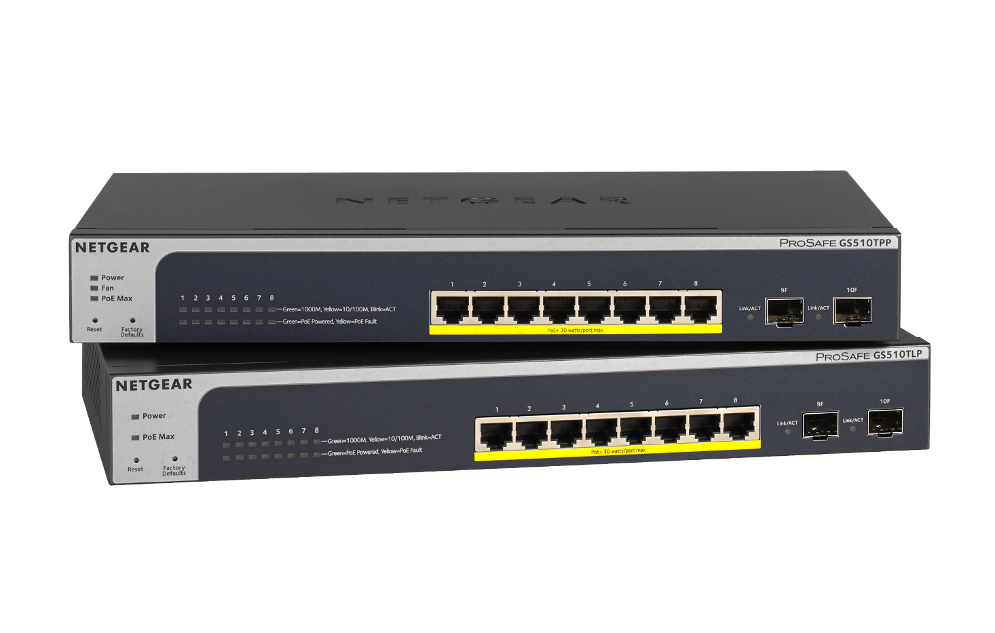 Within small and medium-sized organizations, there is growing adoption of PoE devices such as VoIP phones, IP security cameras, wireless access points, proximity sensors, LED lighting, door locks, and other IoT devices that require network switches capable of supporting dense PoE installations. Wireless access points and pan-tilt-zoom HD cameras using Wave 2 802.11ac WiFi also require PoE+ power (802.3at), increasing the power demands on PoE switches.
"PoE devices are putting a strain on switching power demands," said Richard Jonker, vice president of product line management for SMB products at NETGEAR. "We designed our three new Smart Switches with PoE+ as we understand the importance of providing a wide choice of port counts and power budgets that can adapt to business needs, along with quiet operation and flexible placement options."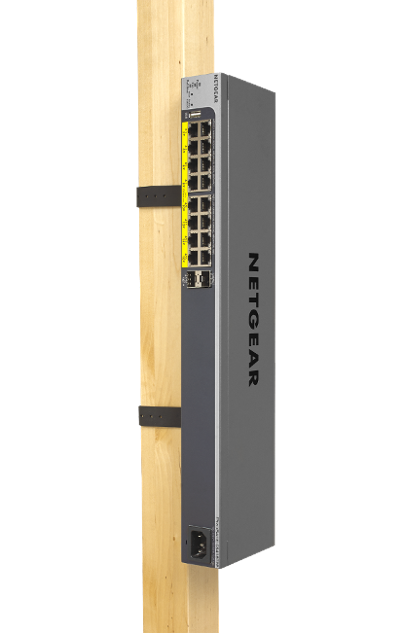 The GS418TPP Easy-Mount 16-Port Gigabit Smart Managed Switch comes with 16 PoE+ copper ports and 2 dedicated Gigabit SFP fiber ports for aggregation to the network core. Organizations that buy infrastructure for the long term and wish to be prepared for the growth can support dense deployment of PoE+ as the 240W PoE power budget of this switch provides a lot of room for expansion.
With the GS418TPP, network managers can install PoE+ ports in any environment needed where other switches cannot go, due to its slim design and the industry-first NETGEAR Virtually AnywhereTM mounting system for vertical, horizontal, flat or perpendicular placement. Whether it's on the wall, strapped to a pole, under a desk or tabletop, in air passageways, or above drop-down ceilings, this unique mounting system enables a network manager to optimize placement of power-hungry access points, IP cameras, or VoIP endpoints, and ensure cabling efficiency even outside the rack. The GS418TPP operates quietly even at full power thanks to intelligent fan-speed control.
The GS510TPP 8-Port Gigabit Smart Managed Switch has 8 PoE+ copper ports and 2 dedicated SFP ports for fiber uplinks. Its 190W power budget provides more than enough headroom to make the GS510TPP a wise purchase for network managers to support denser deployment of PoE+ devices as their business grows. Its temperature- and load-based fan-speed control combines accurate monitoring with minimized system acoustic noise, supporting quiet operation in both desktop or rackmount configuration.
The GS510TLP 8-Port Gigabit Smart Managed Switch offers 8 PoE+ copper ports and 2 dedicated SFP ports for fiber uplinks. Cost-cautious organizations can now deploy denser PoE+ devices with a reasonable PoE power budget of 75W. With a fan-less design, the GS510TLP supports perfectly silent desktop operation or rack mounting in conference rooms, open space offices, healthcare centers or any noise-sensitive environment.
All three of the new switches offer the same fundamental management features of other NETGEAR ProSAFE Smart Managed Switches, with simpler configuration and deployment through an easy-to-use, intuitive web browser-based management GUI. Some of the key features and benefits supported by all three switches include:
Layer 3 static routing with 32 routes (IPv4 and IPv6) for interVLAN local routing
Advanced VLAN support for better network segmentation
Advanced per port PoE controls for remote power management of PoE connected devices including operation scheduling
Energy Efficient Ethernet (IEEE 802.3az) for maximum power savings
Configurable L2 network features include VLANs, Rapid Spanning Tree, IGMP Snooping and Querier, IGMP Fast Leave
Advanced Smart Switching features include IPv4/IPv6 Layer 3 static routing, DiffServ QoS policies, LACP Link Aggregation, Broadcast control, Denial of service protection
Lifetime Hardware

Warranty

includes Lifetime Next Business Day shipping for replacement, and Lifetime Technical Support options.
Availability
The new switches are available now worldwide through authorized NETGEAR partners and other reseller channels and ecommerce sites. Regional variance may apply to the final pricing for end customers depending on the reseller and bundled offerings.
About NETGEAR, Inc.
NETGEAR (NASDAQ: NTGR) is a global networking company that delivers innovative products to consumers, businesses and service providers. The Company's products are built on a variety of proven technologies such as wireless (WiFi and LTE), Ethernet and powerline, with a focus on reliability and ease-of-use. The product line consists of wired and wireless devices that enable networking, broadband access and network connectivity. These products are available in multiple configurations to address the needs of the end-users in each geographic region in which the Company's products are sold. NETGEAR products are sold in approximately 31,000 retail locations around the globe, and through approximately 28,000 value-added resellers, as well as multiple major cable, mobile and wireline service providers around the world. The company's headquarters are in San Jose, Calif., with additional offices in approximately 25 countries. More information is available from the NETGEAR investor page or by calling (408) 907-8000. Connect with NETGEAR on Twitter, Facebook and our blog.
©2017 NETGEAR, Inc. NETGEAR, the NETGEAR logo, ProSAFE, and Virtually Anywhere are trademarks and/or registered trademarks of NETGEAR, Inc. and/or its affiliates in the United States and/or other countries. Other brand and product names are for identification purposes only and may be trademarks or registered trademarks of their respective holder(s). The information contained herein is subject to change without notice. NETGEAR shall not be liable for technical or editorial errors or omissions contained herein. All rights reserved.
Safe Harbor Statement under the Private Securities Litigation Reform Act of 1995 for NETGEAR, Inc.: This press release contains forward-looking statements within the meaning of the U.S. Private Securities Litigation Reform Act of 1995. Specifically, statements concerning NETGEAR's business and the expected performance characteristics, specifications, reliability, market acceptance, market growth, specific uses, user feedback and market position of NETGEAR's products and technology are forward-looking statements within the meaning of the Safe Harbor. These statements are based on management's current expectations and are subject to certain risks and uncertainties, including, without limitation, the following: the actual price, performance and ease-of-use of NETGEAR's products may not meet the price, performance and ease-of-use requirements of customers; product performance may be adversely affected by real world operating conditions; failure of products may under certain circumstances cause permanent loss of end user data; new viruses or Internet threats may develop that challenge the effectiveness of security features in NETGEAR's products; the ability of NETGEAR to market and sell its products and technology; the impact and pricing of competing products; and the introduction of alternative technological solutions. Further information on potential risk factors that could affect NETGEAR and its business are detailed in the Company's periodic filings with the Securities and Exchange Commission. NETGEAR undertakes no obligation to release publicly any revisions to any forward-looking statements contained herein to reflect events or circumstances after the date hereof or to reflect the occurrence of unanticipated events.
Source: NETGEAR-G
NETGEAR contacts:
U.S. Media Contact: Nathan Papadopulos, (408) 890-3889, NPapadopulos@netgear.com
U.S. Sales Inquiries: (408) 907-8000, sales@netgear.com
U.S. Customer Inquiries: (888) NETGEAR