Using LTE as a Primary Internet Source
Are Your Wired Broadband Options Slow or Unreliable?
While the vast majority of people rely on wired internet such as cable, DSL, or fiber as their primary source of connectivity, others may have reason to explore other options. In areas that are far removed from central, more populated locations, wired broadband can be slow, spotty, or completely unavailable. Residents of underserved areas may struggle with everything from communicating with friends and family online to streaming their favorite television shows to working efficiently in their home office.
Can you Cord-Cut your Internet?
Some may have noticed that they get the fastest speeds on their phones, an indication that wired broadband may not be the most dependable source of connectivity in their area. Some may not want to be tied to monthly contracts for their vacation homes. Perhaps a select few are ready to end their relationships with their DSL or cable providers for a myriad of reasons. But is cutting the cord to simplify home network setups, lower bills, and more a legitimate option?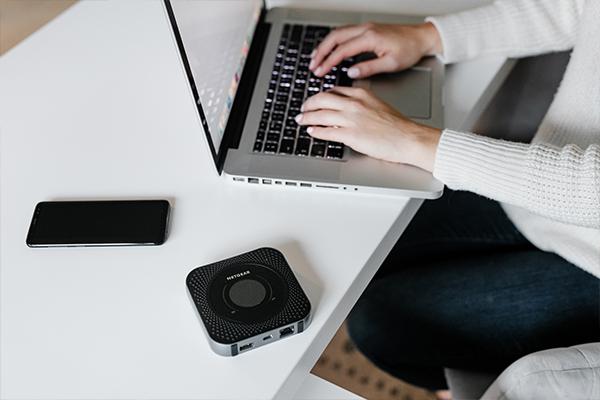 Yes, thanks to another commonly used method of connectivity: Wireless Broadband.
LTE is the technology that makes it possible for people to access entertainment and information without a wired connection. LTE is almost always associated with on-the-go use and smartphones, but just as smartphones have completely replaced landline phones in the home, could LTE be leveraged to serve as the primary, if not sole, source of internet in the home?
Mobile Hotspots like the NETGEAR AirCard 797 can deliver reliable LTE internet when you are home, giving you access to the fastest speeds available on the wireless network in your area. While Mobile Hotspots are known for their convenience because of their on-the-go ability, the AC797 is just as great as an at-home option. With its reliable connection, you can connect up to 32 devices simultaneously, sharing fast wireless internet speeds with everyone in your family.
WiFi products are now being designed with Home Internet in mind.
Mobile routers like the Nighthawk M1 Mobile Router are one type of product that extends LTE connectivity to up to 20 WiFi devices. By deploying a mobile router at home, you can get fast wireless internet access on not just a smartphone, but on laptops, tablets, desktop PCs, printers, gaming consoles, and more. In addition, mobile routers can also be used on the move, making them the ideal solution for coverage both in and outside of the house. If you have a larger home and would like to extend coverage, the Nighthawk M1 mobile router has an Ethernet port that allows you to connect to another router. You can simply take the mobile router with you when you leave the home, and connect it back to your home router when you return.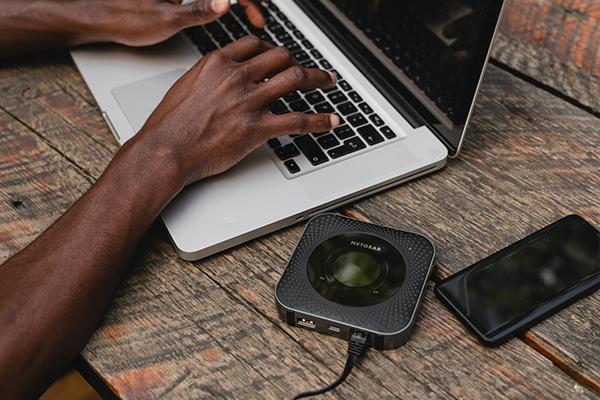 Access to secure WiFi is another benefit of using a mobile router.
While on the go, most people rely on public WiFi to keep themselves connected. But many public WiFi networks are not secure, and by connecting to them, you expose your private and private data to vulnerabilities. By using your own mobile router, you have security no matter where you go. You no longer need to search for a public WiFi network to connect to, or divulge your email address in the process of getting connected. Your devices will automatically connect and remain connected to your own mobile router, everywhere you go. Additionally, for some, adding a device like the Nighthawk M1 to an existing shared data plan may actually be more affordable than having wired internet service for the home.
LTE modems are another simple way to bring wireless internet indoors.
By inserting a SIM card into an LTE modem and connecting the modem to your router, you can easily and instantly use LTE at home. Best of all, by having a setup in which your router works in tandem with an LTE modem, such as the NETGEAR LTE Modem LB2120, you do not have to choose between wired and wireless internet. If you would still like access to wired broadband, you can continue to use it with LTE as either the primary or the backup internet source.
The versatility of products like mobile routers
and LTE modems makes it easy to make LTE a source of reliable, always-on, in-home WiFi. These solutions are powerful enough to support users as they go about their daily online activities, many of which require lots of bandwidth, including streaming Netflix shows, video chatting or conferencing, and gaming. Mobile solutions may also be helpful in providing the dependability and strength needed for crucial activities such as working and learning from home, which many are having to do under the current circumstances.
People everywhere deserve to be connected so that they can be more productive and subsequently happier – with innovative solutions like these, connectivity for everyone is becoming more of a reality.