AX6600 WiFi Router (RAX70)
Nighthawk® 8-Stream Tri-Band WiFi 6 Router (up to 6.6Gbps) with NETGEAR Armor™, MU-MIMO, USB 3.0 port
AX6600 WiFi Router (RAX70)
Nighthawk® 8-Stream Tri-Band WiFi 6 Router (up to 6.6Gbps) with NETGEAR Armor™, MU-MIMO, USB 3.0 port
Enjoy 8 streams of WiFi 6 for 4X more device capacity and more bandwidth for more streaming, gaming, and browsing for the whole family. With up to 1.2 + 4.8Gbps + 600Mbps of ultra-fast WiFi speeds, connect more devices than ever before reliably and simultaneously.
Tri-Band WiFi
With tri-band WiFi, you get three WiFi bands, with the third dedicated for communication between your router and satellite. That means less network congestion and device interference, and more speed and efficiency. Enjoy the fastest WiFi on every device, wherever you are in the house.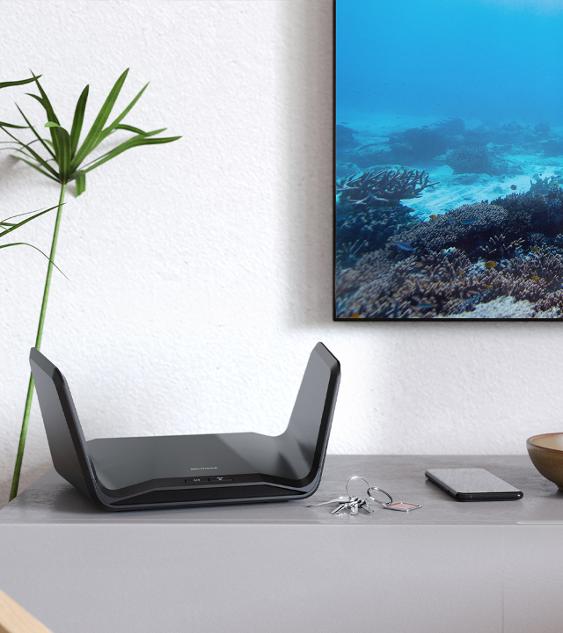 Downloads & Smoother Streaming
Stream data to multiple devices simultaneously with Multi-User MIMO (MU-MIMO) technology.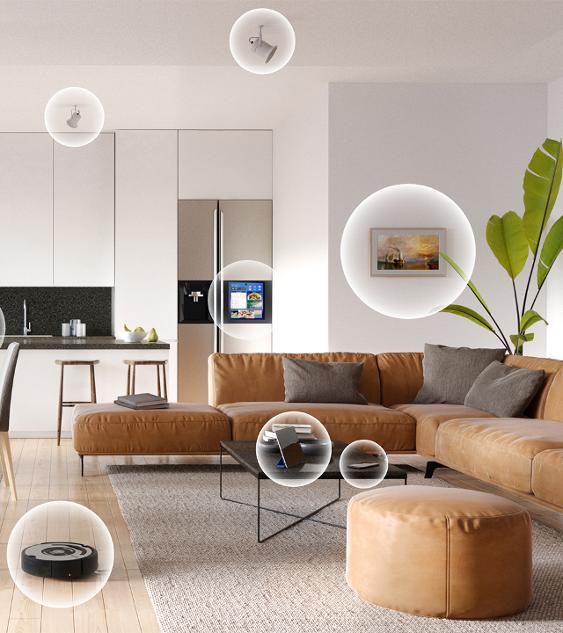 Ready for Your Smart Home
Delivers 4x better performance than AC WiFi and allows more devices to connect and stream simultaneously.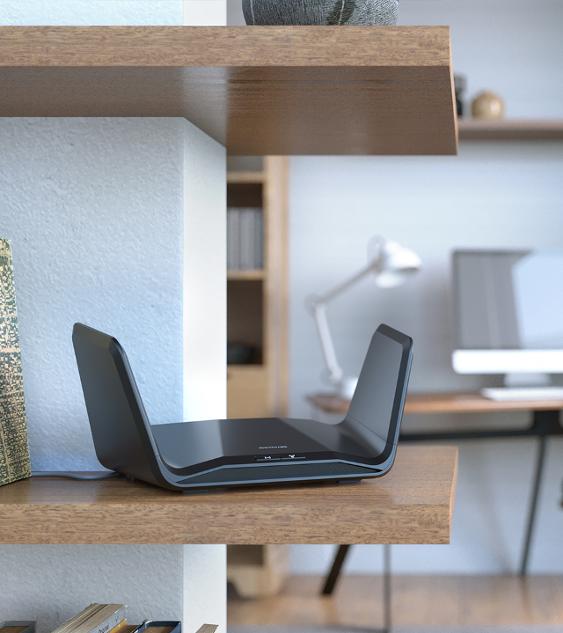 Powerful 1.5GHz Quad-Core Processor
Built for performance at an ultimate level, enjoy stronger, more reliable streaming and gaming experiences.
NETGEAR Armor
NETGEAR Armor cybersecurity keeps your network and private data safe from online threats, at home and on the go. One subscription protects an unlimited number of connected devices, from phones and laptops to thermostats and security cameras.

NETGEAR Smart Parental Controls
Managing your kids' time online has never been easier. No need to take away any devices – with just a few taps, you can build profiles for each family member, pause internet on devices, and so much more*. Start building healthy online habits today.
*Some features require Premium Subscription after 30-day free trial; no credit card required. €6.99/month or €59.99/year after end of trial. Visit

netgear.com/spc
Ultra-fast Wireless Speeds 
8-Stream WiFi with up to 1.2 + 4.8Gbps + 600Mbps wireless speeds
8 Streams Of WiFi 
Enjoy simultaneous 4K/8K UHD streaming, lag-free gaming, and browsing interruption-free
160MHz Channel Support
Gigabit speeds for compatible mobile devices and laptops
Powerful Quad-Core 1.5GHz Processor  
64-bit 1.5GHz quad-core processor ensures smooth 4K UHD streaming to Smart TVs, mobile devices, and gaming consoles
More WiFi for More Devices  
Uplink and downlink OFDMA substantially improves network capacity and efficiency, particularly when traffic is created simultaneously. 
Dynamic QoS 
Prioritises internet traffic by application and device for smoother streaming
Additional DFS Channels  
Reduces interference from neighbouring networks with the advantage of additional channels
NETGEAR Armor††
An automatic shield of protection for your network. Protect devices other solutions miss, like smart phones, security systems and more.
NETGEAR Smart Parental Controls*
Easily manage your kids' time online across their connected devices and promote healthy habits both at home and anywhere they go
Guest Network
Create a separate and secure network for your guests
Automatic Firmware Updates
Latest security patches delivered to the router
Nighthawk App
Set up your WiFi, customise your settings, and enjoy faster WiFi in no time
Voice Control
Use voice commands to control your home WiFi network. Works with Amazon Alexa and Google Assistant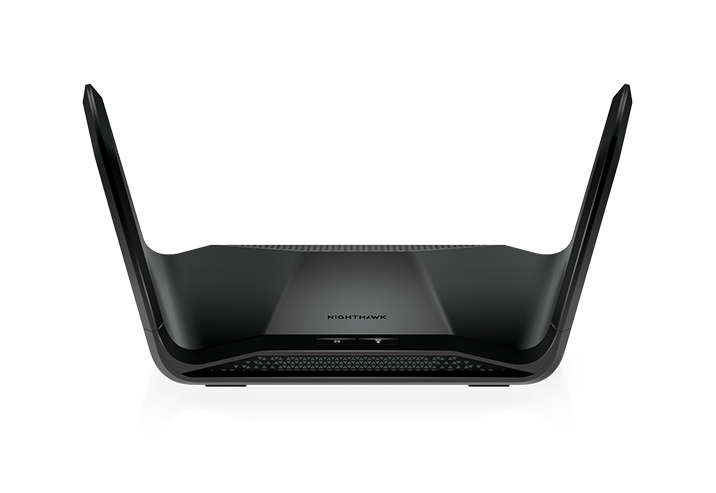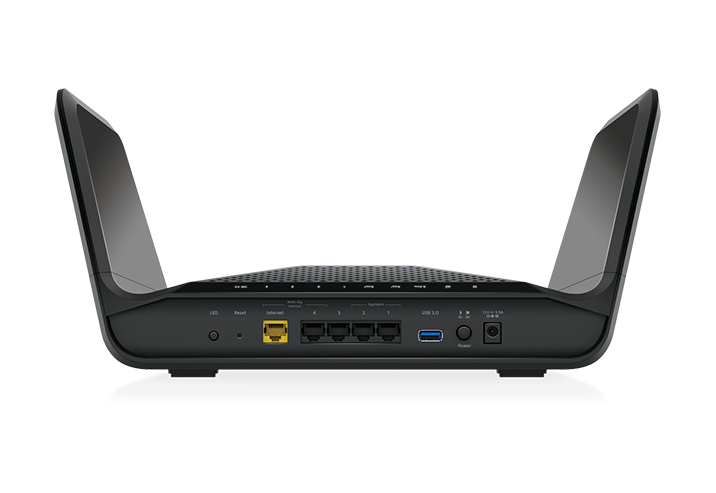 Folded size: 11.85 x 8.15 x 3.31 in (301 x 207 x 84 mm)
Unfolded size: 13.66 x 8.19 x 6.57 in (347 x 208 x 167 mm)
Weight: 2.58 lb (1171 g)
WiFi Technology :

WiFi 6 (802.11ax) Tri-Band WiFi (AX6600). 2.4GHz AX: 2x2 (Tx/Rx) 1024/256 QAM 20/40MHz, up to 0.6Gbps. 5GHz AX: 2x2 (Tx/Rx) 1024/256 QAM 20/40/80MHz, up to 1.2Gbps. 5GHz AX: 4x4 (Tx/Rx) 1024/256 QAM 20/40/80/160MHz, up to 4.8Gbps. Backwards compatible with 802.11a/b/g/n/ac WiFi.

WiFi Performance :

AX6600 WiFi

WiFi Range :

WiFi coverage for very large homes

WiFi Band :

Tri-Band 2.4 & 5GHz & 5GHz

Beamforming :

Beamforming+ — Boosts speed, reliability and range of WiFi connections for 2.4 and 5GHz

Ethernet Ports :

Five (5) 10/100/1000 Mbps Gigabit Ethernet ports. Dual Gigabit Ethernet port aggregation

USB Ports :

One (1) USB 3.0 port

Processor :

Powerful quad-core 1.5GHz processor

WiFi Speed :

1.2 + 4.8 Gbps + 600Mbps† with 8-stream connectivity**. 4X4 MU-MIMO‡ allows simultaneous streaming to multiple devices. 1024-QAM—25% increased data efficiency and faster speeds than a 256-QAM router. Ability to aggregate two gigabit LAN ports for faster file transfers and two gigabit ports for internet connections. Multi-Gig ExperienceΔ maximises your available Internet speeds with link port aggregation support. Ability to aggregate two Gigabit LAN ports and two Gigabit WAN ports (configurable). 160MHZ channel support*** doubles the speeds as offered by 80MHz channels to provide Gigabit speeds for compatible mobile devices and laptops

WiFi Capacity :

4-stream MU-MIMO‡ enables up to four (4) 1x1 devices to stream content at the same time. Robust quad-core 1.5GHz processor boosts wireless, wired and WAN-TO-LAN performance.

Sharing :

One superspeed USB 3.0 port up to 10x faster than USB 2.0. ReadySHARE® Vault for automatic PC backup to a USB hard drive connected to the router. ReadySHARE® USB access — Wirelessly access & share USB hard drive via one (1) USB port

Ease of Use :

Smart Connect intelligently selects fastest WiFi band for every device connection. One WiFi name for the entire home. Nighthawk App for easy router setup and more, including access from anywhere to manage your network away from home. AX WiFi supports all current WiFi devices and is backward compatible with 802.11a/b/g/n/ac client devices. Control NETGEAR network with simple voice commands using Amazon Alexa and Google Assistant.

Security :

NETGEAR Armor†† provides advanced cyber threat protection for your home and your connected devices. Securely access home network & internet connection from mobile devices with VPN support on PC, Mac, and iOS and Android devices with OpenVPN Connect app. Standards-based security —802.11i, 128-bit AES encryption with PSK. Separate & secure access for guests. Automatic firmware updates deliver latest security patches to the router.
By clicking "Sign up" you agree that NETGEAR Inc. and NETGEAR International Limited may email you personalized marketing about products and services. You can revoke this consent with effect for the future by clicking on the unsubscribe link at the end of each marketing email. Please see our privacy policy for more information.
Footnotes:
†Maximum wireless signal rate derived from IEEE ® 802.11specifications. Actual data throughput and wireless coverage will vary and be lowered by network and environmental conditions, including network traffic volume, device limitations, and building construction. NETGEAR makes no representations or warranties about this product's compatibility with future standards. Up to 6600Mbps wireless speeds achieved when connecting to other 802.11ax 6600Mbps devices.
†† NETGEAR Armor requires a paid subscription after the initial 30-day free trial. (No credit card required for the trial). Visit netgear.com/armor
*Some features require Premium Subscription after 30-day free trial; no credit card required. €6.99/month or €59.99/year after end of trial. Visit

netgear.com/spc