Get a WiFi Boost With Nighthawk Mesh
From dead zones in the far corners of your home to an overall poor signal, are you in a situation where your existing WiFi is struggling to keep up with the demands of your household, and you're exploring other options? Are you currently locked into a rented modem/router (gateway) from your service provider? Or, are you happy with the WiFi router you have, but just wished it had a further range? We here at NETGEAR have a solution for all of your WiFi challenges.
As you probably are already aware, most people who are looking for updated home WiFi solutions are now moving over to mesh systems, like NETGEAR's Orbi Whole Home WiFi Systems. Mesh networks have been all the rage for those in the know and our own Orbi WiFi system has been at the top of the list for many reviewers.
Most people would love to replace their Verizon Fios or AT&T U-verse gateway with a mesh system, but unfortunately, this is often not an option available to them. Many of the service providers require that their subscribers use the service provider's gateway (modem/router) for their internet, TV, or phone service, and do not offer the flexibility to switch to a full mesh system.

With NETGEAR's Nighthawk Mesh WiFi Extenders, you can easily build your own WiFi mesh system, which is the only solution that provides a mesh WiFi network while using any router you'd like, even your current ISP provided gateway. The new Nighthawk Mesh extenders do away with many of the challenges of previous extenders and introduce the benefits that have made the current lineup of mesh WiFi products so popular.
Before Nighthawk Mesh, traditional extenders were the only way to increase coverage in more places, using your ISP provided router. However, that often meant sacrificing some WiFi performance. Additionally, with different network names for the router and the extender, it was not a seamless experience whatsoever. Your device would have limited capabilities to migrate between the router and extender, so one would have to manually switch between router and extender when moving throughout a home network.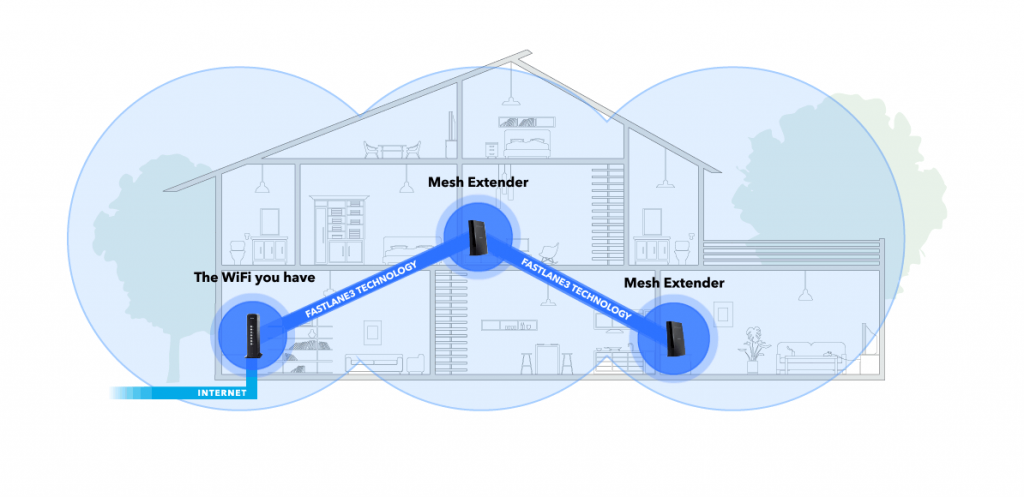 Now, with the new Nighthawk Mesh, your WiFi is taken to the next level without the frustrations typically experienced with extenders.
Our patented Fastlane3 technology, which provides a dedicated backhaul between your gateway or router and your Nighthawk Mesh Extender, can improve your existing WiFi performance by up to 100%, as compared to traditional extenders. Our Tri-Band WiFi creates uninterrupted and reliable connections that will make you forget the lag and the buffering as you stream, game, check email or surf the internet. You'll increase your range and performance even while roaming throughout your property, without ever having to switch between networks.
Best of all, there's no need to replace your current equipment setup. Nighthawk Mesh works with your existing WiFi router. NETGEAR has taken the steps to ensure that Nighthawk Mesh is completely agnostic. This means you don't need to worry about breaking your ISP gateway rental contract or giving up the router that you've come to love, like NETGEAR's lineup of Nighthawk routers. Setup for the Nighthawk Mesh only takes a few minutes and is completed with the simple push of a button.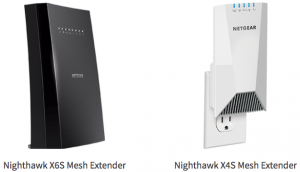 You have the option of the full-sized desktop, Nighthawk X6S Tri-Band WiFi Mesh Extender, or the wall-plug, the Nighthawk X4S Tri-Band WiFi Mesh Extender. It's the ultimate experience for you and your family to enjoy your WiFi with more coverage for more devices.
With Nighthawk Mesh, it's your WiFi, only better.