AX11000 WiFi Router (RAX200)
Nighthawk® 12-Stream Tri-Band WiFi 6 Router (up to 10.8Gbps) with NETGEAR Armor™, Circle® Smart Parental Controls, MU-MIMO, USB 3.0 ports
AX11000 WiFi Router (RAX200)
Nighthawk® 12-Stream Tri-Band WiFi 6 Router (up to 10.8Gbps) with NETGEAR Armor™, Circle® Smart Parental Controls, MU-MIMO, USB 3.0 ports
Dead zones and buffering are a thing of the past with the Nighthawk Tri-Band AX12 WiFi 6 Router. Get super-fast speeds for better 4K UHD streaming, gaming, or video conferencing.
Tri-Band WiFi
With tri-band WiFi, you get three WiFi bands, with the third dedicated for communication between your router and satellite. That means less network congestion and device interference, and more speed and efficiency. Enjoy the fastest WiFi on every device, wherever you are in the house.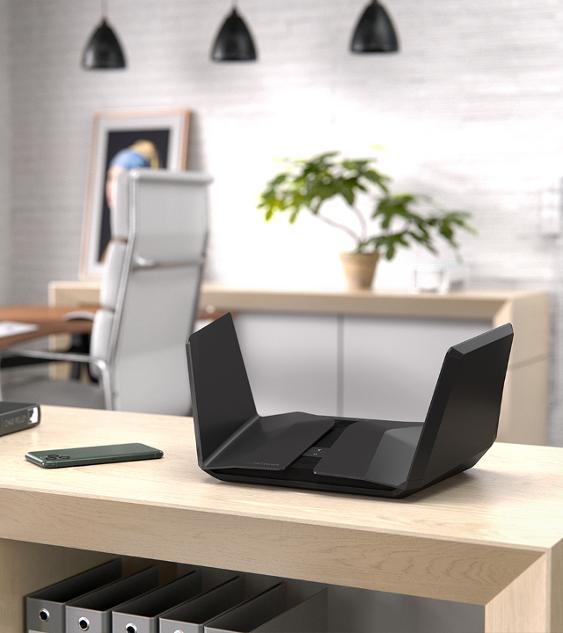 12 WiFi Streams for Ultimate Performance
More WiFi streams help you download, stream, game, and more on the fastest internet speeds available in your home on every device. WiFi so fast, you'll wonder how you lived without it.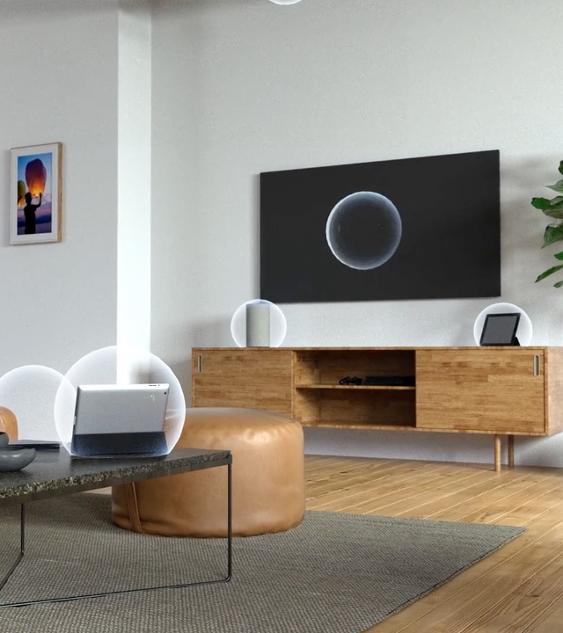 Connect More Devices Worry-Free
With 4X more capacity than your current WiFi, WiFi 6 is the ideal solution for your ever-growing smart home.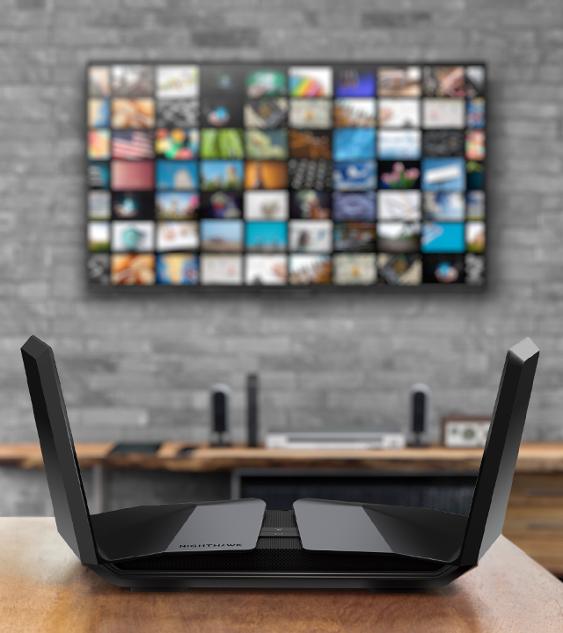 Advanced Whole Home WiFi
Award-winning design ensures reliable and powerful WiFi connectivity, from the front door to the backyard. Stream and game in UHD 4K without interruption.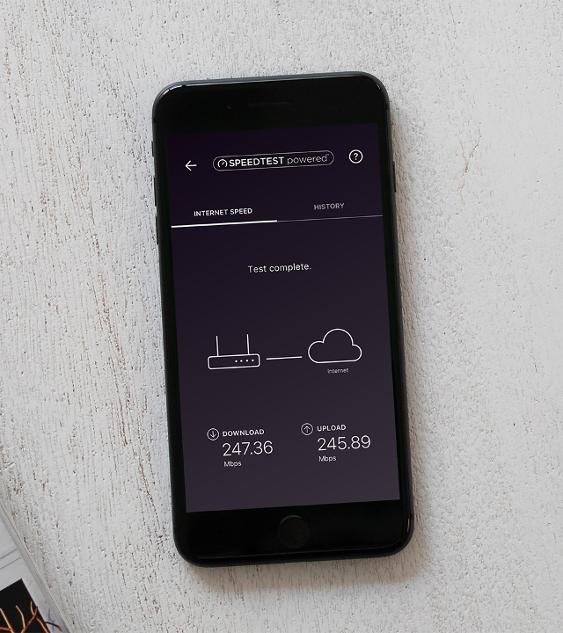 Ease of Use
With the Nighthawk app, you can set up your WiFi in just minutes and manage your Nighthawk Router from the palm of your hand.

NETGEAR Armor
NETGEAR Armor cybersecurity keeps your network and private data safe from online threats, at home and on the go. One subscription protects an unlimited number of connected devices, from phones and laptops to thermostats and security cameras.
Ultra-Fast, Reliable Speeds
Total wireless speeds of up to 10.8Gbps make for smoother ultra HD 4K streaming.
Room for All Your Smart Devices
WiFi 6 offers 4X more device capacity than WiFi 5. Connect more devices, from your laptop and TV to your thermostat and baby monitor.
12 Tri-band WiFi Streams
12 WiFi streams allow for multiple 4K UHD streams, low-latency gaming and blazing-fast Internet speeds.
Easy to Use
Setting up your Nighthawk Router takes just minutes, and you can easily manage your system with the Nighthawk app.
Ultimate Wired Performance
Maximise your Internet speeds up to 2.5Gbps with new versatile Ethernet wired connections.
Connect More Wired Devices
4 Gigabit Ethernet LAN ports make it convenient to set up home offices or entertainment spaces.
One Subscription, Unlimited Protection
A single subscription to NETGEAR Armor keeps an unlimited number of connected devices safe from internet threats.
On-the-Go Protection
Install award-winning Bitdefender Security as part of your NETGEAR Armor subscription to stay protected wherever you go.
Keep Your Activity Private
NETGEAR Armor's Bitdefender VPN ensures that your online activity is private, even when you're on an unsecured network.
Guest WiFi
Have visitors? Set up a separate, secure guest network with its own name and password.
Encryption
Rest assured your WiFi is encrypted in accordance with WiFi security standards.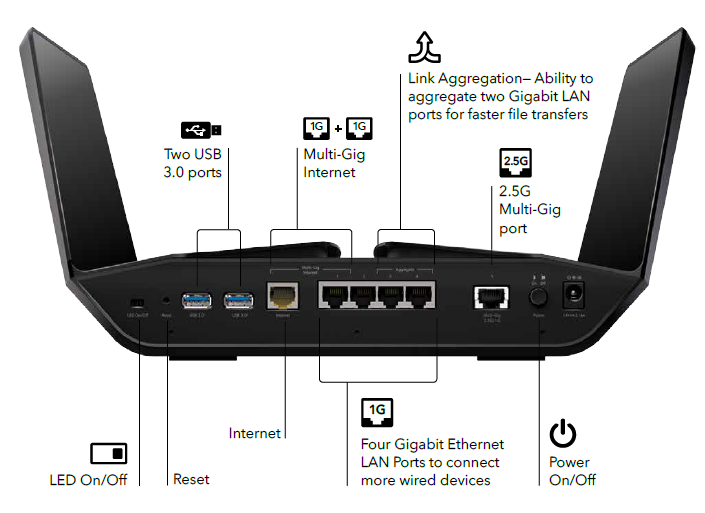 Dimensions :

11.7 x 3.07 x 8.3 in

Weight :

3.2lbs
WiFi Technology :

WiFi 6 (802.11ax) Tri-Band WiFi. 2.4GHz AX: 4x4 (Tx/Rx) 1024 QAM 20/40MHz, up to 1.2Gbps. 5GHz AX: 4x4 (Tx/Rx) 1024 QAM 20/40/80/160MHz, up to 4.8Gbps. 5GHz AX: 4x4 (Tx/Rx) 1024 QAM 20/40/80/160MHz, up to 4.8Gbps. Backwards compatible with 802.11a/b/g/n/ac WiFi.

WiFi Performance :

AX11000 WiFi

Antennas :

Eight (8) concealed antennas pre-optimised for best WiFi performance

WiFi Band :

Tri-Band WiFi

Beamforming :

Beamforming+ — Boosts speed, reliability and range of WiFi connections for 2.4 and 5GHz

Ethernet Ports :

Five (5) 10/100/1000 Mbps Gigabit Ethernet ports + one (1) 2.5G/1Gbps multi-Gig port (configurable). LAN: 4xGbE (2x port aggregation LAN) + 2.5G/1Gbps multi-Gig port (configurable). WAN: 1 GbE or 2.5G/1Gbps multi-Gig port (configurable). Multi-Gig: Ability to aggregate two Gigabit LAN ports and two Gigabit WAN ports (configurable) concurrently.

USB Ports :

Two (2) USB 3.0 ports

Processor :

Powerful 64-bit Quad-core 1.8GHz processor

WiFi Capacity :

8-stream MU-MIMO‡ enables up to four (4) 2x2 devices to stream content at the same time using 2 5GHz bands

Sharing :

Readyshare® USB access -- wirelessly access & share USB hard drive via two (2) USB ports

Security :

Securely access home network & internet connection from mobile devices with VPN support on PC, Mac, and iOS and Android devices with OpenVPN Connect app. Separate and secure network for guests. Automatic firmware updates and latest security patches delivered to the router. Supports WPA3, the latest and cutting-edge WiFi security protocol.
Microsoft® Windows 7, 8, 10, Vista®, XP®, 2000, Mac OS®, UNIX®, or Linux®
Microsoft® Internet Explorer® 11 or higher, Microsoft Edge, Google Chrome™ 55 or higher, Firefox® 45 or higher, Safari® 10 or higher
Nighthawk® Tri-band AX12 12-Stream AX11000 Tri-Band WiFi 6 Router (RAX200)
Ethernet cable
Quick start guide
Power adapter
This product is backed by a NETGEAR limited 1-year Hardware Warranty

Find troubleshooting tips to diagnose product issues in our knowledge base

Extend your warranty & technical support within 90 days of product purchase [US only].