AX6000 WiFi Mesh Extender (EAX80)
Nighthawk® AX8 WiFi Mesh Extender, 6Gbps
AX6000 WiFi Mesh Extender (EAX80)
Nighthawk® AX8 WiFi Mesh Extender, 6Gbps
Say goodbye to dead zones and dropped connections. The NETGEAR® Nighthawk® 8-Stream WiFi 6 Mesh Extender extends the best WiFi performance and fastest speeds to every part of your home, even hard-to-reach places.
Easily Create a Mesh WiFi 6 System with your Existing Router
Expand coverage of your Existing Router using your current WiFi name and password. This desktop design has two powerful internal antennas that extend WiFi signals to where your router WiFi cannot reach. This AX6000 Mesh Extender is backward compatible with previous WiFi generations (11b/g/n/a/ac) and will work with all your existing internet-connected devices.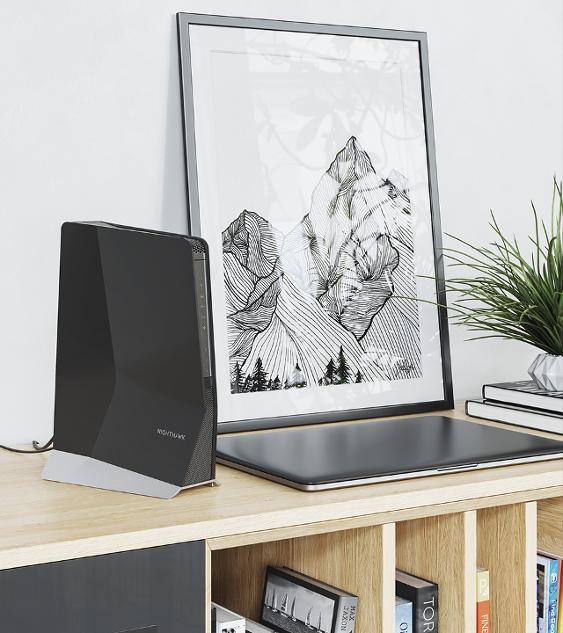 Better Coverage for the Smart Home
Get reliable WiFi for all your smart devices wherever they're installed in your home: the front door, the garage, and everywhere in between.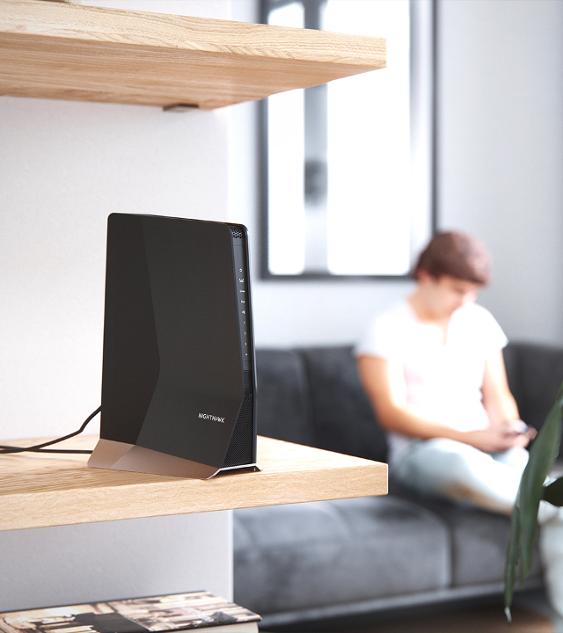 Less Congestion
More bandwidth, less congestion. Get more done on all your connected devices without getting interrupted.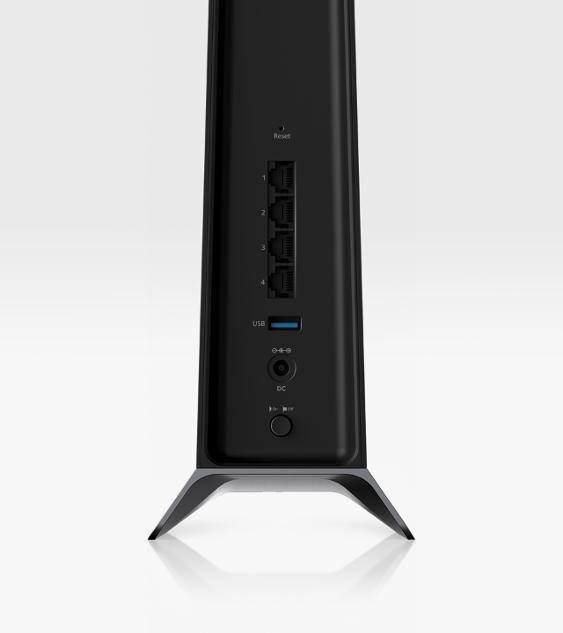 More Wired Connections
Four extra Gigabit Ethernet ports for network-ready wired devices like smart TVs and game consoles.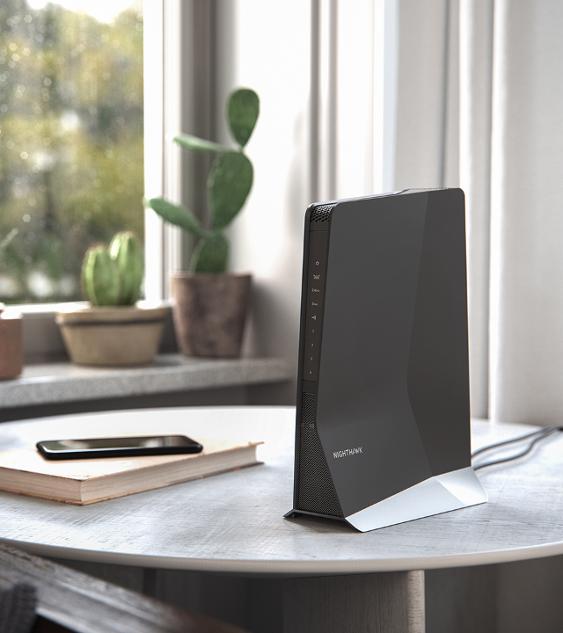 One WiFi Name
The Nighthawk Mesh Extender operates under the same name as your existing WiFi network so you can stay seamlessly connected, even as you roam through the house.
Latest-Generation WiFi 6
The latest standard of WiFi delivers the very best speeds and device capacity.
Gigabit Speeds for Mobile Devices
Combined WiFi 6 speeds of up to 6Gbps are extended throughout your home.
Expansive Coverage
Create a powerful mesh network and get wider range to cover every corner of your home, even in places your router can't reach.
Compatible with Your Existing Router
Backwards compatible with non-WiFi 6 routers. Unlock the best performance when you use with a Nighthawk WiFi 6 router.
Network Efficiency
Efficient data transmission makes it possible to enjoy Gigabit WiFi speeds on more devices at once.
Smart Roaming
Automatically connect to the best WiFi signal as you move throughout your house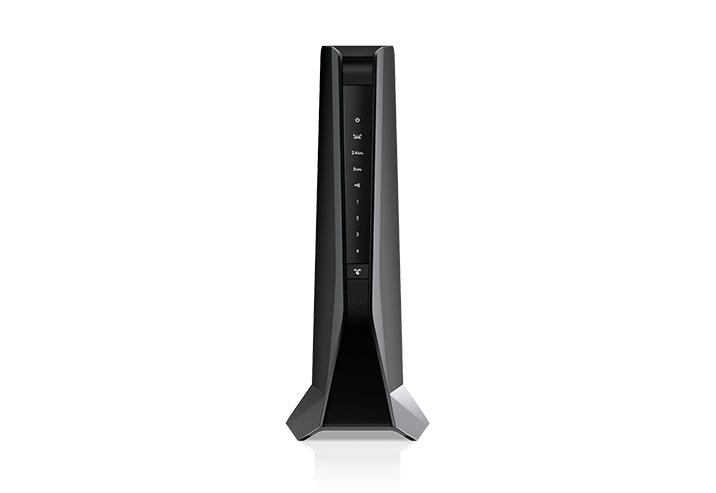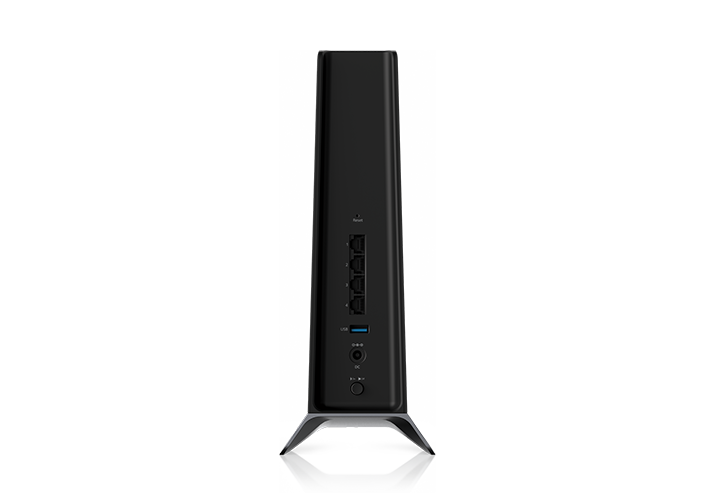 Dimensions :

10 x 7.75 x 4.2 in (279 x 197 x 106mm)

Weight :

1.9lb (0.86kg)
WiFi Technology :

802.11ac

WiFi Performance :

AX6000

WiFi Band :

Band 1: 1.2Gbps @2.4GHz - 1024QAM; Band 2: 4.8Gbps @5GHz - 1024QAM

Ethernet Ports :

Four (4) 10/100/1000 Ethernet ports with auto-sensing technology

USB Ports :

One (1) USB 3.0 port

Key Features :

4X Better Performance than an AC Extender-8 Stream WiFi with up to 1.2 + 4.8 Gbps† for ultra-fast wireless speeds
More WiFi for More Devices-OFDMA allows efficient data transmission up to 8 devices at the same time. Uplink OFDMA improves scheduling during high volumes of upload traffic, particularly when that traffic is created simultaneously§.
Powerful 64-bit 1.8GHz dual-core processor ensures smooth 4K UHD streaming & gaming

Security :

Standards-based WiFi Security (802.11i, 128-bit AES encryption with PSK) and WEP Standards

Ease of Use :

Nighthawk App—Easily set up your extender and get more out of your WiFi. Wi-Fi 6 Supports All Current WiFi Devices—Backward compatible with Wi-Fi 5, Wi-Fi 4 and earlier generation WiFi devices. Push & Connect using WPS.

Standards :

IEEE® 802.11 b/g/n/ax 2.4GHz. IEEE® 802.11 a/n/ac/ax 5GHz. IEEE® 802.11 k
Router :

2.4 and/or 5GHz 802.11 a/b/g/n/ac/ax WiFi router or gateway

Browser :

Microsoft® Internet Explorer® 8.0, Firefox® 20 or Safari® 5.1 or Google Chrome® 25.0 browsers or higher.
Nighthawk® 8-Stream WiFi 6 Mesh Extender (EAX80)
Quick start guide
Power adapter
Warranty:

This product is backed by a NETGEAR limited 1-year Hardware Warranty .

Support :

24/7 basic technical support provided for 90 days from purchase date, when purchased from a NETGEAR authorised reseller.

Footnotes :

†Maximum wireless signal rate derived from IEEE 802.11specifications. Actual data throughput and wireless coverage will vary and be lowered by network and environmental conditions, including network traffic volume, device limitations, and building construction. NETGEAR makes no representations or warranties about this product's compatibility with future standards. Up to 6,000 Mbps wireless speeds achieved when connecting to other 802.11ax 6,000 Mbps devices.
§Requires compatible AX clients with DL-OFDMA and UL-OFDMA support.