What is WiFi 6E?
WiFi 6E was announced in 2020. And its arrival is proving to be right on time. In the last year, home Internet needs have increased dramatically. Increased usage of the home network for Zoom calls, remote learning and more caused peak traffic to surge by 38% downstream and 56% upstream, compared to pre-pandemic levels. As the need for speed and capacity shows no signs of slowing, WiFi 6E brings a unique advantage to households looking for better, faster, more reliable WiFi.
The main differentiator between 6E and the WiFi 6 standard is 6E's expansion into the new, previously unavailable 6GHz band. The 6GHz WiFi band adds more than double the bandwidth of 5GHz, resolving issues with interference and congestion in the 5GHz WiFi band and enables multi-Gigabit speed for connected WiFi 6E devices. WiFi 6E essentially opens up a brand-new superhighway limited to the fastest and latest devices. Maximizing the potential of WiFi 6E, NETGEAR is introducing hardware and software to help you realize the benefits.
Orbi Quad-band WiFi 6E mesh system is the first of its kind helping to bring the highest Internet speeds possible to every corner of your house, up to 9,000 sq. ft. in size, with a router and two satellites. Its counterpart, the Nighthawk RAXE500 router, can serve up to 60 devices across a range of over 2,500 sq. ft. Connecting to your network with the new, unused 6Ghz band brings unprecedented WiFi speed, capacity, and capability to your home.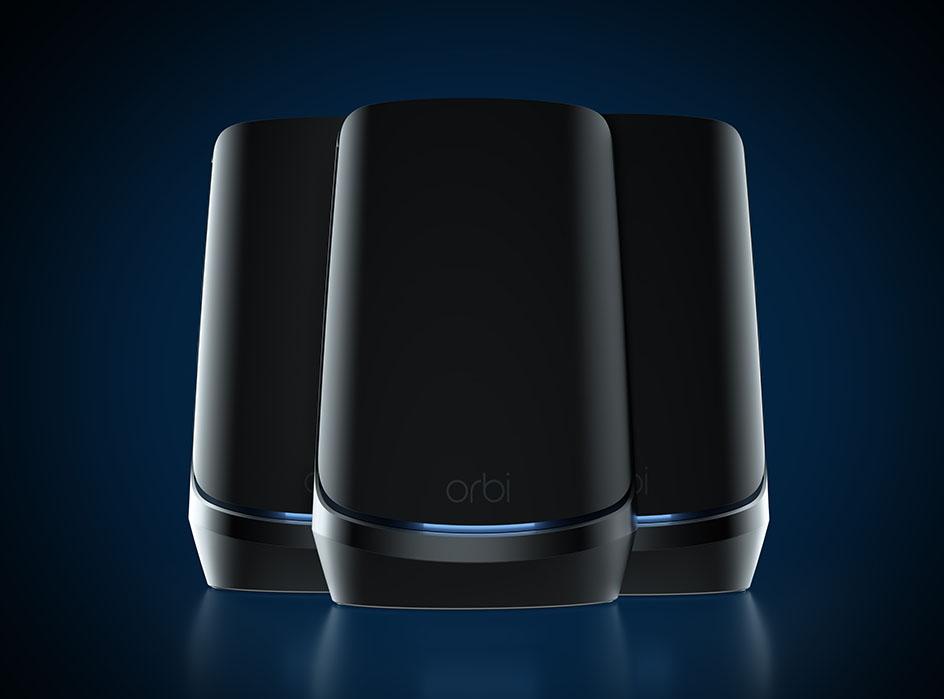 Why WiFi 6E?
The 6GHz band is exclusive to WiFi 6E enabled devices, which means these new devices can get the fastest speeds and performance without interference from legacy devices, which can slow a network down. Today's typical home has more than 20 devices connected to its in-home network, including a whole host of so-called smart devices such as vacuum cleaners, lights, security cameras in addition to PCs and cell phones. This constitutes a lot of traffic on your network and just like a traffic jam on a freeway, it can cause some major frustration. With WiFi 6E, newer devices can take advantage of the new, clean, superfast 6GHz band while freeing up the 5Ghz and 2.4GHz bands so older devices can also experience a bump in performance.
Many WiFi 6E enabled devices are already available with many more to come, including Samsung GS21 Ultra 5G smart phone, Samsung Neo QLED 8K TV, Dell LATITUDE 5520, Lenovo ThinkPad L15 Gen 2, Intel® Wi-Fi 6E AX210 (Gig+) Module. It is very likely the next phone, TV, tablet or PC you buy will be WiFi 6E compatible.
How can I use WiFi 6E?
High quality video streaming and WiFi 6E are a match made in heaven. More 160MHz channels and wider bandwidth made available by the 6GHz band mean that you can achieve ultra-smooth 4K and 8K streaming. This marks a significant upgrade compared to 5GHz routers which could be affected by traffic not only on your network, but your neighbors' as well. With everyone on your block or in your building trying to stream the latest ultra-high definition first-run movie at the same time your viewing experience could be less than theater quality --dropping to HD or even buffering while the network tries to accommodate. WiFi 6E makes it more likely you'll be able to stream your movie in the highest possible quality on your new 8K TV.
It's no secret that the world has changed significantly in the last year. Many people have adapted to a new normal that includes working and learning from home as well as watching streaming entertainment, gaming, exercising shopping, connecting with friends and family and so much more. When everyone in the home is doing all these things at once, a critical Zoom meeting can be put at risk if the kids are also using the network for bandwidth-hungry applications such as cloud gaming. A home network designed to handle the demands of our current online lives is imperative.
The new Orbi WiFi 6E mesh system makes managing all the devices on a home network, new and old, as efficient as possible by supporting four separate WiFi networks. In addition to the default home mesh network for 2.4, 5 and 6GHz devices and a guest network, users have the option to set up their new 6E devices on an exclusive WiFi 6E network to ensure these devices realize the best speeds and performance possible. There is also an IoT network for legacy smart home devices such as smart plugs, lights, etc. These discrete networks allow for flexibility of network configuration, maximum performance and the separation of less secure devices from the main network.
Beyond the usual "everything from home" applications, more robust devices and experiences are on the horizon. In fact, Facebook recently introduced Horizon Workrooms which allows for VR video conferencing with its Oculus headset. Although gaming and streaming video are what come most readily to mind when you think of AR and VR, these technologies are being incorporated into business, learning, medicine and other aspects of our lives. As the world continues to evolve and new technologies emerge, WiFi 6E will help ensure we're ready for whatever is next.
Enabling the Future of WiFi
The 5Ghz band has been around for decades now, and the lanes of traffic are only getting more crowded. As our lives become more digitally driven, that overcrowding will pose serious challenges. The arrival of WiFi 6E will play a huge role both in this present moment, and in the future of connectivity. With hybrid work becoming the new normal and people streaming and gaming more, WiFi 6E will be an attractive option. And, as technology becomes increasingly connected with the rapid growth of cloud gaming, 8K streaming and other new innovations, WiFi 6E will be there to ensure everything runs smoothly. NETGEAR's solutions, like the RAXE500 and new Orbi RBKE960, can help bring users all the benefits of WiFi 6E, in an easy-to-use and easy to manage package. Find out what

WiFi 6E 6ghz products

can do for you at

NETGEAR.com

.