AX6000 WiFi Router (RBR860S)
Orbi 860 Series Tri-Band WiFi 6 Router, 6Gbps, 10 Gig Port, with 1-year NETGEAR Armor included
AX6000 WiFi Router (RBR860S)
Orbi 860 Series Tri-Band WiFi 6 Router, 6Gbps, 10 Gig Port, with 1-year NETGEAR Armor included
The ultimate 10 Gig WiFi 6 Router with speeds up to 6Gbps†. Perfect for homes & apartments up to 2,700 sq. ft.
10 Gig internet port unleashes the fastest download speeds of today & tomorrow. Connect to the latest cable or fiber Internet service up to 10Gbps††
NETGEAR's patented, most advanced antenna design for WiFi 6 routers boosts WiFi coverage & signal strength, ideal for iPhones and Windows 10 PCs‡
Stream 4K/8K movies, Zoom video conferences, & WiFi calls, & keep up to 100 devices connected with confidence
NETGEAR® Armor™ software provides an automatic shield of security for your WiFi and connected devices (PC, phone, camera, TV, Echo, etc.) for real-time protection against hackers and added privacy with VPN. 1-year subscription included.1
Enhanced Full Tri-Band WiFi in router mode to ensure maximum performance benefit to your devices
Automatically switches to patented dedicated backhaul when satellites connect to Router for optimal coverage and Mesh WiFi speed
Expand WiFi coverage with a push of a button by adding an Orbi 860 satellite (sold separately). Take your WiFi into the future with patented Orbi Mesh.
Compatible with any internet service provider
NEW
ORBI 860 Series Router
INTERNET PORT
for fastest internet speeds

COVERAGE
expandable with Orbi 860 satellites (coming soon)
TECHNOLOGY
for more speed on more devices
up to 2,700 sq. ft.
WiFi coverage
up to 6Gbps
maximum WiFi speed
up to 100
concurrent devices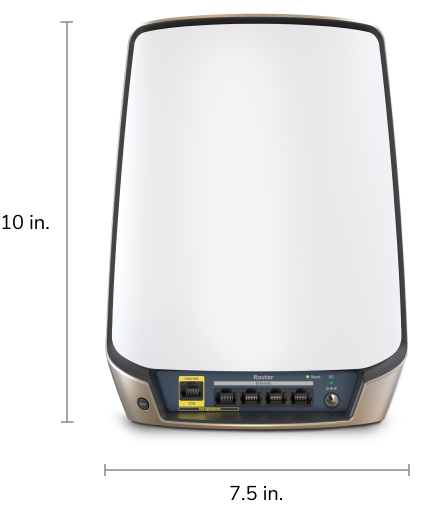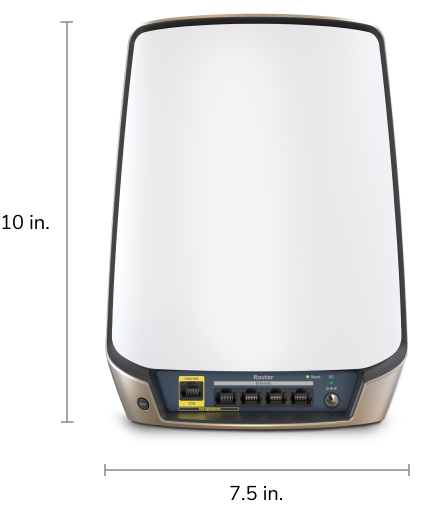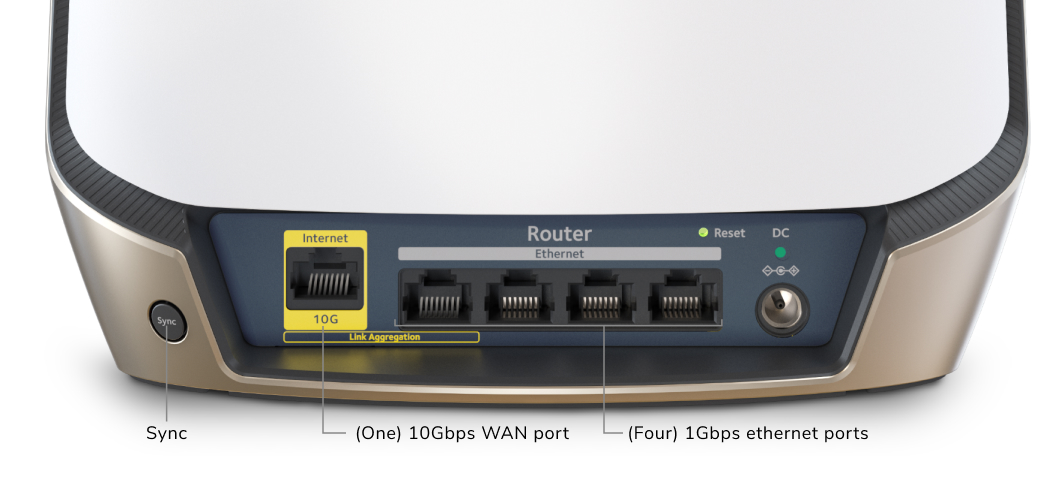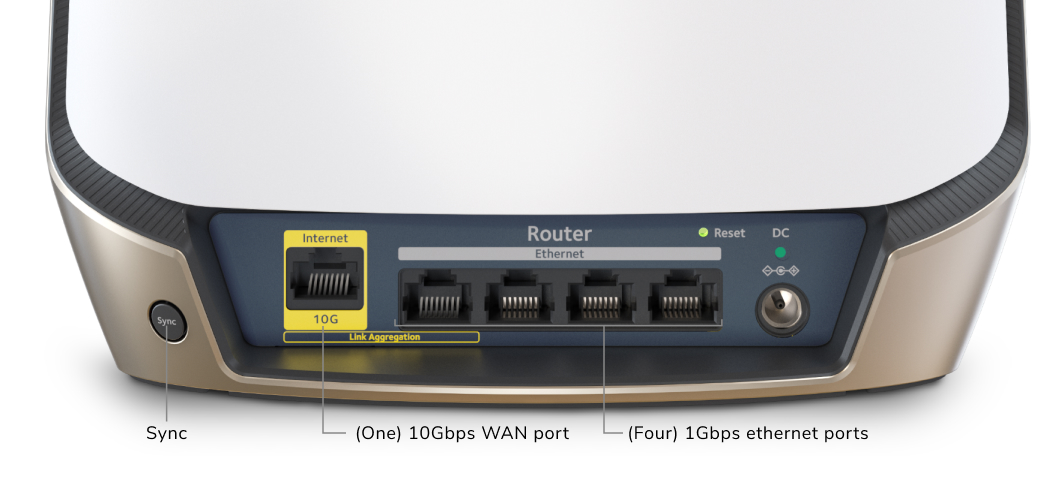 Orbi WiFi 6 Router (RBR860)

1

6ft (2m) Ethernet cable

1

19V/3.16A power adapter

1

Quick Start Guide

1
Height

10 inches (254mm)

Width

7.5 inches (190.5mm)

Depth

2.8 inches (71.12mm)

Weight

2.86 lbs (1.29kg)

WiFi Coverage

2,700 sq. ft.

Requirements

High-speed internet connection to existing modem or gateway
ROUTER
WiFi Coverage

2,700 sq. ft.

Speed

AX6000 (2400 + 2400 + 1200Mbps)†

Simultaneous Tri-Band WiFi with dedicated backhaul

Radio 1: IEEE® 802.11b/g/n/ax/2.4GHz – 1024 QAM support

Radio 2: IEEE® 802.11a/n/ac/ax/5GHz – 1024 QAM support

Radio 3: IEEE® 802.11a/n/ac/ax/5GHz – 1024 QAM support

Processor

Quad-core 2.2GHz processor

Memory

512MB NAND Flash and 1GB RAM

Antenna

Eight (8) high-performance internal antennas with high-power amplifiers

Ports

One (1) 10Gbps Multi-Gigabit Ethernet WAN port

Four (4) 10/100/1000Mbps Gigabit Ethernet LAN ports
Standards-based WiFi Security

802.11i, 128-bit AES encryption with PSK

Guest WiFi Network

Easy to setup separate & secure Internet access for guests
NETGEAR Armor™

Internet security for your home with automatic protection, updates, & alerts that monitors and helps safeguard all connected devices from hackers and data theft.

Learn More

NETGEAR Smart Parental Controls™

Easily manage your kids' time and accessibility online across their connected devices.2
Learn More
NETGEAR 1-year limited warranty (valid only if purchased from a NETGEAR authorized reseller)

Extend your warranty and technical support within 90 days of product purchase (US only) Learn More
90-day complimentary technical support (valid only if purchased from a NETGEAR authorized reseller)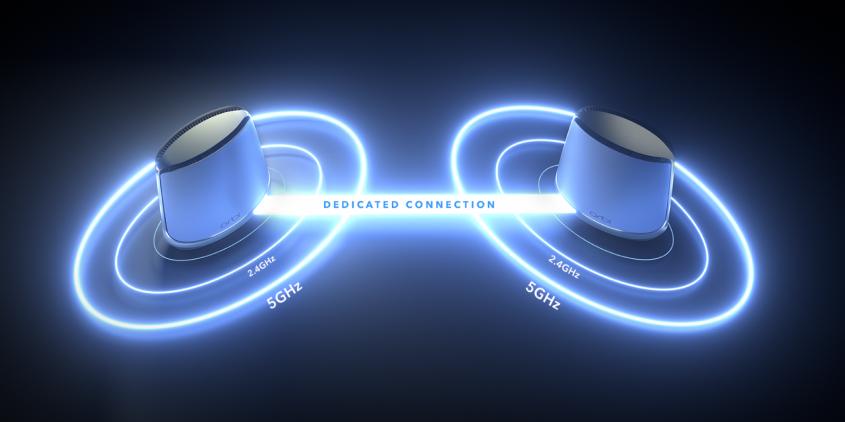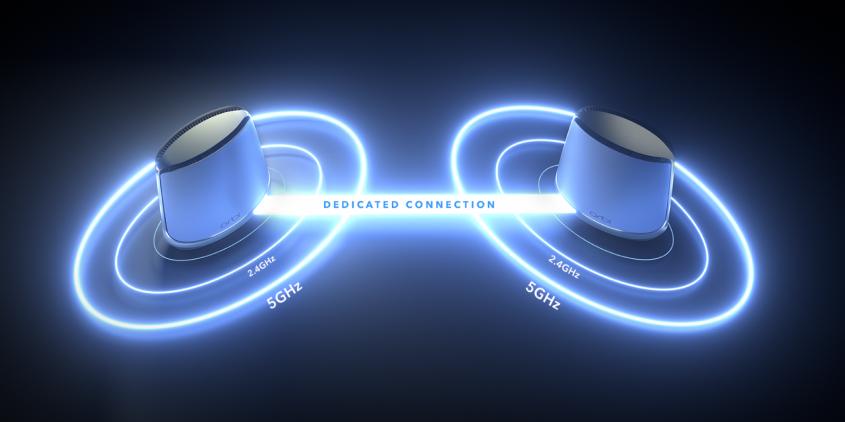 Never sacrifice speed
NETGEAR-invented Tri-band technology with a Dedicated Backhaul "express lane" for WiFi to travel directly between router and satellites means you get maximum, unimpeded whole-home WiFi speed that stays fast even with 100 devices connected at the same time.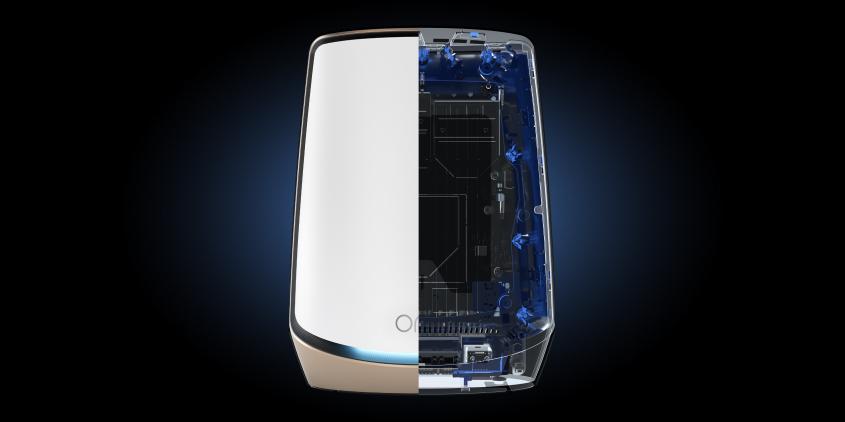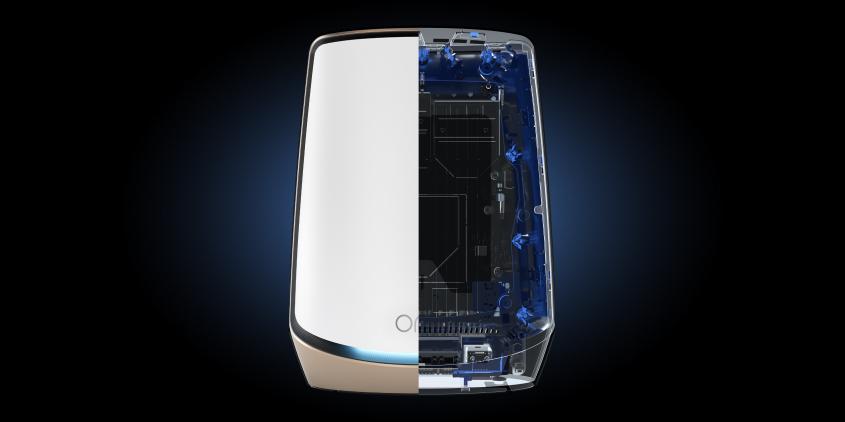 Bigger means better coverage
Orbi's tall, elegant shape is no coincidence. Under the hood, our patented antenna design ensures superior WiFi across the whole home. The Orbi 860 Series' all-new antenna upgrades deliver a stunning 20% boost in performance and coverage from the previous generation.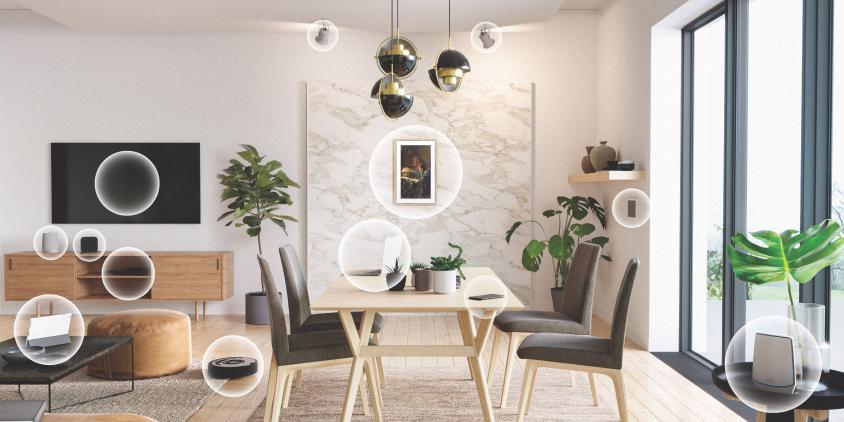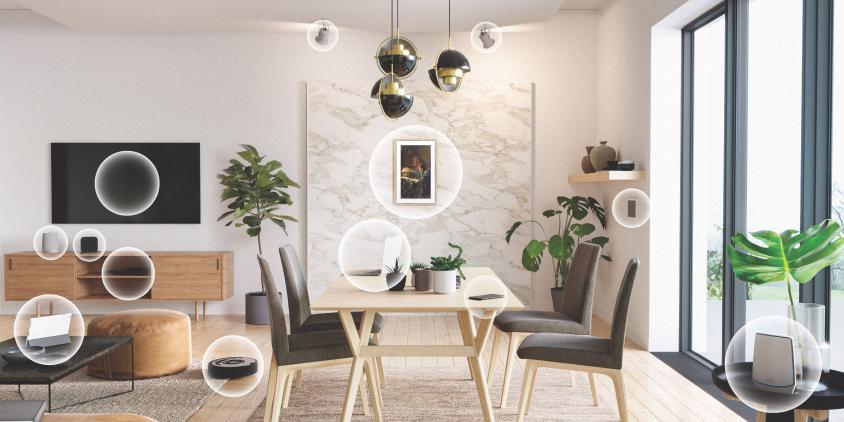 Connect more devices than ever
Orbi WiFi 6 mesh systems are supercharged for today's data intensive devices and smart homes. Connect everything from PCs, phones, and TVs to security cameras, door locks, and more. Only Orbi can deliver so much device capacity with maximum speed.
Easy setup and management
The Orbi app makes it easy to install your Orbi and get it up and running in less than 15 minutes. Easily manage your home network even when you are not at home. Orbi is compatible with any internet service provider's equipment.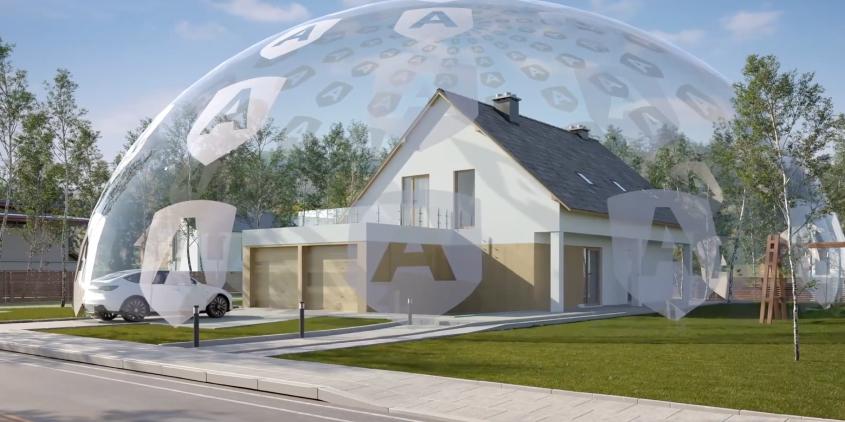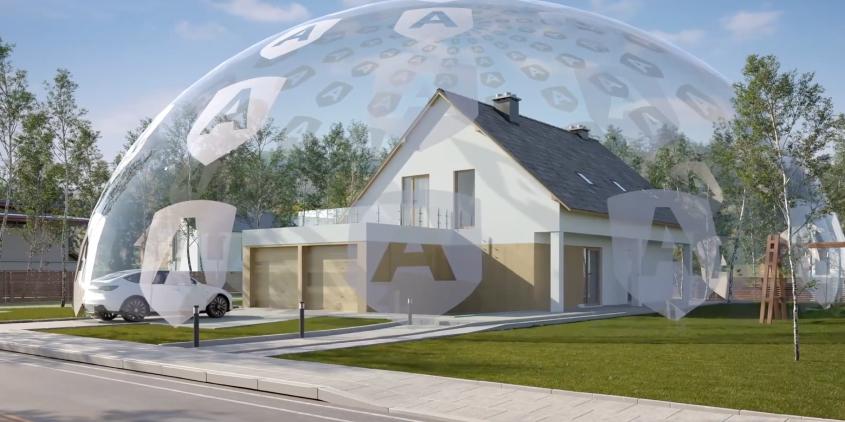 Secure your network with NETGEAR ArmorTM
You wouldn't leave your doors unlocked at night. Protect your family's WiFi with the same level of security with an automatic shield for your connected devices. Get real-time protection against hackers to secure devices like laptops, phones, security cameras, & door locks, and get alerts when sensitive data may be stolen. Enjoy added privacy protection with VPN for secure network access. 1-year subscription included.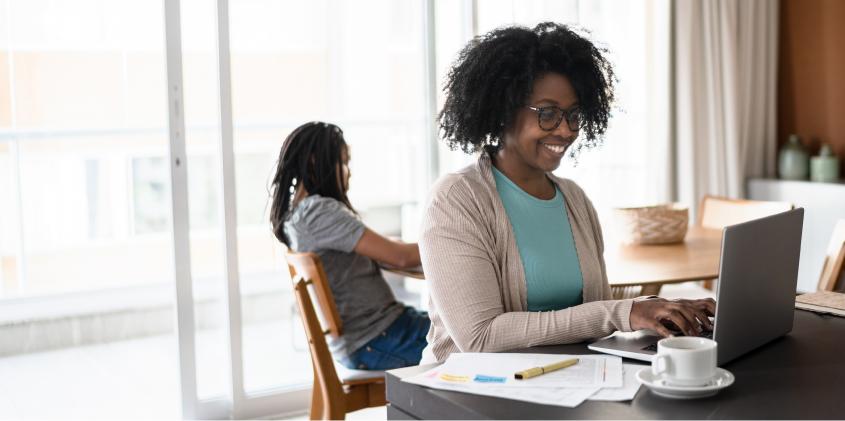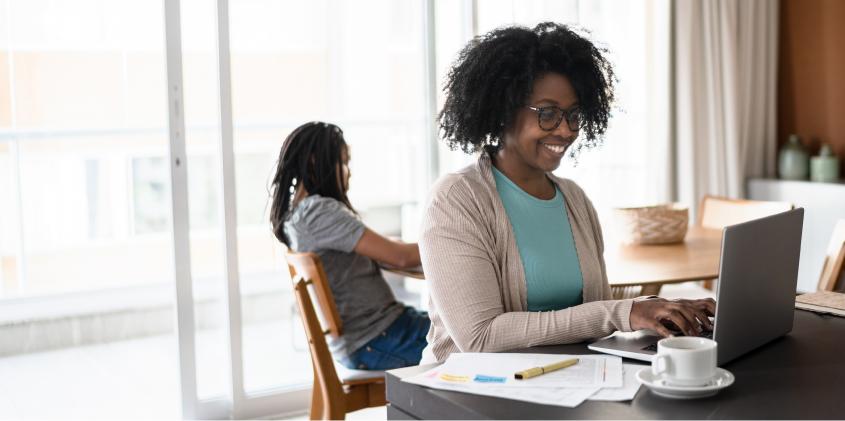 Protect your investment with NETGEAR ProSupport
Get total peace of mind that your Orbi is protected for the long run. With NETGEAR ProSupport, you are a VIP. Enjoy 24/7 priority access to tech support from NETGEAR experts, plus accidental damage coverage, and express replacement in the event of an issue.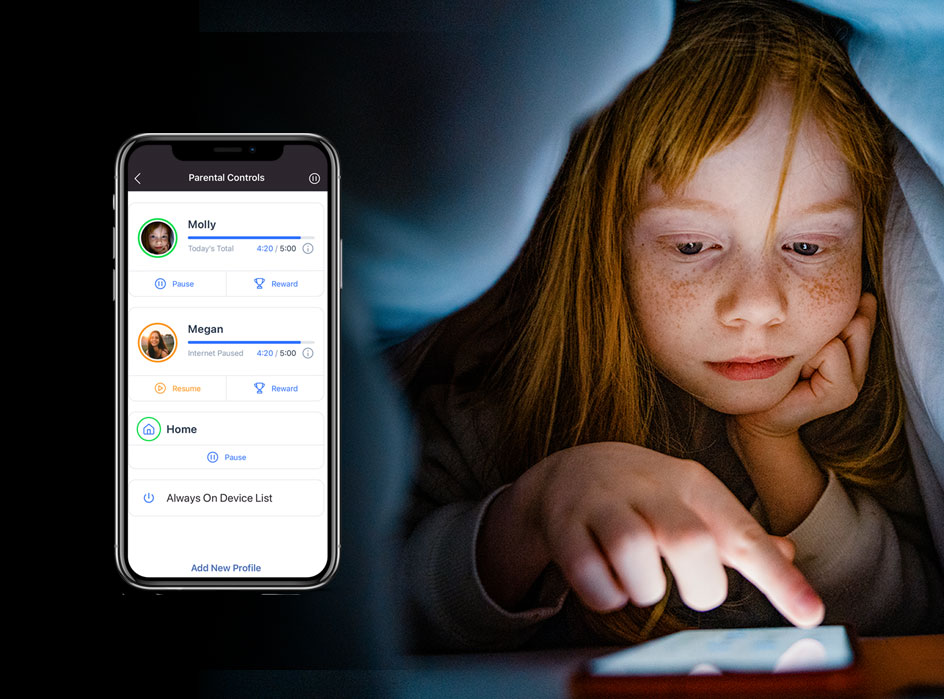 CONNECTED KIDS ARE PROTECTED TOO
Easily manage kids' time and accessibility online across all connected devices using Smart Parental Control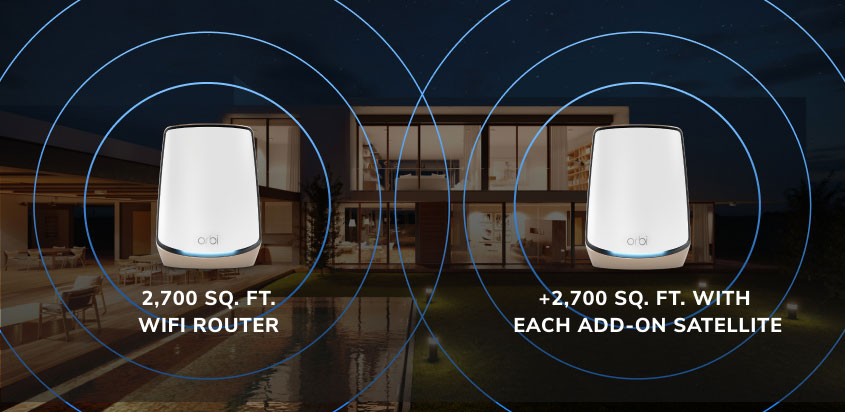 WiFi that grows with you
Having the right number of satellites is essential for great coverage across your entire property. Curious to see if you should add Orbi Satellites with your router? Here are a few things to consider.
Is coverage just for the home, or does it need to extend to outdoor areas and detached buildings? Placing Orbi near doors or windows can improve outdoor coverage.
What does your home look like from a birds-eye view? An L or U-shaped home may need additional satellites to extend WiFi around corners to every part of the home.
Thicker materials like brick and concrete can weaken WiFi signals. Consider additional satellites or alternative placement options for the strongest WiFi coverage.
Why buy directly from NETGEAR?
FREE 2-DAY
SHIPPING

EXCLUSIVE
OFFERS

PRE-PURCHASE
CONCIERGE LIVE CHAT
PREMIUM INSTALLATION SERVICES

HASSLE-FREE
RETURNS
Footnotes:
† Maximum wireless signal rate derived from IEEE ® 802.11 specifications. Actual data throughput and wireless coverage will vary and be lowered by network and environmental conditions, including network traffic volume, device limitations, and building construction. NETGEAR makes no representations or warranties about this product's compatibility with future standards. Up to 6Gbps wireless speeds achieved when connecting to other 802.11ax 6Gbps devices.
†† Gigabit service plans & compatible cable modem required for gigabit or multi-gig internet speeds.
‡ Compared to RBK853 throughput improvement at maximum range.
1 NETGEAR ® Armor™ Powered by Bitdefender ® is a free during the initial 1-year period. A yearly subscription, after the trial period, protects all of your connected devices. Visit www.netgear.com/armor
2 NETGEAR Smart Parental Controls™ fees apply for a Premium Plan. Visit www.netgear.com/spc