M4500-32C (CSM4532)
32x100G/50G/40G QSFP28 Managed Switch
M4500-32C (CSM4532)
32x100G/50G/40G QSFP28 Managed Switch
These switches combine the configurability of a matrix switcher with the power and scalability of Ethernet to support hundreds of AV over IP endpoints. M4300 and M4500 switches offer IGMP Plus and greatly simplify system architectures at a dramatically lower price point.
Pre-configured for out-of-the-box use
NETGEAR IGMP Plus™ enables instant multicast functionality for most AV over IP installations
Cost effective aggregation
Cost effective 100G aggregation and 10G access layer for AV deployments and redundant spine & leaf topologies
Simplified system architecture
Optimized for "Spine and Leaf" redundant AV installations, with or without MLAG between spine switches
High capacity for AV over IP streams
Up to 320 TX / 320 RX (10 Gigabit) nodes all line rate with each other in a redundant spine and leaf architecture
VLAN configuration flexibility
IGMP Plus is default on VLAN 1 out of the box and can be configured on another VLAN for automatic IGMP across switches on that VLAN
Power and fan redundancy
2 power supply units (APS750W) and 6 redundant fan trays (AFT402) pre-installed for 1+1 power and 4+2 fan redundancy
Secure operation
Advanced IPv4/IPv6 security including malicious code detection, DHCP Snooping, IP Source Guard, and Control Plane Policing (CoPP)
Fault tolerance
Selectable Port-Channel / LAG (802.3ad - 802.1AX) L2/L3/L4 hashing for fault tolerance and load sharing with any Ethernet channeling
Robust link aggregation
Up to 64 Link Aggregation Groups (LAG, Port-Channel, LACP) with 32 ports per LAG and Multi-chassis Link Aggregation (MLAG)
Comprehensive routing
IPv4/IPv6 static and dynamic routing including IP Multinetting/CIDR, PBR, VRRPv2, OSPFv3, PIM-SM6, BGP4, VRF-Lite
Security & Prioritization
Advanced classifier-based, time-based hardware implementation for L2 (MAC), L3 (IP) and L4 (UDP/TCP) security and prioritization
Multicast routing
High performance IPv4/IPv6 multicast routing with PIM-SM and PIM-SM6 associated with unicast static routes, or other L3 protocol
Advanced Layer 3 features
Includes IP Multinetting/CIDR, Static, PBR, VRRPv2, OSPFv3, PIM-SM, VxLAN, BGP4, VRF-Lite
Link Dependency
Ability to enable or disable ports based on the link state of different ports for complete link dependency
Configuration update simplicity
Non-Disruptive Configuration for applying a new configuration file without disrupting the operation of unchanged features
Extensive management capabilities
Industry standard SNMP, RMON, MIB, LLDP, AAA, sFlow and RSPAN remote mirroring implementation
OOB and CLI
Service port for out-of-band 1 Gigabit Ethernet management (OOB) with industry standard command line interface (CLI) only
Local management console
Standard RS232 straight-through RJ45 for local management console (USB 2.0 to RS232 converter with PL203 chipset is advised)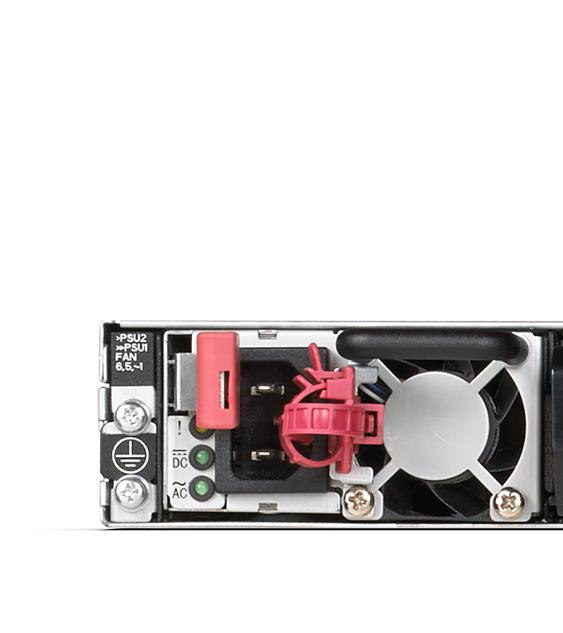 Built-In Redundancy
Two redundant, modular power supplies and six hot-swappable fan trays pre-installed for peace of mind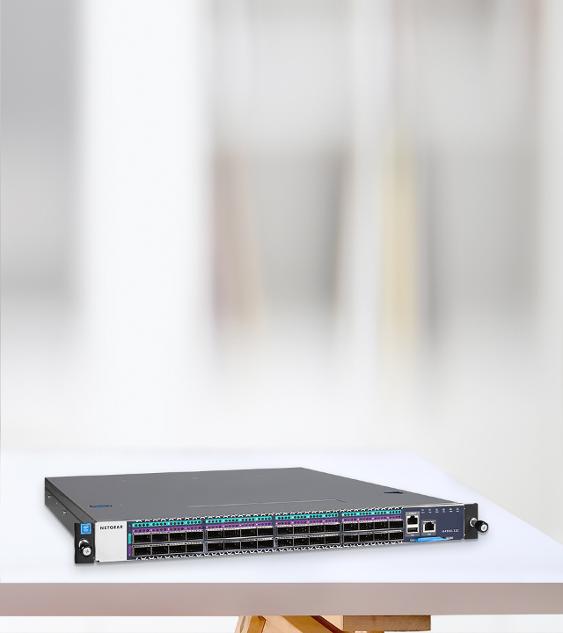 Industry-Standard Management
Stay on top of operations with: CLI, local GUI, SNMP, sFlow, RSPAN, single pane of glass NMS300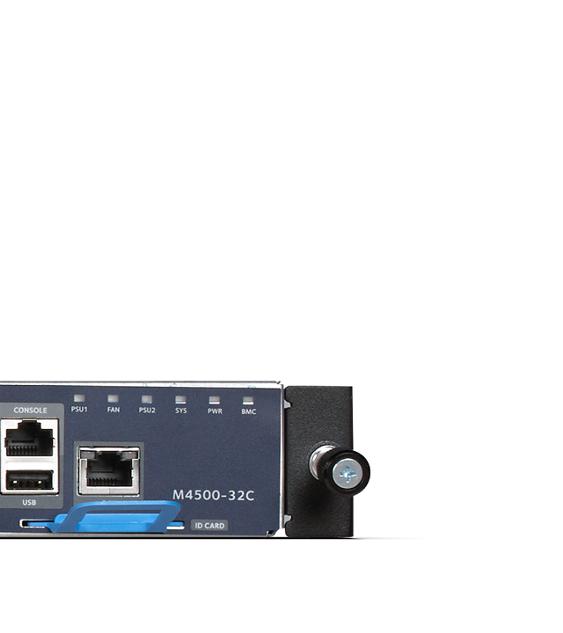 Secure Your Data
Defend with Access Control, DiffServ QoS policies, LACP Link Aggregation, Private VLANs, Denial of service protection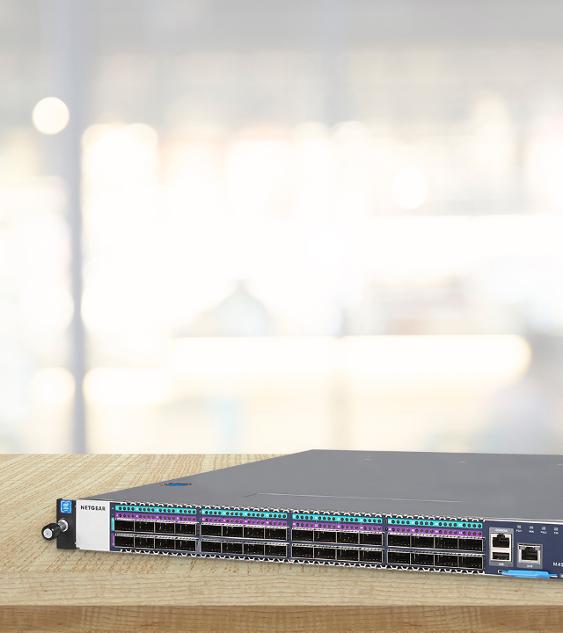 Dependable Operations
Enjoy high availability across virtual servers through load balancing and nonstop forwarding failover.
M4250 AV Line Switches
An entirely new series of switches developed and engineered for the growing AV over IP market.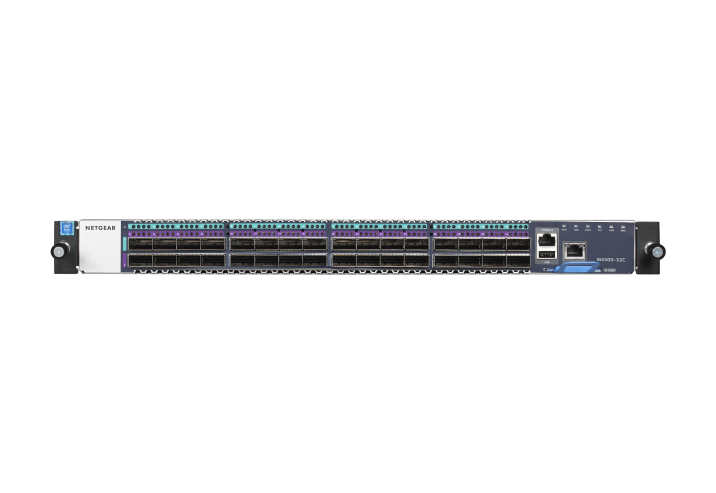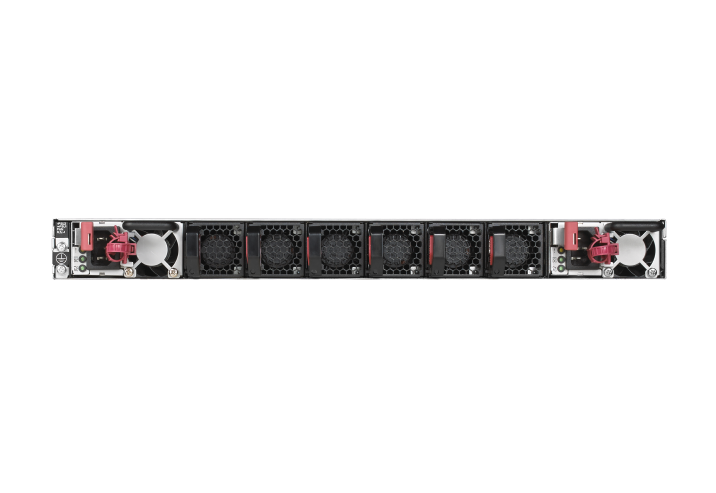 Dimensions (WxDxH): 440 x 508 x 43.2 mm. Weight: 9.78 Kg (21.54lb)
Model Description :

M4500 Managed Switch with 32x100G QSFP28 ports

Ordering Number :

CSM4532

Acoustics :

64.0dB @ 25°C (77°F) - the noise is reduced when the two PSUs connect to a power source

Power Consumption (Max) :

426 Watts

25G SFP28 Ports :

N/A

100G QSFP28 Ports :

32 QSFP28 ports (1x100G default mode, other modes can be 1x50G, 1x40G)

PSU and Fans :

2 modular Power Supply Units and 6 modular Fan Trays come pre-installed

Management :

CLI only (local console, telnet port 1223 and SSH port 1234)

Management Ports :

1G Ethernet service port for out-of-band management (OOB, RJ45). RS232 straight-through serial RJ45 for local management console

Form Factor :

Full width 1U (508mm depth) with two mounting ears (front) and rail kits (back)
Warranty:

This product is backed by a NETGEAR ProSAFE ® Limited Lifetime Hardware Warranty .
Lifetime Next Business Day Hardware Replacement. Click here for coverage, availability and terms and conditions.

Support :

ProSUPPORT 24x7 Advanced Technical Support via phone for 90 days (Remote diagnostics performed by our technical experts for prompt resolution of technical issues). ProSUPPORT coverage can be extended by purchasing one, three, or five year contracts.
ProSUPPORT Lifetime 24x7 Advanced Technical Support via chat.
Switch with two power supplies APS750W and six fan trays AFT402 already installed. Console cable with one DB9 female connector and one RJ-45 serial connector. Power cord(s). Two mounting ears and screws for rack mounting (front). One set of rail kits for rack mounting (back). Installation guide