NETGEAR INTRODUCES A FAMILY OF ORBI TRI-BAND WIFI SYSTEMS DESIGNED FOR A BROADER RANGE OF HOMES AND BUDGETS
From the Basement to the Backyard, the Orbi WiFi System with innovative Tri-band WiFi now includes two new offerings for properties under 5,000 square feet to enjoy better WiFi everywhere!
SAN JOSE, Calif. — March 28, 2017 — NETGEAR®, Inc. (NASDAQ: NTGR), the leading provider of home networking that powers today's smart home, is expanding its multi-award winning Orbi™ Home Tri-band WiFi System with two new offerings designed specifically for smaller to mid-sized homes. These new additions join the CES® 2017 Innovation Award Honoree Orbi WiFi System (RBK50), first introduced in August of 2016, in which Time Magazine singled out the Tri-band technology as "the magic that makes Orbi the best mesh networking router I've used yet1."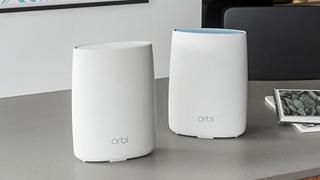 As customers demand better WiFi throughout their home, these new Orbi systems address a broad range of home environments, from apartments and lofts to single family homes and sprawling estates. NETGEAR is also introducing new form factors for Orbi that provide even more choice of style and flexibility of WiFi placement so more customers can enjoy WiFi on every inch of their property. NETGEAR Orbi is a driving force behind the growth of Home WiFi Systems, and these two new systems demonstrate NETGEAR's commitment to and leadership in the WiFi System category.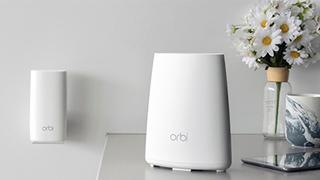 The two new Orbi Tri-band WiFi Systems are as follows:
RBK30: The new Orbi Tri-band WiFi System includes an AC2200 router and wall-plug satellite designed to cover an area of up to 3,500 square feet.
RBK40: This new Orbi Tri-band WiFi System includes the AC2200 router and matching satellite, which are designed to cover a property up to 4,000 square feet.
As the inventor and market leader of the WiFi Range Extender category, NETGEAR knows that a significant percentage of consumers prefer the flexibility of a wall-plug form factor, especially when placed in common areas such as hallways and kitchens. The new RBK30 Orbi Tri-band WiFi kit with its wall-plug satellite is particularly well suited to address this segment of the market.
Lauded for its innovative design and engineering, Orbi by NETGEAR has a unique, industry-first Tri-band architecture with a dedicated 5GHz wireless connection between the router and  satellite, which provides both reliable WiFi coverage and maximum internet speed throughout your home with a single network name. These new Orbi Systems all deliver industry-leading 802.11ac AC2200 WiFi speeds up to 2.2Gbps*, so you can enjoy seamless WiFi everywhere in your home and around your property, without dead zones – from the attic to the basement, patio to garage, front yard to back garden — even while streaming 4K HD video content or other bandwidth-gobbling multimedia.
"Today, WiFi is now considered to be as critical as any other home utility. You would not be willing to settle for sub-par electrical coverage or inadequate plumbing and you should not be expected to contend with a wireless network that does not deliver the coverage and performance you need. With this new expanded portfolio of Orbi Tri-band WiFi systems, we are introducing solutions to provide the best WiFi for an even broader range of households. We believe that no one should be without the best WiFi experience available," said David Henry, senior vice president of home networking devices for NETGEAR. "With our patented industry-first Tri-band WiFi provided by the Orbi WiFi systems, you can now enjoy optimum WiFi performance even at the furthest edge of your property. So, go ahead and binge-watch the latest streaming series in the basement TV room while the kids are enjoying rapid-fire online gaming from their room upstairs."
"Each of these new Orbi systems with AC2200 WiFi are faster than competitive products with legacy AC1200 WiFi," continued Henry.  "Furthermore, all Orbi home WiFi systems are Tri-band versus the competition which are dual band mesh. Due to the use of the innovative Tri-band technology, multiple independent reviewers and testers around the world have proven that Orbi WiFi systems deliver far superior performance for more simultaneously streaming devices."
Technical Features of the New Orbi Home WiFi System:
Innovative Tri-Band WiFi system providing combined WiFi speeds up to AC2200 on the Orbi Router and Satellite creates a dedicated wireless connection between the Orbi router and the satellite or satellites, similar to a wired Ethernet connection
Simultaneous 2.4GHz and 5GHz WiFi on the router and satellite for connecting to your home devices all under one WiFi name
Easy setup with a single and secure WiFi network; Orbi comes pre-paired and configured and works with your internet service provider (ISP) right out of the box
Advanced WiFi security with automated updates, WPS-protected setup, 64/128 bit WEP; WPA/WPA-2 PSK, WPA/WPA-2 Enterprise
Auto-updates of firmware available to ensure you have the latest security and software updates
Satellites extend WiFi signals and maintain one network name (SSID) for the entire network (2.4 GHz and 5GHz WiFi bands) throughout your home for seamless connectivity and roaming
Guest WiFi network—easily set up separate and secure Internet access for guests
4 Gigabit Ethernet ports on the Orbi router and on the satellite (wall-plug satellite does not include Ethernet)
Support for advanced router features such as IPv6, dynamic DNS, port forwarding, parental controls, Virtual Private Network (VPN) termination and access point mode
Easy installation using the browser or Orbi Mobile App for iOS and Android™
Pricing and Availability
NETGEAR Orbi Home WiFi Systems are now available worldwide from major retailers around the U.S.
RBK30 - One Orbi AC2200 router and one wall plug satellite – MSRP $299.99 USD
RBK40 - One Orbi AC2200 router and one matching satellite – MSRP $349.99 USD
RBK50 - The original Orbi AC3000 router with matching satellite – MSRP $399.99 USD
NETGEAR is also offering the new satellites for individual purchase for cases where you would like to add greater range to an existing Orbi WiFi System. 
Orbi AC2200 Wall-plug Satellite adds 1,500 square feet of range - MSRP $149.99
Orbi AC2200 Satellite to add 2,000 square feet of range - MSRP $199.99
The original Orbi AC3000 Satellite to add 2,500 square feet of range - MSRP $249.99
Please visit NETGEAR for more products details on the Orbi™ Tri-Band Home WiFi System family.
About NETGEAR, Inc.
NETGEAR (NASDAQ: NTGR) is a global networking company that delivers innovative products to consumers, businesses and service providers. The Company's products are built on a variety of proven technologies such as wireless (WiFi and LTE), Ethernet and powerline, with a focus on reliability and ease-of-use. The product line consists of wired and wireless devices that enable networking, broadband access and network connectivity. These products are available in multiple configurations to address the needs of the end-users in each geographic region in which the Company's products are sold. NETGEAR products are sold in approximately 31,000 retail locations around the globe, and through approximately 28,000 value-added resellers, as well as multiple major cable, mobile and wireline service providers around the world. The company's headquarters are in San Jose, Calif., with additional offices in approximately 25 countries. More information is available from the NETGEAR investor page or by calling (408) 907-8000. Connect with NETGEAR on Twitter and Facebook.
©2017 NETGEAR, Inc. NETGEAR, the NETGEAR logo, and Orbi are trademarks and/or registered trademarks of NETGEAR, Inc. and/or its affiliates in the United States and/or other countries. Other brand and product names are for identification purposes only and may be trademarks or registered trademarks of their respective holder(s). The information contained herein is subject to change without notice. NETGEAR shall not be liable for technical or editorial errors or omissions contained herein. All rights reserved.
*Maximum wireless signal rate derived from IEEE standard 802.11 specifications. AC2200 equals 400Mbps at 2.4GHz 802.11n with 256 QAM support + 866MbpsMbps at 5GHz 802.11ac + 866MbpsMbps at 5GHz 802.11ac. Actual data throughput and wireless coverage will vary. Network conditions and environmental factors, including volume of network traffic, building materials and construction, and network overhead, lower actual data throughput rate and wireless coverage. NETGEAR makes no express or implied representations or warranties about this product's compatibility with any future standards.
Safe Harbor Statement under the Private Securities Litigation Reform Act of 1995 for NETGEAR, Inc.: This press release contains forward-looking statements within the meaning of the U.S. Private Securities Litigation Reform Act of 1995. Specifically, statements concerning NETGEAR's business and the expected performance characteristics, specifications, reliability, market acceptance, market growth, specific uses, user feedback and market position of NETGEAR's products and technology are forward-looking statements within the meaning of the Safe Harbor. These statements are based on management's current expectations and are subject to certain risks and uncertainties, including, without limitation, the following: the actual price, performance and ease-of-use of NETGEAR's products may not meet the price, performance and ease-of-use requirements of customers; product performance may be adversely affected by real world operating conditions; failure of products may under certain circumstances cause permanent loss of end user data; new viruses or Internet threats may develop that challenge the effectiveness of security features in NETGEAR's products; the ability of NETGEAR to market and sell its products and technology; the impact and pricing of competing products; and the introduction of alternative technological solutions. Further information on potential risk factors that could affect NETGEAR and its business are detailed in the Company's periodic filings with the Securities and Exchange Commission. NETGEAR undertakes no obligation to release publicly any revisions to any forward-looking statements contained herein to reflect events or circumstances after the date hereof or to reflect the occurrence of unanticipated events.
Source: NETGEAR-G
U.S. Media Contact: Nathan Papadopulos, (408) 890-3889, NPapadopulos@netgear.com
U.S. Sales Inquiries: (408) 907-8000, sales@netgear.com
U.S. Customer Inquiries: (888) NETGEAR