M4250-26G4F-PoE++ (GSM4230UP)
24x1G PoE++ 1,440W 2x1G and 4xSFP Managed Switch
Switching engineered for 1G AV over IP with rear-facing ports ensuring a clean integration in AV racks. Pre-configured for out of the box functionality!
M4250-26G4F-PoE++ (GSM4230UP)
24x1G PoE++ 1,440W 2x1G and 4xSFP Managed Switch
Switching engineered for 1G AV over IP with rear-facing ports ensuring a clean integration in AV racks. Pre-configured for out of the box functionality!
We're always here to help
Want a custom configuration?
Need to check compatibility?
Ready for a quote?
Our experts are available via online chat, phone, or email.
Pre-configured for out-of-the-box use
NETGEAR IGMP Plus™ enables instant multicast functionality for most AV over IP installations
Dedicated AV web-based GUI interface
Unique interface designed for the AV professional with color-coded, port-based profiles
Profiles for common audio protocols
Quickly assign profiles to ports for Dante, AES67, and AVB audio configurations. AVB Requires a separate license
Video profiles built-in
Special profiles for NVX, SVSI, Q-SYS and Dante video profiles can be easily assigned to ports as needed
Unique Automatic Configuration
Auto-trunk and auto-lag functionality automatically configures other M4250 switches for use in star topology.
Rackmount versatility
1U, 400mm deep rackmount with all power and Ethernet ports on the back
Reversed mounting possibility
Possible reversed mounting with ports in the front including recessed mounting to protect cables
Universal mounting availability
Mounting outside the rack made possible with bottom M5 and front M10 threaded holes
Fanless functionality
Quiet mode with 60dB@25ºC, or fanless mode when PoE load and temperature allow
Multi-switch audio or single-switch video deployments
24x1G PoE++ with 1,440W PoE budget with 2x1G additional ports and 4xSFP 1G fiber uplinks
Layer 2/Layer 3 Switching
Common Layer 2 and Layer 3 switching engine across all M4250 models
Control methods abound
Built-in IT web GUI, console, telnet and SSH consistent with other NETGEAR M4xxx series
Standard network features
Feature set includes static, RIP and PIM routing, DHCP Server and PTPv2
Easier configuration with new AV GUI
The AV-oriented, web-based GUI permits factory or user-specified profiles to be assigned to individual ports as needed.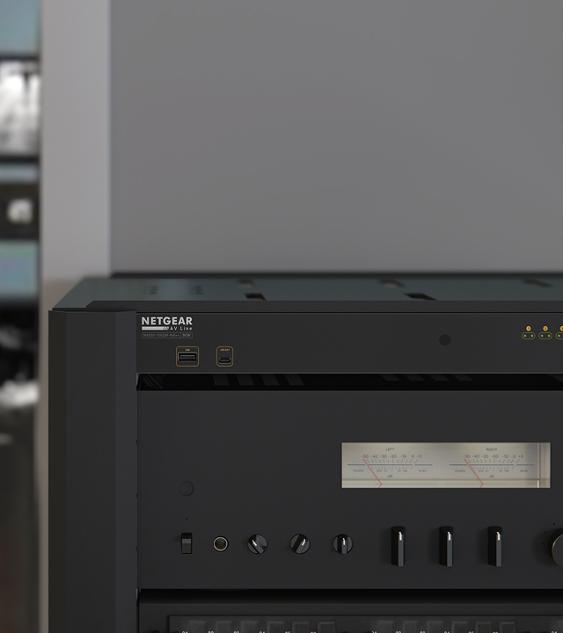 Use in noise-sensitive environments
Adjustable fans can be turned off if certain conditions are met. Even the default Quiet mode is quieter than most other switches.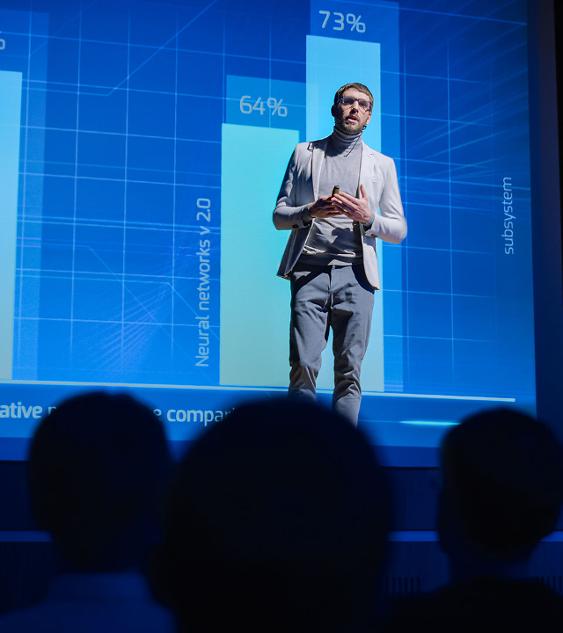 Get up and running fast with little engineering time required
Our NETGEAR IGMP Plus™ feature is set from the factory to ensure out-of-the-box functionality for most AV over IP installations
Multiple mounting options provide ultimate flexibility
Threaded mounting holes sized to industry standards are built into the chassis for mounting behind a display or clamped to a truss.
M4250 AV Line Switches
An entirely new series of switches developed and engineered for the growing AV over IP market.
Dimensions (WxDxH) :

440 x 400 x 43.2 mm

Weight :

6.75Kg (14.87lb)
Primary Port Speed :

1 Gigabit

Number of Ports :

30 (24x 1G PoE++, 2x 1G, 4x SFP)

PoE Ports / Budget :

24 PoE++ (90W/port), 1,440W Budget

IGMP Support :

Enhanced (NETGEAR IGMP Plus™)

Jumbo Frame Support :

Yes, up to 12kb

AVB Support :

Yes. Electronic license required, activation key sent via email (AVB4230UP-10000S).

Acoustics :

Fanless or 60dB@25ºC

Power Consumption :

Single AC With PoE: 889W/3035.05Btu/hr
Dual AC With PoE: 1734W/5919.88Btu/hr
Without PoE: 48.8W/166.6Btu/hr
Standby without any port connection: 36.9W/125.98Btu/hr
Warranty:

This product is backed by a NETGEAR ProSAFE ® Limited Lifetime Hardware Warranty . Phone and chat technical support provided for 90 days from purchase date. This product comes with a limited warranty that is valid only if purchased from a NETGEAR authorized reseller, and covers unmodified hardware, fans and internal power supplies – not software or external power supplies, and requires product registration at https://www.netgear.com/business/registration within 90 days of purchase; see https://www.netgear.com/about/warranty for details. Intended for indoor use only.
M4250-26G4F-PoE++ (GSM4230UP)
Power cord(s)
Console USB Type-C and RJ45-DB9 cables
Rack-mounting standard brackets
Longer brackets for recessed mounting
Rubber footpads for tabletop installation
Installation guide