AX4200 WiFi Router (RAX43)
Nighthawk® 5-Stream Dual-Band WiFi 6 Router (up to 4.15Gbps) with NETGEAR Armor™ & NETGEAR Smart Parental Controls™
AX4200 WiFi Router (RAX43)
Nighthawk® 5-Stream Dual-Band WiFi 6 Router (up to 4.15Gbps) with NETGEAR Armor™ & NETGEAR Smart Parental Controls™
Experience smooth gaming, UHD video streaming, and faster file transfers with speeds up to 574Mbps + 3603Mbps. With 4x more bandwidth and less congestion for all devices, enjoy strong, reliable WiFi throughout your home. Improve your WiFi experience with advanced cyber threat protection with NETGEAR Armor™ and easily manage your kids' time online with NETGEAR Smart Parental Controls™.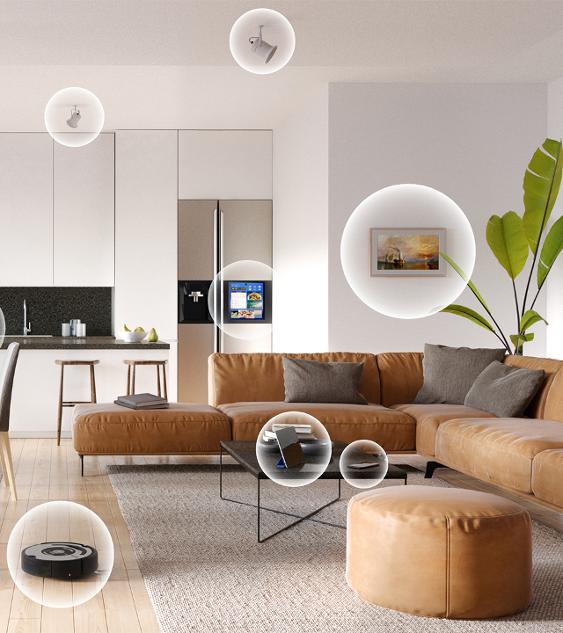 Ready for Your Smart Home
Delivers 4x better performance than your current WiFi so you can connect more devices and stream simultaneously worry-free.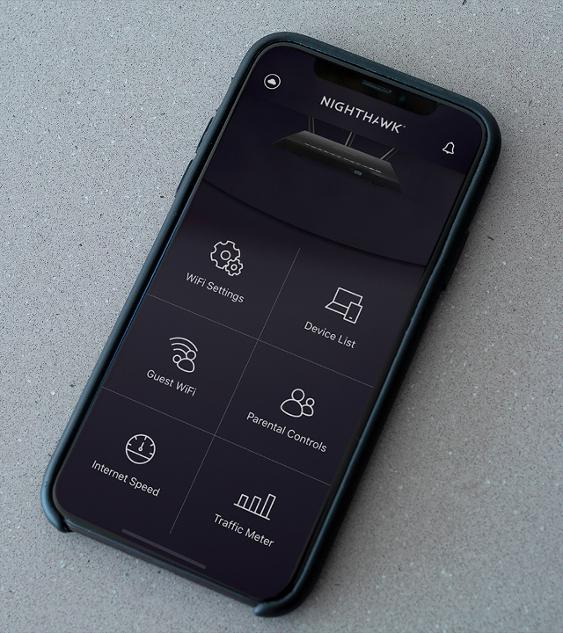 Simple Network Management
Set up and control your entire WiFi network from the palm of your hand with Nighthawk® App.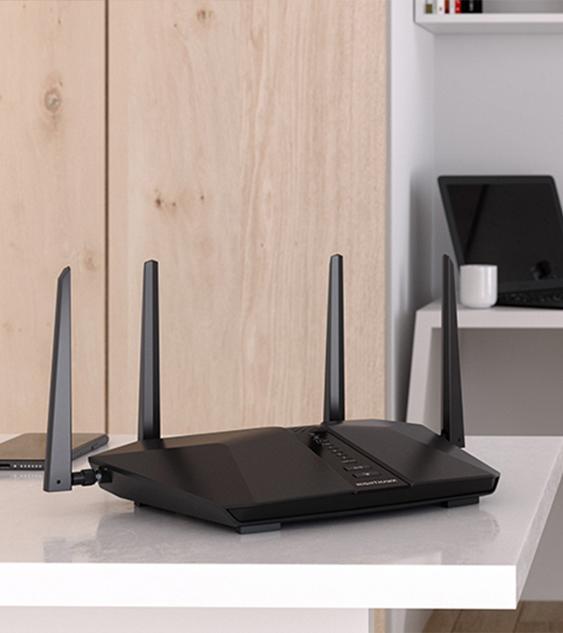 Powerful 1.5GHz Triple-Core Processor
Built for smooth 4K UHD streaming to Smart TVs, mobile devices and gaming consoles.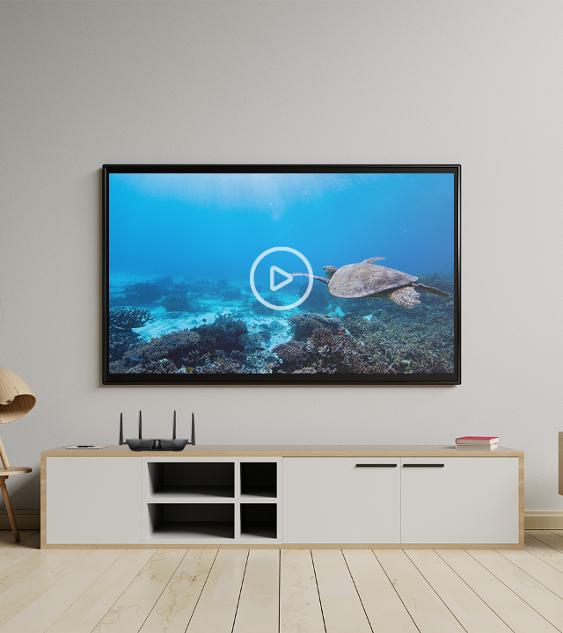 Go Faster on Gaming, Streaming, and Mobile
Built to handle all your high-bandwidth online activities, stay connected at tops speeds with uninterrupted streaming.
NETGEAR Armor
NETGEAR Armor cybersecurity keeps your network and private data safe from online threats, at home and on the go. One subscription protects an unlimited number of connected devices, from phones and laptops to thermostats and security cameras.

NETGEAR Smart Parental Controls
Managing your kids' time online has never been easier. No need to take away any devices – with just a few taps, you can build profiles for each family member, pause internet on devices, and so much more*. Start building healthy online habits today.
*Some features require Premium Subscription after 30-day free trial; no credit card required. 69.99kr/month or 699.99kr/year after end of trial. Visit netgear.com/spc
Fast Wireless Speeds
5-Stream WiFi with up to 574Mbps + 3603Mbps†
5 Gigabit Ports
Connect more wired devices for faster file transfer and uninterrupted connections with 1 WAN and 4 LAN ports
5 Streams Of WiFi
Enjoy 4K/8K UHD streaming, lag-free gaming, and smooth streaming with 5 streams of WiFi 6
USB 3.0 Port
Faster streaming, backup and easy access to your stored media
160MHz Channel Support
Gigabit speeds for compatible mobile devices and laptops
Powerful 1.5GHz Triple-Core Processor
Smooth 4K UHD streaming to Smart TVs, mobile devices, and gaming consoles
More WiFi for More Devices
Uplink and downlink OFDMA substantially improves your network capacity and efficiency, particularly when traffic increases
Guest Network
Create a separate and secure network for your guests
NETGEAR Armor††
Protect your home from Internet threats with best-in-class anti-virus, anti-malware, and data protection for your connected devices
NETGEAR Smart Parental Controls*
Easily manage your kids' time online across their connected devices and promote healthy habits both at home and anywhere they go
Automatic Firmware Updates
The latest security patches delivered to the router
Quick Setup
Easily get connected in just minutes
Nighthawk App
Set up your WiFi, customise your settings, and enjoy faster WiFi in no time
Voice Control
Use voice commands to control your home WiFi network. Works with Amazon Alexa and Google Assistant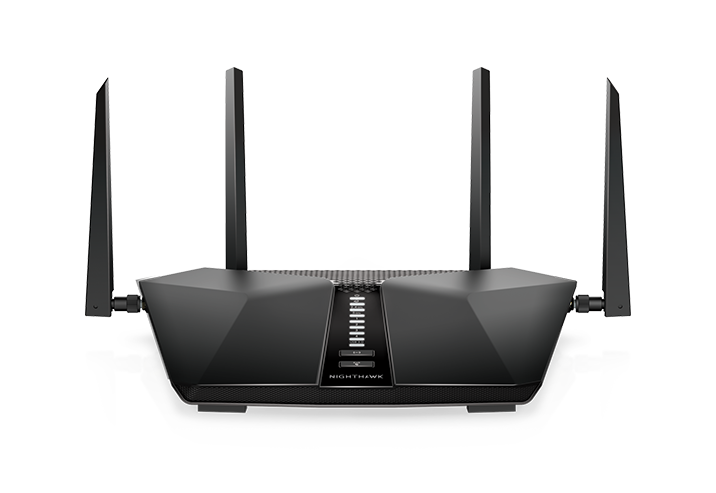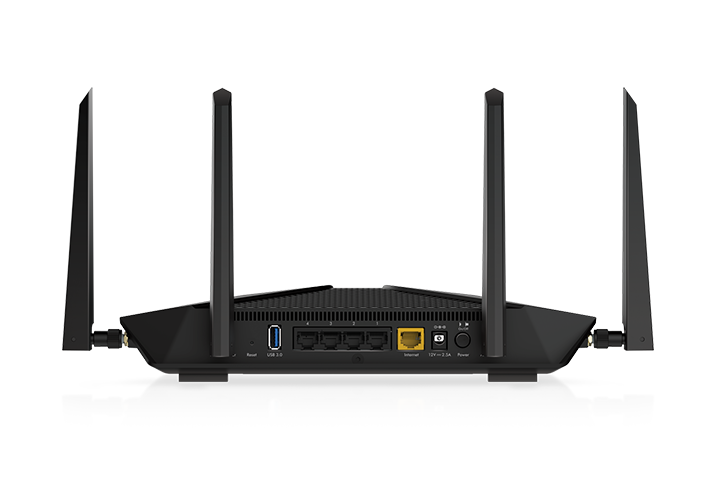 Dimensions :

11.65 x 8.11 x 2.25in (295.8 x 206 x 57.2mm)

Weight :

1.25 lb (566 g)
WiFi Technology :

802.11ax Dual Band WiFi (AX4200)

WiFi Range :

Medium to large homes

WiFi Band :

Simultaneous dual band 2.4 & 5GHz

Ethernet Ports :

Five (5) 10/100/1000 Mbps Gigabit Ethernet ports (1 WAN & 4 LAN)

USB Ports :

One (1) USB 3.0 port

Processor :

1.5GHz triple-core processor
NETGEAR Nighthawk AX5/5-Stream AX4200 WiFi Router (RAX43)
Ethernet cable
4 external antennas
Quick start guide
Power adapter
Footnotes:
†Maximum wireless signal rate derived from IEEE ® 802.11specifications. Actual data throughput and wireless coverage will vary and be lowered by network and environmental conditions, including network traffic volume, device limitations, and building construction. NETGEAR makes no representations or warranties about this product's compatibility with future standards. Up to 6600Mbps wireless speeds achieved when connecting to other 802.11ax 6600Mbps devices.
†† NETGEAR Armor requires a paid subscription after the initial 30-day free trial. (No credit card required for the trial). Visit netgear.com/armor
*Some features require Premium Subscription after 30-day free trial; no credit card required. 69.99kr/month or 699.99kr/year after end of trial. Visit

netgear.com/spc