SOHO Ethernet Unmanaged (GS348PP)
48-Port Gigabit Ethernet Unmanaged PoE+ Switch (380W)
SOHO Ethernet Unmanaged (GS348PP)
48-Port Gigabit Ethernet Unmanaged PoE+ Switch (380W)
24 PoE+ ports with 380W power budget. Unmanaged 300-Series PoE Switches are easy, reliable, and affordable network connectivity for home and small offices. Providing power and data from a single Ethernet cable
ETHERNET PORT CONFIGURATION:
48 Gigabit ports
PLUG-AND-PLAY:
Simple set up with no software to install or configuration needed
FULL PERFORMANCE:
Non-blocking switching architecture for maximum throughput at wire speed
POWER-OVER-ETHERNET:
24 PoE+ ports with 380W total power budget
CONNECT DEVICES:
power IP Security Cameras, VoIP phones, wireless access points, and other PoE PD-powered devices
PoE POWER AUTO-BALANCE AND ALLOCATION:
NETGEAR's unique PoE technology automatically balances the PoE power at the most granular level on each port, depending on the device needs.
SILENT OPERATION:
The fanless design means zero added noise wherever its located, making it ideal for noise-sensitive environments
ENERGY EFFICIENT:
Designed to optimize power usage lowering its cost to operate.
Metal Case
Durable and Rugged
VERSATILE MOUNTING OPTIONS:
Supports desktop and wall placement. Includes wall mount kit in the box
STANDARDS-BASED DESIGN
Ensure interoperability with any standards-based PDs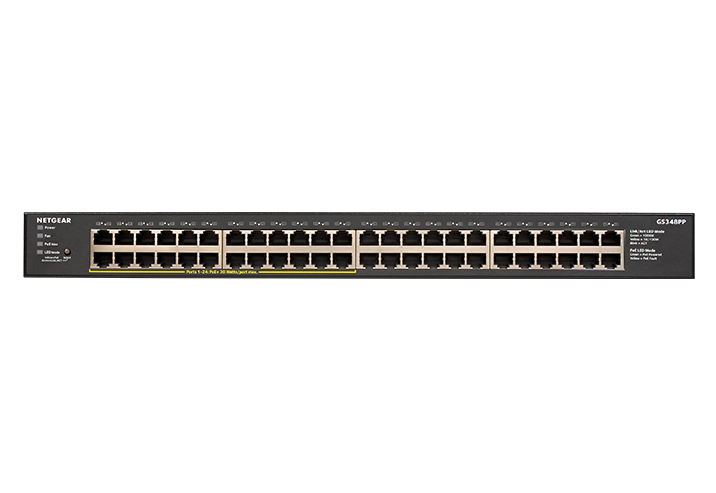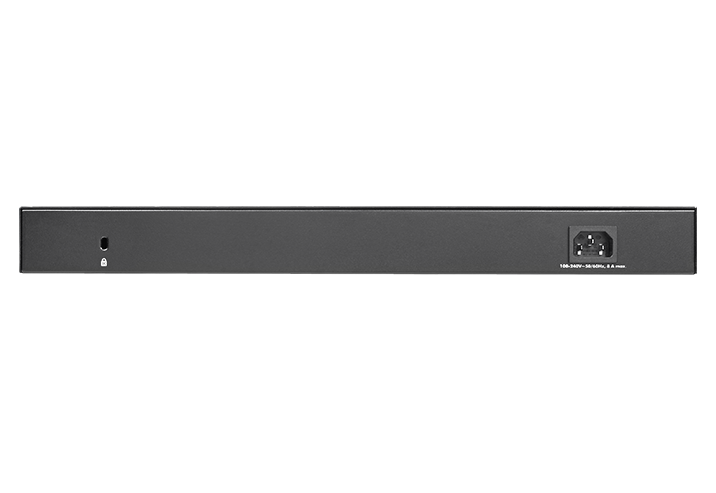 Dimensions :

440 x 310 x 43 mm (17.3 in. x 12.2 in. x 1.7 in.)

Weight :

4.56kg (10.05 lb)
Product name :

NETGEAR 48-Port Gigabit Ethernet Unmanaged PoE+ Switch with 24-Ports PoE+ (380W)

Model description :

(GS348PP) NETGEAR Gigabit Ethernet Unmanaged PoE+ Switch with 48 ports and 380W total power budget, with up to 30W of power per port.

Speed :

Gigabit

Number of Ports :

48

Energy Efficient Ethernet support :

Yes

Jumbo frame support :

12288 bytes

PoE ports/Max power output :

24 PoE ports/380W

MAC table size :

8K

Packet buffer size :

1.5 MB

PoE Auto balance :

Yes

PoE budget :

Up to 380W
Warranty:

This product is backed by a NETGEAR limited Hardware Warranty up to 3 year (depending on region).

Support:

Phone and chat technical support provided for 90 days from purchase date.
This product's warranty is valid only if purchased from a NETGEAR authorized reseller, and covers unmodified hardware, fans and internal power supplies—not software or external power supplies, and requires product registration at https://www.netgear.com/business/registration within 90 days of purchase; see https://www.netgear.com/about/warranty for details. Intended for indoor use only.