Which NETGEAR Router Should I Buy?
No matter where you live or what you do, one thing is for sure. We all need good WiFi! Nobody wants to endure the frustration of buffering or dropped internet when trying to stream, game or get some work done.
In order to have great WiFi, you will need a strong and reliable WiFi router! It's key. And at NETGEAR, we are the WiFi experts. NETGEAR has been engineering routers for over two decades, and as a market leader, has always taken the lead in providing the most innovative and latest technology solutions to solve the WiFi connectivity problems in your home. It's what we do, it's who we are, and we have pioneered and paved the way for good WiFi that drives all your devices in your home- whether you are binging on the latest Netflix series, playing Overwatch with your friends online, or securing your home with Arlo security cameras.
Whether you are buying your first router, or are looking to upgrade your existing network, how do you know which router is right for your needs?
We are here to help you figure that out right now! (To read more about what WiFi actually is, and the new WiFi naming system, check out our blog about the history and future of WiFi here.)
Which WiFi router is right for me?
The first thing you can consider is whether you'd like to purchase a WiFi 5 (aka 802.11ac) router or, instead, invest in a new generation WiFi 6 router.
Most people right now are currently using WiFi 5 routers, which still work great, especially since most devices (like laptops, computers, smart phones, smart home products, etc.) are still WiFi 5 devices.
Today's home network will look like this unless we upgrade its capacity to handle multiple devices and application requirements. WiFi 6 is designed to solve this capacity problem.
However, if you are looking for a brand new router, you should consider a move to WiFi 6 (802.11ax), and upgrade your home network to help resolve the capacity and bandwidth issues with the increasing number of devices in the home. It's also the way laptops and mobile phones, including the new Apple iPhone 11, are heading now, with support for WiFi 6.
WiFi 5 Routers
NETGEAR's Nighthawk routers are some of the most popular routers in the world, and are a great choice.
For example, the Nighthawk® Dual-Band WiFi Router (R7000P) is a best-in-class router which includes NETGEAR Armor, an advanced cyber threat protection for all of the internet-connected devices in your home, as well as Bitdefender security with anti-virus & anti-theft applications to secure your computers and mobile devices on-the-go.
Our Nighthawk X10 is also an award-winning router with a very powerful 1.7GHz quad-core processor and Plex media server, making it a strong and fast router, especially for media streaming. PC Mag gave it their Editor's Choice Award, and it is a very popular router.
You can check out these, and all of our other Nighthawk routers here for more detail and to find which one may be right for you.
WiFi 6 Routers
NETGEAR has historically been a leader and innovator in WiFi 5 routers. And now, we are the first company to release an entire WiFi 6 lineup of routers, putting us ahead of the curve in every way. When you are living in a modern smart home with all of the modern luxuries that rely on a strong WiFi connection, WiFi 6 can't be beat. With all of your devices competing for more bandwidth, your NETGEAR WiFi 6 router will be able to handle them all.
It is more than likely that each appliance that you will buy these days, from your Instant Pot to your robotic vacuum, will have an internet connectivity option, and then when you add to that the demands of personal screens and all of the options for video streaming from Netflix, YouTube, Prime Video, Hulu and more, today's home networks are really beginning to strain. WiFi 6 is the latest WiFi standard which is specifically designed to solve the congestion problem for today's home.
WiFi 6 is designed to handle all these multiple devices and competing requirements without buffering and still meet the constant WiFi connectivity requirements of your IoT (Internet of Things) devices. WiFi 6 will provide four times the performance of WiFi 5 in terms of capacity to handle multiple devices without slowing down the performance. It is also backward compatible with all your existing WiFi devices.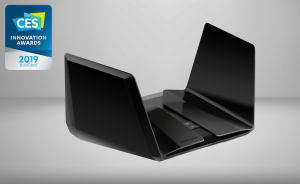 We currently have several WiFi 6 routers available, depending on how much power you need. If you are interested in future-proofing your network now, check out our WiFi 6 router options online here, including NETGEAR's first Wifi 6E Router with the new 6ghz WiFi band. And also the Nighthawk AX12 WiFi 6 router , which was named an Honoree for the CES Innovation Awards in 2019.
Nighthawk Pro Gaming
Other than WiFi 5 vs. WiFi 6, something else you'll want to consider is whether you have an avid gamer in the home. If you do, you will definitely love having a gaming router. Trust us, it's not a gimmick. Our Nighthawk Pro Gaming routers use the Duma operating system software that is designed to provide you control over your gaming experience, with a fully customizable dashboard to isolate and rectify any issues in your home network without impacting your gameplay.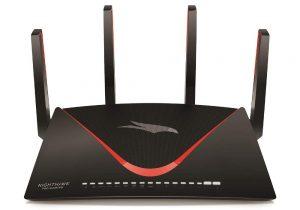 We have a lineup of excellent Pro Gaming routers, all at different price-points, and all with the same Duma operating system (which CNET called "gaming control on steroids") which makes our gaming routers so unique. Our NPG routers have won many accolades and awards, like this Tom's Guide Editor's Choice Award.
If you or a family member love to game, be sure to check out all of our Nighthawk Pro Gaming routers online here.
Mesh WiFi Systems
If you live in a larger home, or if your home's layout or building materials have not been conducive to strong WiFi, you may want to consider upgrading to a Mesh WiFi System. Our Orbi WiFi Systems have been extremely popular worldwide.
What is a Mesh WiFi system?
A Mesh WiFi system is basically when you have a WiFi router and one or more satellites (also known as extenders or nodes) that communicate with one another to extend your WiFi coverage throughout your home. A traditional non-mesh extender normally has a different SSID and password, and so the coverage isn't as seamless as it is with a Mesh system, which pre-paired and has just one network name. Also, with traditional extenders and most of the competitive mesh systems, as your coverage increases, your speed tends to decrease, often by up to 50%. However, with NETGEAR Orbi Mesh WiFi systems , because they are tri-band, there is one dedicated connection strictly used between the router and its satellites to communicate, and therefore, there is no slow-down. You are effectively assured that you get the same internet speed on the Orbi satellite in the center of your home as you get on the router.
Depending on how much coverage you need (ie: how big your home is), we have several different kits, like our original flagship Orbi RBK50 , which covers up to 5000 square feet with just one router & satellite, and you can check them all out here. We continue to innovate with Orbi systems and are now offering the extremly powerful Orbi WiFi 6 RBK852 .
We also have the Orbi Voice, which is an Orbi router with an Alexa-enabled smart speaker satellite, engineered in partnership with Harman Kardon. It extends your WiFi coverage, and is a smart speaker. It's no wonder that it won one of TIME Magazine's "Best Inventions of 2018" award.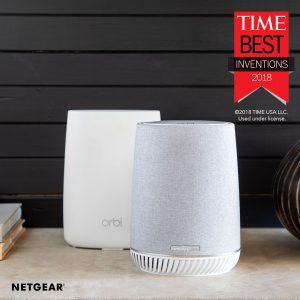 Need coverage outdoors, or to a far-off shed, security camera, workspace, pool, or garage? With the Orbi Outdoor satellite , you get a weather-resistant satellite to extend that coverage to all areas of your property.
Orbi WiFi 6 Tri-band Mesh Systems
Our latest introduction is the Orbi WiFi 6 mesh system – the ultimate whole home wireless network, designed for multi-gigabit speeds everywhere. The Orbi WiFi 6 System- RBK852 sets a new benchmark with the highest capacity and enhanced performance, with 12 streams of WiFi 6 on every Orbi router & satellite to provide you with the best in performance and coverage for your home.
NETGEAR Smart Parental Controls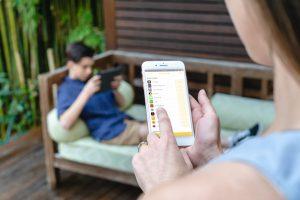 In addition to choosing a router, you may also need to consider parental controls and cybersecurity. Many NETGEAR routers also include the option of using NETGEAR Smart Parental Controls , so that you can set automated time limits and introduce safety measures for your kids. Read all about NETGEAR smart parental controls here.
NETGEAR Armor Cybersecurity
Most of our NETGEAR routers also include the option of subscribing to NETGEAR Armor , our advanced cybersecurity solution. It's more than just an anti-virus, Armor secures all the devices on your network, like your laptop and smartphone, as well as all of your smart devices, like your smart TV, your internet connected thermostat, your security cameras, and more. You can read more about Armor Cybersecurity here.
So… Why shouldn't I just use the router provided by my Internet Service Provider?
When your internet service provider gives you a router, chances are, you are renting it, often at a cost of about $10-$15 every single month. And, bear in mind, they typically won't be giving you new equipment or a high-performance router. More likely, you are receiving an older model that has been previously used, a router that has certainly seen better days.
With WiFi driving all the technology and devices in your home, it is become a basic utility, and its performance and coverage is key. Don't believe it? Trying turning off your WiFi for a few minutes in your home….
With NETGEAR you have the most comprehensive and cutting edge technology available. Don't settle for poor WiFi, this is a one-time investment that will continue to deliver excellent consumer experiences across all your devices and screens in your home day after day.
Do yourself and your family a favor and eliminate those rental fees, and invest in your own WiFi router for the best WiFi performance in your home. You won't regret it!