Powerline 1200 Extender (PL1200)
Powerline Extender, 1200Mbps, Wall-plug , 1 Port, 2 Extenders
Powerline 1200 Extender (PL1200)
Powerline Extender, 1200Mbps, Wall-plug , 1 Port, 2 Extenders
Use your existing electrical wiring to extend your Internet access to any room in your house. Just plug the Powerline 1200 into any electrical outlet then plug in your new network connection. It's that easy. With a 1200Mbps speed and Beamforming, the Powerline 1200 is perfect for connecting smart TVs, streaming players, and game consoles.
Next Generation Powerline
Extremely fast speed—up to 1200Mbps.
Reliable Network
Connect multiple adapters to expand your gigabit wired or WiFi network reliably.
Wide Coverage
Multiple data streams (MIMO) with beamforming technology offer improved coverage throughout the home.
Plug-and-play
Setup in minutes, no need to configure or install software.
Energy-saving
Automatically powers down when not in use.
Push-and-Secure
Encrypts powerline network connections with the touch of a button.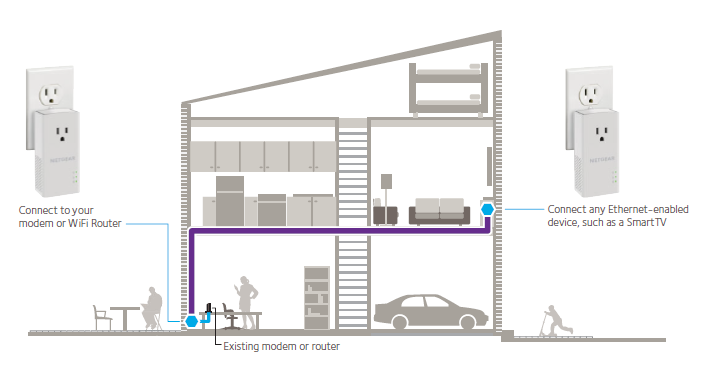 Dimensions :

100 x 56 x 30 mm (4.5 x 2.2 x 1.18 in)

Weight :

112.5 g (0.25 lb)
Powerline Technology :

Homeplug AV2 compliant

Powerline Performance :

1200 Mbps†

WiFi Performance :

Not applicable
Typical coverage up to 500m² (5382ft²)†

Number of Ethernet ports :

One (1) 10/100/1000Mbps† Gigabit Ethernet port on each adapter
Pick-a-plug LED for highest possible performance
Sets up in minutes, no need to install software
Add up to 16 adapters to expand your network
Works with HomePlug AV and HomePlug Green PHY
IEEE® 802.3 compliant
System Requirements :

RJ-45 Ethernet Port
Existing electrical wiring and outlets
Two (2) Powerline 1200 Adapters (PL1200)
Two (2) Ethernet cables
Quick start guide