BE27000 WiFi Satellite (RBE970)
Orbi 970 Series Quad-Band WiFi 7 Mesh Add-on Satellite, 27Gbps
BE27000 WiFi Satellite (RBE970)
Orbi 970 Series Quad-Band WiFi 7 Mesh Add-on Satellite, 27Gbps
Expanding your Orbi™ system is as easy as the push of a button. Easily add 3,300 sq. ft. of additional WiFi 7 coverage to your existing Orbi 970 Series mesh system or router.

How many Orbi Satellites do you need?
COVERAGE AREA
Consider square footage beyond your home footprint to maximize performance and ensure coverage for outdoor areas.
HOME SHAPE
L or U-shaped homes may need additional satellites to extend WiFi around corners.
WIRED CONNECTIONS
Orbi satellites give your ultra-fast wired connections where you need them.
CONSTRUCTION MATERIALS
Brick and concrete weaken WiFi signals. Add-on satellites will strengthen WiFi coverage.
LATEST WIFI TECHNOLOGY
Fastest, most powerful WiFi ever
DEDICATED BACKHAUL
Multi-gig speed across all devices
WHOLE-HOME COVERAGE
High-performance antenna & design
LAN PORT
Future-proof for the fastest speeds

Quad-Band
WiFi for the fastest speed to all devices
Up to
2,700 sq. ft.
WiFi coverage
Up to
27Gbps
maximum WiFi speed
Up to
200
concurrent devices


Orbi works with any internet provider.
There's no need to worry about compatibility. Simply plug Orbi into your current router and you'll be enjoying whole-home WiFi in a few easy steps.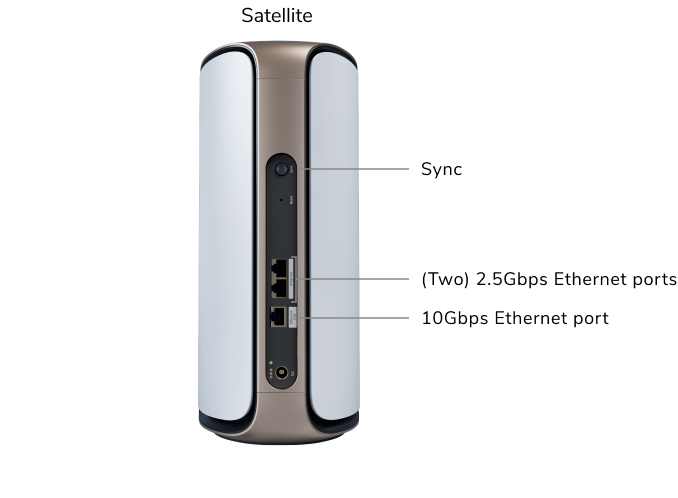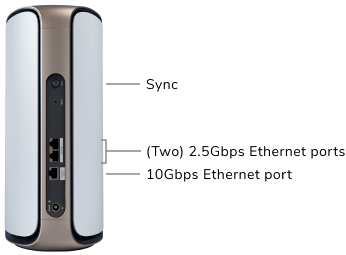 Product specifications
Orbi Satellite (RBE970)

One (1)

2m Ethernet cable

One (1)

19v/3.16A power adapters

One (1)

Quick Start Guide

One (1)
Height

11.58 inches (294.03mm)

Width

5.68 inches (144.38mm)

Depth

5.15 inches (130.79mm)

Weight

3.96 lbs (1.79kg)
SATELLITE
WiFi Coverage

Up to 3,300 sq. ft.

Speed

BE27000 (11,530 + 8,647 + 5,765 + 1,147Mbps)†

Simultaneous Quad-Band WiFi with dedicated backhaul

6GHz3 (4x4/320MHz, 4K-QAM): 11,530Mbps

5GHz-1 (4x4/240MHx, 4K-QAM): 8,647Mbps, Dedicated Backhaul

5GHz-2 (4x4/160MHz, 4K-QAM): 5,765Mbps

2.4GHz (4x4/40MHz, 1K-QAM): 1,147Mbps

Antenna

Twelve (12) high-performance internal antennas with high-power amplifiers

Ports (each)

One (1) 10Gbps Ethernet LAN port

Two (2) 10/100/1000/2500Mbps Multi-Gig Ethernet LAN ports
Orbi App:

For easy installation and management

Separate WiFi Networks for secure access:

Main network for your connected home devices

IoT network for your IoT devices

Guest network for your guests

WPA3:

For secure WiFi connection to devices

Automatic Firmware Update:

Delivers latest security patches to router automatically

VPN Support:

Provides secured remote access to your home network
NETGEAR 1-year limited warranty (valid only if purchased from a NETGEAR authorized reseller)
90-day complimentary technical support (valid only if purchased from a NETGEAR authorized reseller)


Discover a superior class of WiFi
Built on a quarter century of expertise, Orbi is fundamentally different WiFi, built
for those who demand the best.
Footnotes:
† Maximum wireless signal rate derived from IEEE® 802.11specifications. Actual data throughput and wireless coverage will vary and be lowered by network and environmental conditions, including network traffic volume, device limitations, and building construction. NETGEAR makes no representations or warranties about this product's compatibility with future standards. Up to 27Gbps wireless speeds achieved when connecting to other 802.11be 27Gbps devices. Up to 5Gbps wireless speeds achieved when connecting to other wireless speed 5Gbps devices. Up to 2.5Gbps wired speeds achieved when connecting to other wired speed 2.5Gbps devices. Up to 10Gbps wired speeds achieved when connecting to other wired speed 10Gbps devices.
‡ Requires client device that supports 320MHz bandwidth on WiFi. Four times faster than 80MHz WiFi bandwidth.
†† Gigabit service plans & compatible cable modem required for Gigabit or Multi-Gig Internet speeds.
1 NETGEAR Armor™ Powered by Bitdefender® requires a paid subscription after the initial 1-year free trial. Visit www.netgear.com/armor
2 NETGEAR Smart Parental Controls™ fees apply for a Premium Plan. Visit www.netgear.com/spc for more information.
3 MU-MIMO capability requires both router and client device to support MU-MIMO.
4 6 GHz band is limited to indoor range.
5 Requires compatible AX clients with DL-OFDMA and UL-OFDMA support.
*10% discount promo code valid for one-time use on a single item for maximum savings of $100. May be applied to all NETGEAR products, excluding services, refurbished products and ProAV items. May not be combined with other offers. Limit one promo code per customer. You can unsubscribe from our mailing list at any time. Please see our Privacy Policy for more information.