How to Extend WiFi Coverage in Your Home
As we accumulate all the latest and greatest wireless devices on the market today, the need for high-speed consistent WiFi coverage throughout the home is necessary, now more than ever. Many families typically use the WiFi routers that are installed by their internet service providers (ISPs). Some households upgrade to more powerful, state-of-the-art WiFi routers that have all the latest bells and whistles. While these new, top-of-the-line routers improve speed, they may not be capable of delivering complete whole-home WiFi coverage.
Let's review a few ways to achieve complete WiFi coverage throughout average-sized, large, and very large homes.
Install a WiFi Range Extender
One way to attain complete WiFi coverage throughout your home is to install a range extender. A range extender increases WiFi coverage by connecting to your existing WiFi router and creating a separate WiFi network that has its own name and security credentials.
While wifi extender will work, they are not without their complexities and limitations. First, because a range extender has its own security credentials, your devices must constantly log into the range extender and then back into the router as you roam around your home. Second, the range extender cannot communicate simultaneously with your router and all your devices. This cuts transmission capacity in half, because the available bandwidth is shared by the range extender, the router, and all the connected devices. Overall WiFi performance, therefore, takes a significant hit with this method.
Install an Additional WiFi Router
Alternatively, some choose to install an additional router in their home to extend WiFi coverage. However, this method requires network cabling at all the appropriate access points within your home, making initial setup and maintenance complex and expensive. Furthermore, installing an additional router does not circumvent the login disruptions, nor the bandwidth issues, described in the previous method.
Even Better, Install a WiFi Mesh System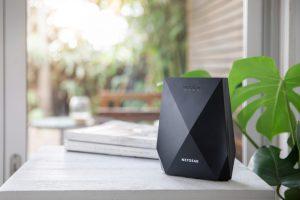 Recognizing the challenge of delivering seamless WiFi coverage to the typical home, NETGEAR designed a solution that eliminated the pitfalls of the previous methods. The result is the Nighthawk Mesh Extender system, which provides seamless, broadened WiFi range without the login disruptions, bandwidth issues, or the setup complexities characterized by installing traditional extenders and additional routers.
The Nighthawk Mesh Extender system is unique in several key areas. First, it has a backhaul radio with a dedicated connection to your router that is not shared by your connected devices. Not only can the router and mesh system communicate directly with one another, but the 2.4 GHz and 5 GHz bands are available for devices to transmit data at the highest speeds possible. This division of labor is a total game changer in range extension.
Another difference is that the Nighthawk Mesh Extender system shares the same network name and security credentials of the existing router. You can therefore walk around your home, and your device will seamlessly connect to the strongest WiFi signal, whether delivered by the router or by the Nighthawk Mesh Extender. Because there is only one network name with one password, you won't experience any disconnects. Your WiFi connection works as seamlessly as you would expect it to.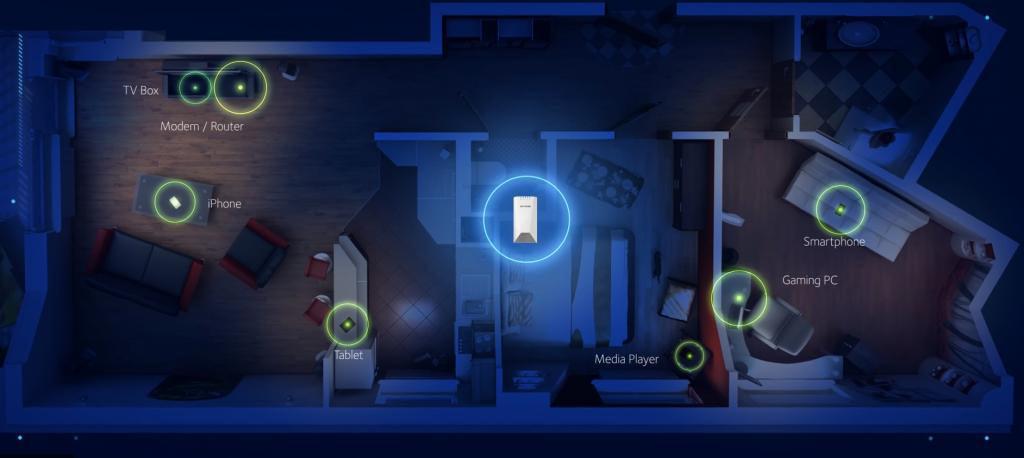 And Yes, Nighthawk Mesh Works with Any Router
The Nighthawk Mesh Extender is designed to work with any WiFi router, from the most basic ISP-provided equipment to the latest state-of-the-art WiFi routers of any brand or manufacturer. If your goal is whole-home WiFi coverage using your existing router configuration, then installing the Nighthawk Mesh Extender system will deliver the highest level of performance available. Furthermore, should you ever choose to upgrade your WiFi router, Nighthawk Mesh will grow with you. Adding it will broaden WiFi coverage in even the largest of homes, and it does so without the complexities and inconveniences of the range extension solutions before it.