NETGEAR INSIGHT PRO RATED BEST NETWORK MANAGEMENT SOLUTION FOR MANAGED SERVICE PROVIDERS AND MULTI-LOCATION SMALL BUSINESSES
NETGEAR sponsored Tolly Group report evaluates Insight Pro against competitive solutions
San Jose, CA — October 8th, 2018 — NETGEAR®, Inc. (NASDAQ: NTGR) the leading provider of networking products that power today's small to medium-sized businesses (SMBs), has released findings by Tolly Group that have concluded through extensive testing of network management solutions that NETGEAR Insight Pro provides the best deployment architecture for small multi-location businesses.
Many businesses today are structured to have regional offices, which oversee activities at numerous locations. These businesses include Managed Services Providers (MSPs), satellite and branch offices, retail, gas stations and fast food chains, health care and regional and local -government or education. Regardless of the type of business, these businesses all have common networking needs. They all want and need feature-rich reliable connectivity, good Wi-Fi performance and secure networking. And due to the fact that few small businesses have the resources for on-site IT staff, they need systems that are easy to install and manage remotely. These organizations typically depend on an outsourced service provider for their network management.
"When NETGEAR introduced me to their comprehensive switch, wireless, VPN Firewall and also NAS management solution, which is able to be deployed, managed, monitored and supported from the cloud without the need for access keys or the high cost of other cloud deployed systems, my team knew it would transform how we manage and interact with our clients," said Bill Albertson, president and CEO for Badger Communications. "It would not only open up new business for Badger Communications but would also offer better IT uptime and coverage for those end customers we have deployed Insight Pro with, many of which, may have thought that this level of Cloud IT infrastructure was priced beyond their budget constraints and thus inaccessible. NETGEAR's new Insight Pro cloud managed solution for channel partners feels like a real game changer. We are very excited to bring this level of coverage to our customer base."
The Tolly Group's testing has shown NETGEAR Insight Pro to be demonstrably superior to the alternatives, noting it is the right solution for both end-business users as well as service providers. NETGEAR Insight Pro offers the following capabilities:
An architecture designed for multi-customer, multi-location businesses
Multi-role management and monitoring
Simple and flexible setup
Highly-functional cloud portal
Full-fledged management via a mobile app
Controller-free site solution
Support for business-class network attached storage
The report also notes many NETGEAR Insight Pro ONLY features including:
Out-of-box multi-tenancy to enable MSP and distributed organization to support their customers
The ability to define separate "business owner" and "IT manager" roles.
It is "clearly architected "top down" with the management solution at both the cloud portal and mobile app levels designed to configure, monitor and manage each location without requiring any additional equipment at each site."
"Clear, concise and easy management reporting" with Insight Pro is an essential element of keeping a business running.
Provides automatic, proactive notifications and email confirmation of changes to the devices and networks
Generates concise reports for each business organization with option of weekly or monthly cadence. The report contains summary information including: number of APs and switches, power usage." Neither of the other vendors provide Automatic reporting or location-specific reports.
Provides the most flexibility when adding devices to a network
Has a consistent and intuitive interface across both its mobile app and cloud portal allows users to do cable test, Facebook captive Portal, Firmware and PoE scheduling in the shortest period of time.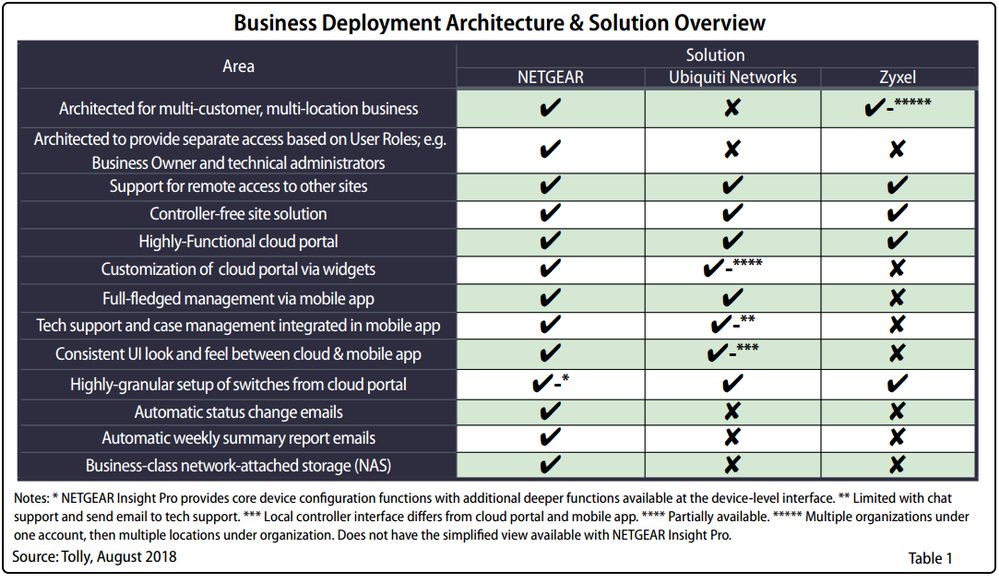 The full report is available for download from Tolly.com.
NETGEAR Insight™ Pro is an exclusive offering that is dedicated to Value Added Resellers (VAR) and Managed Service Provider (MSP) partners. Insight Pro empowers MSPs with speed and scale – faster, easier deployment, monitoring and management of customers'networks meaning MSPs can take on more customers and scale their business. NETGEAR Insight Pro comes with multi-tenancy functionality within a single Insight Pro account. Through partitioned views based on User Role and access privileges, Insight Pro enables managing multiple customers from within a single Insight Pro account. All of this is provided at the lowest TCO on the market, allowing our partners to bake in their margin and still provide their customers with a very economical offering.
Insight Pro Highlights include:
Cloud-based remote network and device management for MSPs and VARs
Multi-Customer account management in single Insight account
Multi-Tenancy and Multi-User
Roles and Rights management for Users
End-Customer Role with limited views
Centralized visibility and control across multiple customers and locations
Insight Pro is available globally through the established NETGEAR Distributor network. Once you have purchased subscriptions of Insight Pro from your distributor, you will receive a confirmation email from NETGEAR, which will contain a confirmation code for your purchase and a link to a website where NETGEAR will verify your Insight Pro purchase. Upon verification of your purchase, Insight Pro is opened for you to create your account and set up your customer organizations and devices.
Current Insight users can upgrade from Insight Basic or Insight Premium to Insight Pro. If you have a current Insight Basic or Insight Premium subscription, best to let it run to the end of its term. Insight will enable you to migrate your account details, including device setup and configurations to Insight Pro. You will need to purchase the Insight Pro subscriptions through your Distribution partner, as Insight Pro is not sold directly. Unlike Insight Basic and Insight Premium, you cannot purchase Insight Pro subscriptions right within the product.
Insight Pro is available in various subscription packs based on the number of device credits and the length of subscription terms. Pricing will be provided by your Distributor. Discounts based on volume and term length apply.
For more details on Insight Pro, please visit the Insight Reseller page on NETGEAR.com.
About NETGEAR, Inc.
NETGEAR (NASDAQ: NTGR) is a global networking company that delivers innovative products to consumers, businesses and service providers. The Company's products are built on a variety of proven technologies such as wireless (WiFi and LTE), Ethernet and powerline, with a focus on reliability and ease-of-use. The product line consists of wired and wireless devices that enable networking, broadband access and network connectivity. These products are available in multiple configurations to address the needs of the end-users in each geographic region in which the Company's products are sold. NETGEAR products are sold in approximately 27,000 retail locations around the globe, and through approximately 23,000 value-added resellers, as well as multiple major cable, mobile and wireline service providers around the world. The company's headquarters are in San Jose, Calif., with additional offices in approximately 25 countries. More information is available from the NETGEAR investor page or by calling (408) 907-8000. Connect with NETGEAR on Twitter, Facebook and our blog.
©2018 NETGEAR, Inc. NETGEAR, the NETGEAR logo, and ProSAFE are trademarks and/or registered trademarks of NETGEAR, Inc. and/or its affiliates in the United States and/or other countries. Other brand and product names are for identification purposes only and may be trademarks or registered trademarks of their respective holder(s). The information contained herein is subject to change without notice. NETGEAR shall not be liable for technical or editorial errors or omissions contained herein. All rights reserved.
Safe Harbor Statement under the Private Securities Litigation Reform Act of 1995 for NETGEAR, Inc.: This press release contains forward-looking statements within the meaning of the U.S. Private Securities Litigation Reform Act of 1995. Specifically, statements concerning NETGEAR's business and the expected performance characteristics, specifications, reliability, market acceptance, market growth, specific uses, user feedback and market position of NETGEAR's products and technology are forward-looking statements within the meaning of the Safe Harbor. These statements are based on management's current expectations and are subject to certain risks and uncertainties, including, without limitation, the following: the actual price, performance and ease-of-use of NETGEAR's products may not meet the price, performance and ease-of-use requirements of customers; product performance may be adversely affected by real world operating conditions; failure of products may under certain circumstances cause permanent loss of end user data; new viruses or Internet threats may develop that challenge the effectiveness of security features in NETGEAR's products; the ability of NETGEAR to market and sell its products and technology; the impact and pricing of competing products; and the introduction of alternative technological solutions. Further information on potential risk factors that could affect NETGEAR and its business are detailed in the Company's periodic filings with the Securities and Exchange Commission. NETGEAR undertakes no obligation to release publicly any revisions to any forward-looking statements contained herein to reflect events or circumstances after the date hereof or to reflect the occurrence of unanticipated events.
Source: NETGEAR-G
U.S. Media Contact: Timothy Polakowski, (408) 907-8069, tpolakowski@netgear.com
U.S. Sales Inquiries: (408) 907-8000, sales@netgear.com
U.S. Customer Inquiries: (888) NETGEAR