NETGEAR DEBUTS NEW 5 AND 8 PORT SMART MANAGED PLUS GIGABIT ETHERNET SWITCHES
GS305E and GS308E allow businesses to optimize their network and eliminate bottlenecks with the best speed-to-affordability ratio
San Jose, CA — April 16, 2019 — NETGEAR®, Inc. (NASDAQ: NTGR) the leading provider of networking products that power today's small to medium-sized businesses (SMBs), has announced the availability of the new 5-port  (GS305E) and 8-port (GS308E) Gigabit Ethernet Smart Managed Plus Switches designed to meet the networking challenges of small businesses.
Today's growing small businesses depend on their network to carry out mission-critical business activities. Companies are including more network traffic and applications such as VoIP phones and IP cameras on their Ethernet infrastructure. These switches need the network intelligence to separate the voice and video traffic from data, and prioritize accordingly without the cost or advanced IT support required to deal with complex managed switches.
NETGEAR Smart Managed Plus Switches meet this growing need by providing fundamental network features that will help optimize network performance. The NETGEAR GS305E 5-port and the 8-port GS308E switches offer traffic separation (VLAN), traffic priority (QoS), cable health check and loop prevention. Through an intuitive GUI they provide easy, reliable and affordable plug-and-play connectivity to quickly expand your business for workstations/servers, NAS storage, printers, and PCs with a silent and sturdy metal design. These switches also come with the NETGEAR 3-year Hardware Warranty and 90 days Technical support.
Additionally, NETGEAR is announcing the availability of the products launched during CES, earlier this year: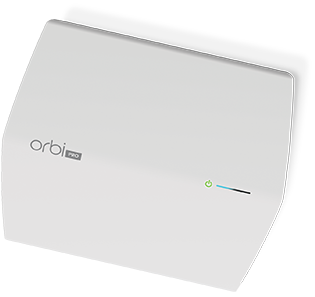 The 2019 CES Innovation Awards honoree, NETGEAR Orbi Pro Mesh WiFi Ceiling Satellite, which wirelessly connects with the Orbi Pro Router or any other Orbi Pro satellite via the patented FastLane3 technology providing a dedicated wireless backhaul for environments where wiring is challenging. The Insight managed, Orbi Pro Ceiling Satellite is now available worldwide for $249.99 in the US from VARs and online retailers.
NETGEAR Insight Managed Smart Cloud Tri-band 4x4 Wireless Access Point (WAC540) exceeds the specifications of what is needed for dense high-traffic environments, which require reliable high-performance WiFi for mission critical business and IoT connectivity.  With 3 separate radios (a single 2.4GHz radio and two for 5GHZ channels), the WAC540 brings a total of 3Gbps throughput, broad coverage and commercial-grade security.  Available now worldwide for $219.99 in the US from VARs and online retailers.
NETGEAR Insight Managed products are fully-integrated and cloud-manageable devices, requiring no additional hardware or VPN tunneling to connect directly to the Insight cloud and can be managed remotely. NETGEAR Insight is available via web browser and mobile platforms on iOS and Android and offers several subscription plans for users: Insight Basic for the Insight app only, and Insight Premium for the Insight app, the Insight cloud web portal with advanced features, as well as Insight Pro for Managed Service Providers. More information is available at: Insight platforms and ecosystem.
The new NETGEAR Smart Managed Pro S350 series consists of five switch models, including: 8-, 10-, 24-,  and 48-port Gigabit Ethernet switches with 2 or 4 SFP ports for fiber uplinks. The 8- and 10-port, which are IPV6-ready, and the 24-port models will include PoE+ (Power over Ethernet Plus) variants.  Purposely designed for networks where voice, video and data are all carried over a single network, these new affordable switches will become essential gear in the arsenal for nearly every small business network. All of the Smart Manage Pro s350 series of switches are currently available worldwide at the following price points in the US:
Smart Managed Pro S350 series  GS308T  for $69.99
Smart Managed Pro S350 series  GS310TP for $159.99
Smart Managed Pro S350 series  GS324T for $219.99
Smart Managed Pro S350 series  GS324TP for $299.99
Smart Managed Pro S350 series  GS348T for $359.99
The NETGEAR WAC124 High-performance AC2000 WiFi router is the most cost-effective WiFi solution for small business offices, cafes and retail shops due to its ease of installation and budget-friendly pricing.  It provides maximum coverage with 300Mbps+1734Mbps over independent channels by employing external antennas. As a router it is capable of supporting 3 separate and secure SSIDs over a 4x4 802.11ac Wave2 MU-MIMO WiFi. Available now worldwide for $89.99 in the US from VARs and online retailers.
About NETGEAR, Inc.
NETGEAR (NASDAQ: NTGR) is a global networking company that delivers innovative products to consumers, businesses and service providers. The Company's products are built on a variety of proven technologies such as wireless (WiFi and LTE), Ethernet and powerline, with a focus on reliability and ease-of-use. The product line consists of wired and wireless devices that enable networking, broadband access and network connectivity. These products are available in multiple configurations to address the needs of the end-users in each geographic region in which the Company's products are sold. NETGEAR products are sold in approximately 23,000 retail locations around the globe, and through approximately 22,000 value-added resellers, as well as multiple major cable, mobile and wireline service providers around the world. The company's headquarters are in San Jose, Calif., with additional offices in approximately 25 countries. More information is available from the NETGEAR investor page or by calling (408) 907-8000. Connect with NETGEAR on Twitter, Facebook and our blog.
©2019 NETGEAR, Inc. NETGEAR, the NETGEAR logo, and ProSAFE are trademarks and/or registered trademarks of NETGEAR, Inc. and/or its affiliates in the United States and/or other countries. Other brand and product names are for identification purposes only and may be trademarks or registered trademarks of their respective holder(s). The information contained herein is subject to change without notice. NETGEAR shall not be liable for technical or editorial errors or omissions contained herein. All rights reserved.
Safe Harbor Statement under the Private Securities Litigation Reform Act of 1995 for NETGEAR, Inc.: This press release contains forward-looking statements within the meaning of the U.S. Private Securities Litigation Reform Act of 1995. Specifically, statements concerning NETGEAR's business and the expected performance characteristics, specifications, reliability, market acceptance, market growth, specific uses, user feedback and market position of NETGEAR's products and technology are forward-looking statements within the meaning of the Safe Harbor. These statements are based on management's current expectations and are subject to certain risks and uncertainties, including, without limitation, the following: the actual price, performance and ease-of-use of NETGEAR's products may not meet the price, performance and ease-of-use requirements of customers; product performance may be adversely affected by real world operating conditions; failure of products may under certain circumstances cause permanent loss of end user data; new viruses or Internet threats may develop that challenge the effectiveness of security features in NETGEAR's products; the ability of NETGEAR to market and sell its products and technology; the impact and pricing of competing products; and the introduction of alternative technological solutions. Further information on potential risk factors that could affect NETGEAR and its business are detailed in the Company's periodic filings with the Securities and Exchange Commission. NETGEAR undertakes no obligation to release publicly any revisions to any forward-looking statements contained herein to reflect events or circumstances after the date hereof or to reflect the occurrence of unanticipated events.
Source: NETGEAR-G
U.S. Media Contact: Nathan Papadopulos, (408) 890-3889, NPapadopulos@netgear.com
U.S. Sales Inquiries: (408) 907-8000, sales@netgear.com