TELSTRA AND NETGEAR LAUNCH NIGHTHAWK M1 MOBILE ROUTER -- THE WORLD'S FIRST GIGABIT 4G LTE DEVICE
Available on Telstra 4GX LTE network with secure, ultrafast connectivity for media streaming, storage, home security cameras and more, whether on the go or in a temporary locale
SYDNEY, Australia and SAN JOSE, California — January 31, 2017 — NETGEAR®, Inc. (NASDAQ: NTGR), the leading provider of networking devices that power today's smart home, and Telstra today announced the launch next month of the world's first Gigabit LTE device – the NETGEAR Nighthawk M1 mobile router. With Nighthawk M1's download speeds of up to 1Gbps, everything customers do at home can now be done on the go.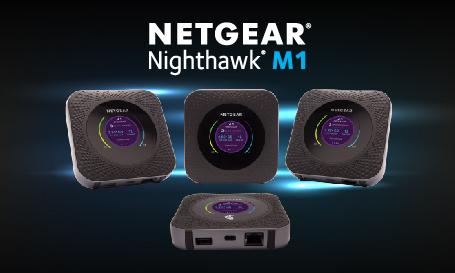 The Nighthawk M1 mobile router is the ultimate travel companion providing the convenience of a mobile hotspot with the full functionality of a travel router, supporting up to 20 Wi-Fi devices on a single connection so you can securely share your mobile internet with family or co-workers while on the go, at home, when travelling for work or pleasure.
Combining ultrafast download speeds up to 1Gbps, support for Category 16 LTE Advanced, 4X4 MIMO and 4-band Carrier Aggregation, Nighthawk M1 can serve as a media hub for streaming and playing multimedia entertainment. With a simple and intuitive app-driven user experience, parental control options, an improved JumpBoost feature, and a long-lasting battery for continuous use all day, Nighthawk M1 delivers mobile broadband like you've never experienced before.
"We're innovating at the cutting edge of mobile broadband technology so our customers can work with greater ease on the go and access the content, services and applications they love when they're outside the home," said Andrew Volard, Director of Device Management for Telstra. "The Nighthawk M1 mobile router powered by Telstra offers incredibly fast data transfer speeds, a long-lasting battery, and other great features for a world class mobile experience."
"For the past 15 years, Telstra and NETGEAR have worked together to deliver the most innovative mobile broadband products for customers. With their focus on innovation and customer experience, we're delighted that Telstra has again chosen to team with us for the initial launch of our Nighthawk M1 mobile router," said Andrew Green, vice president of mobile network products at NETGEAR. "It offers the latest LTE and Wi-Fi technologies so you can take full advantage of ultrafast download speeds on the Telstra Mobile Network and securely share your internet connection to support media streaming, storage and so much more."

The easiest and most convenient way to interact with the Nighthawk M1 is via the new NETGEAR Mobile app. Control the key functions of the Nighthawk M1 via the app, along with Wi-Fi management of the connected devices, storage, security and even parental controls. The app will allow quick and easy configuration of the M1 device and provides the ability to check data usage directly from the app.  The Mobile app also allows viewing of media files from the M1 and play-back on the mobile device.  All the control is in the palm of your hand via the Mobile app without the need of ever taking the M1 out of a backpack or briefcase.
Nighthawk M1 has no software to install so it's easy to set up in a matter of minutes — just power on and connect. It provides a portable, instant internet connection in a wide range of environments, and is perfect for areas that lack physical wiring such as camp sites or regional areas, or for renters on holiday or in short-term living arrangements. If you're a road warrior on a business trip, in a field office or a construction site, Nighthawk M1 keeps you and your work mates or colleagues securely connected and productive.

Key Features and Benefits of Nighthawk M1 mobile router
Superfast mobile broadband internet — up to 1Gbps download/150Mbps upload*
4G LTE Advanced Category 16 with 4-band Carrier Aggregation
Ethernet port and 2 USB ports (Type A and C) for media streaming from microSD, USB or external hard drive to all connected devices
Wi-Fi/Ethernet offloading capabilities so your device connections move from the car (LTE) to your hotel's internet

Always-on connection shareable with up to 20 Wi-Fi devices on-the-go
Parental controls filter and scheduled access to online content

802.11ac and Dual-Band 2.4GHz/5GHz dual concurrent Wi-Fi for increased network performance and reduced interference

Simple, intuitive NETGEAR mobile app user experience to monitor data usage, manage device and network settings from an iOS or Android™ smartphone or tablet

Powerful, long-lasting battery for up to 24 hours of continuous use

Improved JumpBoost feature to charge smartphones and small portable USB devices
Two TS-9 connectors available for optional 4G/3G antennas
NETGEAR Limited Warranty and free 90-day technical support
Telstra mobile network-ready device
Pricing and Availability
NETGEAR Nighthawk M1 mobile router (MR1100) will be available next month in Australia from Telstra in store and online at the recommended retail price (RRP) of $360 (AUD) upfront or a range of plans.
Check out other connectivity devices in the NETGEAR family of mobile broadband products.
About NETGEAR, Inc.
NETGEAR (NASDAQ: NTGR) is a global networking company that delivers innovative products to consumers, businesses and service providers. The Company's products are built on a variety of proven technologies such as wireless (WiFi and LTE), Ethernet and powerline, with a focus on reliability and ease-of-use. The product line consists of wired and wireless devices that enable networking, broadband access and network connectivity. These products are available in multiple configurations to address the needs of the end-users in each geographic region in which the Company's products are sold. NETGEAR products are sold in approximately 28,000 retail locations around the globe, and through approximately 27,000 value-added resellers, as well as multiple major cable, mobile and wireline service providers around the world. The company's headquarters are in San Jose, Calif., with additional offices in approximately 25 countries. More information is available from the NETGEAR investor page or by calling (408) 907-8000. Connect with NETGEAR on Twitter, Facebook and our blog.
©2017 NETGEAR, Inc. NETGEAR, the NETGEAR logo, Arlo, and Nighthawk are trademarks and/or registered trademarks of NETGEAR, Inc. and/or its affiliates in the United States and/or other countries. The Telstra logo is a registered trademark of Telstra Corporation Limited. Other brand and product names are for identification purposes only and may be trademarks or registered trademarks of their respective holder(s). The information contained herein is subject to change without notice. NETGEAR shall not be liable for technical or editorial errors or omissions contained herein. All rights reserved.
* Actual data throughput and wireless coverage will vary. Network conditions and environmental factors, including volume of network traffic, building materials and construction, and network overhead, lower actual data throughput rate and wireless coverage. NETGEAR makes no express or implied representations or warranties about this product's compatibility with any future standards.
Safe Harbor Statement under the Private Securities Litigation Reform Act of 1995 for NETGEAR, Inc.: This press release contains forward-looking statements within the meaning of the U.S. Private Securities Litigation Reform Act of 1995. Specifically, statements concerning NETGEAR's business and the expected performance characteristics, specifications, reliability, market acceptance, market growth, specific uses, user feedback and market position of NETGEAR's products and technology are forward-looking statements within the meaning of the Safe Harbor. These statements are based on management's current expectations and are subject to certain risks and uncertainties, including, without limitation, the following: the actual price, performance and ease-of-use of NETGEAR's products may not meet the price, performance and ease-of-use requirements of customers; product performance may be adversely affected by real world operating conditions; failure of products may under certain circumstances cause permanent loss of end user data; new viruses or Internet threats may develop that challenge the effectiveness of security features in NETGEAR's products; the ability of NETGEAR to market and sell its products and technology; the impact and pricing of competing products; and the introduction of alternative technological solutions. Further information on potential risk factors that could affect NETGEAR and its business are detailed in the Company's periodic filings with the Securities and Exchange Commission. NETGEAR undertakes no obligation to release publicly any revisions to any forward-looking statements contained herein to reflect events or circumstances after the date hereof or to reflect the occurrence of unanticipated events.
Source: NETGEAR-G
U.S. Media Contact: Nathan Papadopulos, (408) 890-3889, NPapadopulos@netgear.com
U.S. Sales Inquiries: (408) 907-8000, sales@netgear.com
U.S. Customer Inquiries: (888) NETGEAR