Smart w/ optional Cloud (GS108Tv3)
8-Port Gigabit Ethernet Smart Switch with Cloud Management
Smart w/ optional Cloud (GS108Tv3)
8-Port Gigabit Ethernet Smart Switch with Cloud Management
Get switching now, remote/cloud management now or later
NETGEAR Insight Management
Simple yet powerful control of your network anytime and anywhere, even across multiple locations. NETGEAR Insight handles your network so you can focus on running your business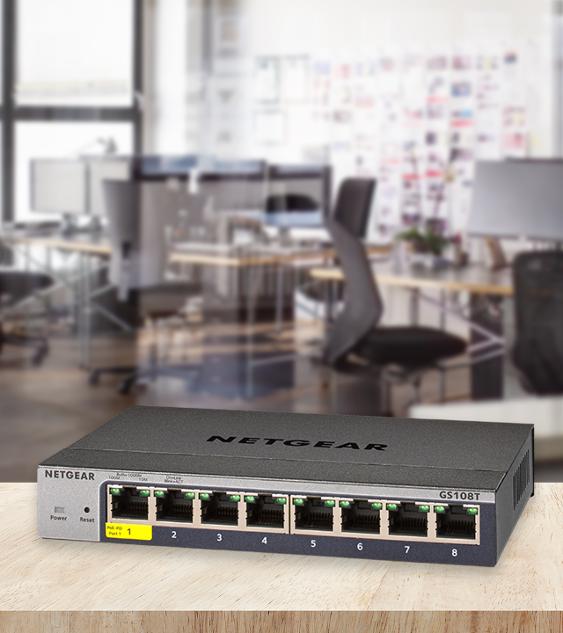 Switches with Essential L2/L2+ Features for SMB Networks
Powerful L2 and L2+/Layer 3 Lite features, great PoE functionality, and enhanced performance and usability optimized for network efficiency, operational cost savings, and ease of management. These switches are the ideal solution even for the most advanced small and medium organizations looking for the best combination of features, performance, and value.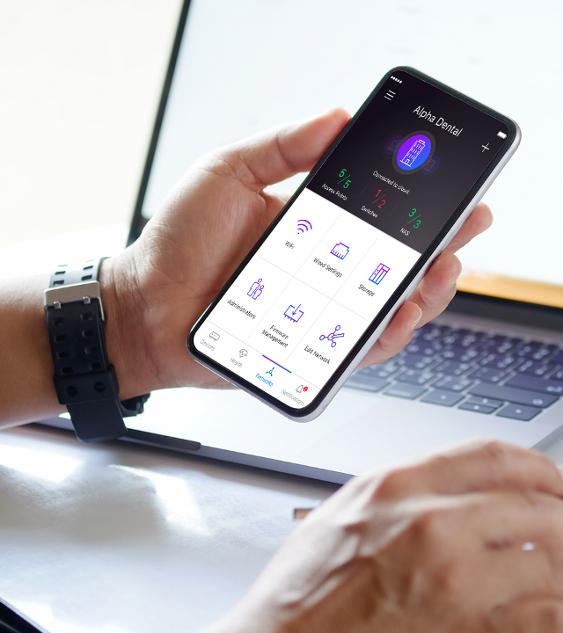 Versatile and easy to manage
Smart Managed Pro switches with optional remote/cloud management are configurable and manageable anywhere, anytime. All you need is the NETGEAR Insight management solution for easy setup, monitoring and remote/cloud management of your Insight Managed Switches. Now you can setup, manage and monitor your network from anywhere in the world.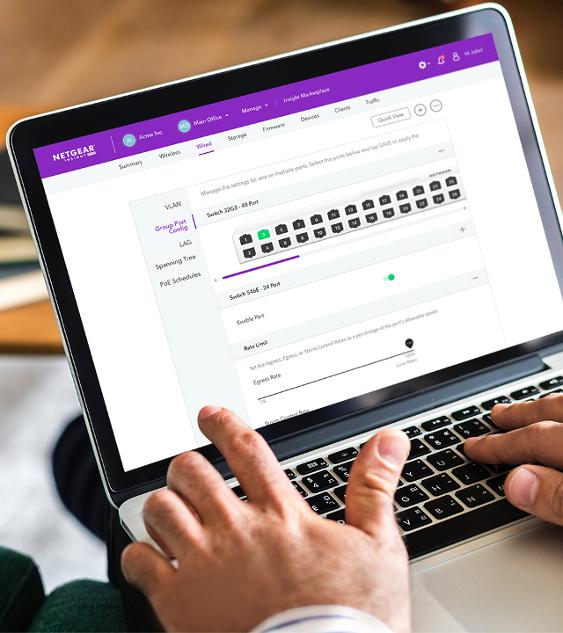 Get switching now, remote/cloud management now or later
Purchase your Smart Managed Pro switch now, manage it in local device GUI, decide later when you want to use remote/cloud management with Insight and activate Insight whenever you want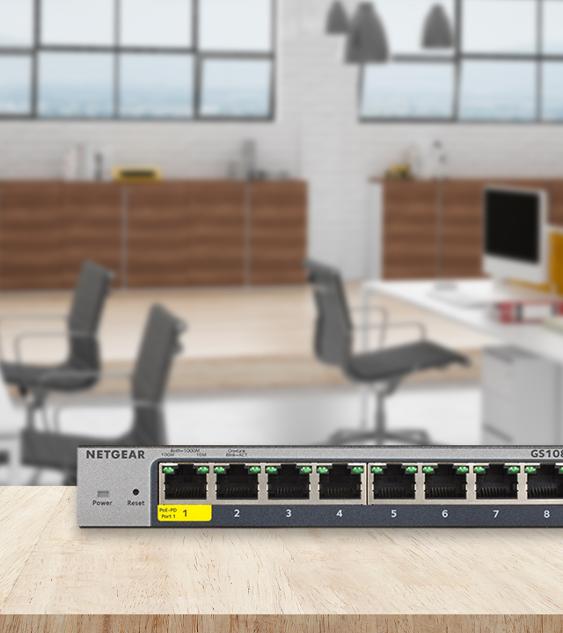 Build a Future-Proof Network with NETGEAR
Future-proof with features like: VLANs, Access Control List, L3 Lite static routing, Multicast Groups, IPv6, QoS, Energy Efficient Ethernet (IEEE 802.3az)
Traffic Management
Auto Negotiation of speed and duplex modes
IEEE 802.3x Flow Control
Dynamic MAC address management
IEEE 802.1Q-based VLAN
Auto Voice VLAN
Auto Video VLAN (selected models)
VLAN routing (selected models)
QoS based on WRR, strict priority, or both
Port-based and IEEE 801.2p-based QoS
TCP/UDP-based QoS
DiffServ
IPv4 and IPv6-based QoS (selected models)
DSCP Support
Rate Limiting (ingress, or egress)
Link Aggregation and LACP
Switch Management
Insight mobile app or Insight Cloud Portal
Web browser-based management GUI
Smart Control Center Software for multi-switch management
IP Access List
IPv6 Management
Configurable Management VLAN
SNMP v1/v2c and v3
Standard MIBs (RFC1213, RFC1643, and RFC1493)
RMON group 1, 2, 3, 9
Firmware Upgrade through Smart Control Center (TFTP)
Firmware download (to switch) and upload (to server) through TFTP/HTTP
Configuration and Image Upload (to PC) through HTTP
Configuration Download (to Switch) thru TFTP/HTTP and upload (to server)
Memory & FLASH log
Syslog (server)
System password protection
Security
MAC lockdown
MAC lockdown by number of MACs
IEEE 802.1x port authentication
Dynamic VLAN Assignment
Guest VLAN
TACACS+
3 HTTPS /SSL versions
TLS session
Trusted MAC
IPv4, L4-based Access Control List (ACL)
IPv6-based ACL (selected models)
Multicast Efficiency
IGMP snooping, v1, v2 and v3
IGMP snooping querier
Blocking of unknown multicast traffic
MLD snooping
Spanning Tree, Routing and Stacking
IEEE 802.1D, IEEE 802.1w RSTP and MSTP
Option to enable/disable BPDU flooding when STP is disabled
Static routing with 32 static routes (Selected models)
Hosted ARP table size of 512 (Selected models)
Reliability, Performance and Troubleshooting
Port mirroring both on ingress and egress traffic
Jumbo frame support
Broadcast Storm control
Cable diagnostics
Loop Detection
DoS Prevention
IEEE 802.1ab LLDP
LLDP-MED
Dual Image
SNTP
Option to enable/disable the flooding of EAPOL when 802.1x is disabled
Protected ports
DNS client
DHCP clients
DHCP snooping
Ping and traceroute client
Energy Efficient Ethernet (IEEE 802.3az) compliant (Selected models)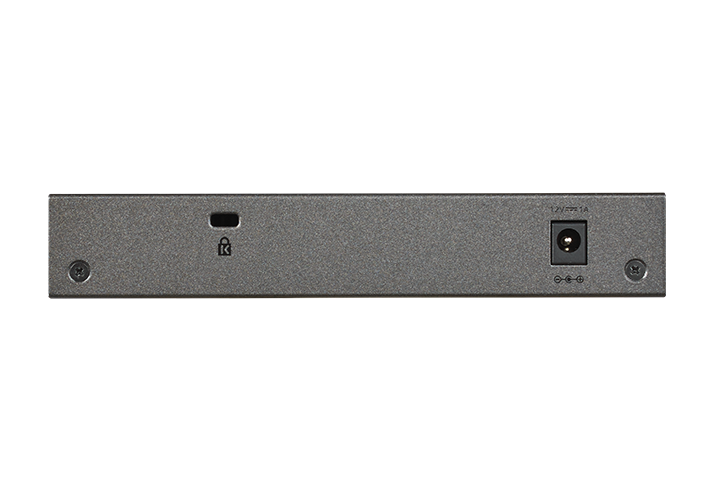 Dimensions (W x D x H) :

158 x 101 x 27mm ( 6.2x 4.0 x 1.1in)

Weight :

0.43kg ( 0.94lb)
10/100Mbps ports :

8

Gigabit ports :

8

SFP ports :

0

Number of PoE ports :

0

PoE+ (802.3at) :

0

Total PoE Power budget (Watts) :

N/A

Max MAC entries :

8K

Buffer size :

512KB

VLAN (Number Supported) :

64

VLAN routing :

Yes

Dynamic VLAN assignment :

Yes

MLD Snooping :

Yes

Static route :

Yes

Host ARP table :

512ARP

EEE :

Yes

DoS Prevention :

Yes

Internal/External :

External DC 12V 1.0A

Max power (worst case, all ports used, line-rate traffic) :

5.5W

FAN :

0

Acoustic Noise Level @25C (dBA) :

0

Operating Temperature :

-0° to 45°C (32° to 113°F)

MTBF :

2,388,657 hrs (272 yrs)
Support :

ProSUPPORT 24x7 Advanced Technical Support via phone for 90 days (Remote diagnostics performed by our technical experts for prompt resolution of technical issues).
ProSUPPORT coverage can be extended by purchasing one, three, or five year contracts.
ProSUPPORT Lifetime 24x7 Advanced Technical Support via chat.