NETGEAR DEBUTS ARLO GO, FIRST 100% WIRE-FREE MOBILE HD SECURITY CAMERA WITH 4G LTE
Available on AT&T's nationwide LTE network and featuring HD Video, night vision, two-way audio, rechargeable batteries and equipped to endure the outdoors
SAN JOSE, California — November 15, 2016 — NETGEAR®, Inc. (NASDAQ: NTGR), the worldwide leader in home networking and smart home security products will launch Arlo's first mobile IoT smart device. Connected by AT&T, the Arlo Go security camera that can go nearly anywhere without the need for external power or WiFi connectivity. A 2017 CES Innovation Award Honoree, Arlo® Go Mobile HD Security Camera (LTE-VML4030),
is the world's first 100% wire-free mobile security video solution that works in the AT&T nationwide service coverage area in the US. Arlo Go uses 3G and 4G LTE wireless connections providing a security video monitoring solution when roaming or in areas with limited or no WiFi access. By combining the power, simplicity and flexibility of the award-winning Arlo® HD Security Camera product line with the mobile connectivity of AT&T's nationwide network, Arlo Go is a breakthrough in modern product design, enabling fast and easy security monitoring of even the most remote locations. And, with the new quick-charge rechargeable batteries, Arlo Go will always be powered and ready for the task of monitoring your most precious assets.

Arlo HD Smart Security Cameras are easily set up in seconds and Arlo Go is no different. Without the dependency on an existing WiFi connection, Arlo Go can be deployed and re-deployed quickly. As with all Arlo cameras, Arlo Go offers a rolling seven (7) days of free cloud storage so you can record and review videos from the app. With Arlo Go's advanced PIR motion sensor, you are alerted with near real-time notifications whenever an object enters the camera's field of view.  Through Arlo's mobile and browser apps, you get a live, on demand view of the location as well as the ability to easily play previously recorded videos from nearly anywhere in the world. Two way audio allows the ability to hear and speak through the camera and Arlo's advanced RGB-IR Night vision technology provides a clear picture of the scene, even in the dead of night. Arlo Go also comes equipped with a micro SD memory card* slot for easy local backup of video in the event of a network interruption.
"Arlo Go is the latest example of how we develop products with a clear focus on our customers' needs," said Pat Collins, senior vice president of Arlo products at NETGEAR. "With no cords and no wires and now with the ability to easily connect nearly anywhere, Arlo Go provides Businesses, Municipalities and Consumers with an unprecedented ability to monitor and protect their properties, communities and assets.  We're also very excited to be launching our smart analytics platform which will provide Customers with real-time intelligence about what's happening when an event is detected on any of our Arlo Cameras."

"We're excited to work with NETGEAR on this first-of-its-kind solution for our customers," said Chris Penrose, President, Internet of Solutions, AT&T. "Using our 4G LTE network, the Arlo Go Mobile HD security camera lets users keep watch from just about anywhere. The flexibility opens up new opportunities for security that weren't possible before."

Where Can You Go with Arlo Go?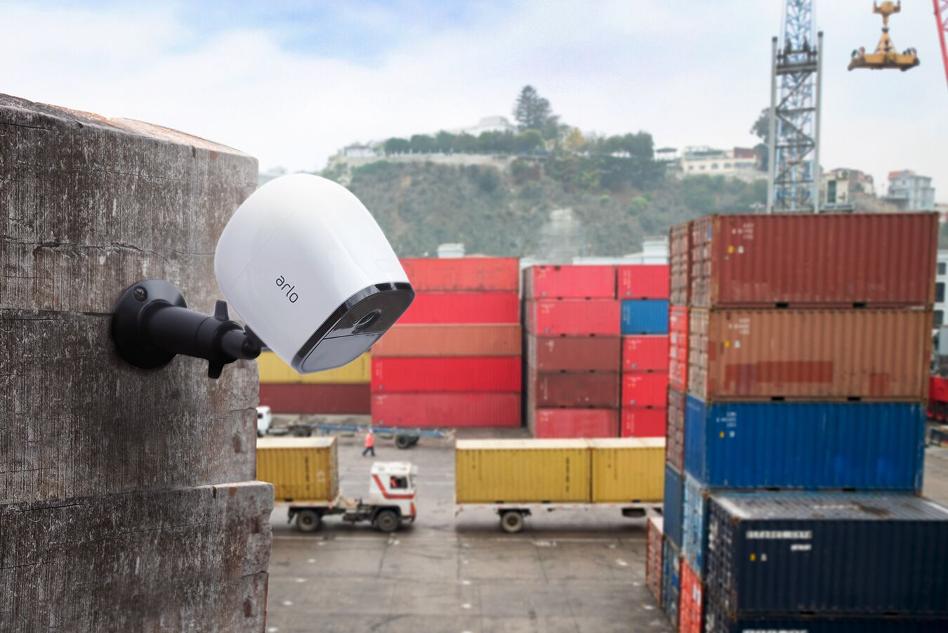 Easy answer: Everywhere. As a 100% wire-free and mobile HD camera for surveillance, security, and monitoring, even in remote locations, Arlo Go is ideal for outdoor spaces without WiFi access. By enabling you to monitor your assets, Arlo Go gives you peace of mind when travelling – at hotels, cabins, or even outdoors. Here are but a few examples where Arlo Go can go:      
Workplace, Construction Site and Warehouse Security

– Keep an eye on your building material, employees or monitor parking lots and the back edges of your property outside WiFi range.

        Boats, Docks and Marinas – Prevent vandalism and enforce safety protocols by getting email alerts or notifications when motion is detected in the monitored areas in and around your boat.

Hotels, Vacation Homes, Rental Units, Recreational Vehicles and Campsites

–Keep tabs on what matters to you when you're not around, even when you're on the road.

          Public Safety and Neighborhood Watch – Keep a watchful eye over your community with easily deployed weather-proof cameras in multiple locations.

          Border Patrol, Military Depot, Airline hangar or Public Transit – Easily monitor sensitive areas where public safety is of paramount importance.

          Daycare and Nursing Homes – Rest assured that your loved ones are safe and cared for by keeping an eye on activities from nearly anywhere.

          Farms, Ranches, and Stables – Keep watch on your farm, equipment, and livestock, and monitor for intruders even in low-light conditions.

          On the Wilderness Trail – Experience the great outdoors from the comfort of your couch as Arlo Go enables you to view animal migrations, check game patterns, monitor overhunting, or enjoy birdwatching.
Key Features of Arlo Go: 
          Untethered mobile security: Arlo Go supports 3G, and 4G LTE wireless connections anywhere in the AT&T nationwide coverage area.

          100% Wire-free: Patented 100% wire-free design lets you discreetly place cameras where you want and monitor indoor and outdoor spaces from every possible angle.

          Weatherproof: Indoor/outdoor cameras install easily for DIY security so you can place them nearly anywhere, indoors and out.

          Local Video and Audio Storage: Built-in micro SD card slot for local backup storage in the event of Internet interruption.

          2-way Audio: Built-in mic and speaker enable push-to-talk capability so you can listen in and talk back.

          Motion and Audio Detection: Arlo Go initiates automatic recordings and alerts you via email or app notifications.

          Free Cloud Recordings: 7 days free recurring cloud recordings for the life of the camera and you can connect up to 5 cameras without recurring monthly subscription fees.

          Night Vision: See sharper details in stunning clarity with 720p HD cameras, even in the dark.

          Live Viewing: Watch live streamed or recorded videos from your computer, smartphone or tablet using the free Arlo app.

          Effortless Setup: Install your Arlo Go camera within minutes through iOS or Android™ mobile devices.
Watch the Arlo Go video at Arlo.com to learn more about NETGEAR Arlo Smart Home Security. 
Pricing and Availability
The Arlo Go Mobile HD Security Camera (LTE-VML4030) by NETGEAR will be available for enterprise and business applications this year for an MSRP of $449.99 in the U.S. Please visit the link above for more detail.  The Arlo Go LTE HD security camera will be generally available for consumers via major retailers in North America in Q1 2017. Mobile data plans will be offered separately from AT&T and made available at launch.

Optional subscription-based service plans are available for Arlo systems of more than five cameras or storing of recordings beyond the free 7-day plan. 
About NETGEAR, Inc.
NETGEAR (NASDAQ: NTGR) is a global networking company that delivers innovative products to consumers, businesses and service providers. The Company's products are built on a variety of proven technologies such as wireless (WiFi and LTE), Ethernet and powerline, with a focus on reliability and ease-of-use. The product line consists of wired and wireless devices that enable networking, broadband access and network connectivity. These products are available in multiple configurations to address the needs of the end-users in each geographic region in which the Company's products are sold. NETGEAR products are sold in approximately 28,000 retail locations around the globe, and through approximately 27,000 value-added resellers, as well as multiple major cable, mobile and wireline service providers around the world. The company's headquarters are in San Jose, Calif., with additional offices in approximately 25 countries. More information is available from the NETGEAR investor page or by calling (408) 907-8000. Connect with NETGEAR on Twitter and Facebook.
 ©2016 NETGEAR, Inc. NETGEAR, the NETGEAR logo, and Arlo are trademarks and/or registered trademarks of NETGEAR, Inc. and/or its affiliates in the United States and/or other countries. Other brand and product names are for identification purposes only and may be trademarks or registered trademarks of their respective holder(s). The information contained herein is subject to change without notice. NETGEAR shall not be liable for technical or editorial errors or omissions contained herein. All rights reserved. 
* MicroSD memory card is not included with purchase. 
Safe Harbor Statement under the Private Securities Litigation Reform Act of 1995 for NETGEAR, Inc.: This press release contains forward-looking statements within the meaning of the U.S. Private Securities Litigation Reform Act of 1995. Specifically, statements concerning NETGEAR 's business and the expected performance characteristics, specifications, reliability, market acceptance, market growth, specific uses, user feedback and market position of NETGEAR's products and technology are forward-looking statements within the meaning of the Safe Harbor. These statements are based on management's current expectations and are subject to certain risks and uncertainties, including, without limitation, the following: the actual price, performance and ease-of-use of NETGEAR's products may not meet the price, performance and ease-of-use requirements of customers; product performance may be adversely affected by real world operating conditions; failure of products may under certain circumstances cause permanent loss of end user data; new viruses or Internet threats may develop that challenge the effectiveness of security features in NETGEAR 's products; the ability of NETGEAR to market and sell its products and technology; the impact and pricing of competing products; and the introduction of alternative technological solutions. Further information on potential risk factors that could affect NETGEAR and its business are detailed in the Company's periodic filings with the Securities and Exchange Commission. NETGEAR undertakes no obligation to release publicly any revisions to any forward-looking statements contained herein to reflect events or circumstances after the date hereof or to reflect the occurrence of unanticipated events. 
Source: NETGEAR-G 
U.S. Media Contact: Nathan Papadopulos, (408) 890-3889, NPapadopulos@NETGEAR.com
U.S. Sales Inquiries: (408) 907-8000, sales@NETGEAR.com 
U.S. Customer Inquiries: (888) NETGEAR