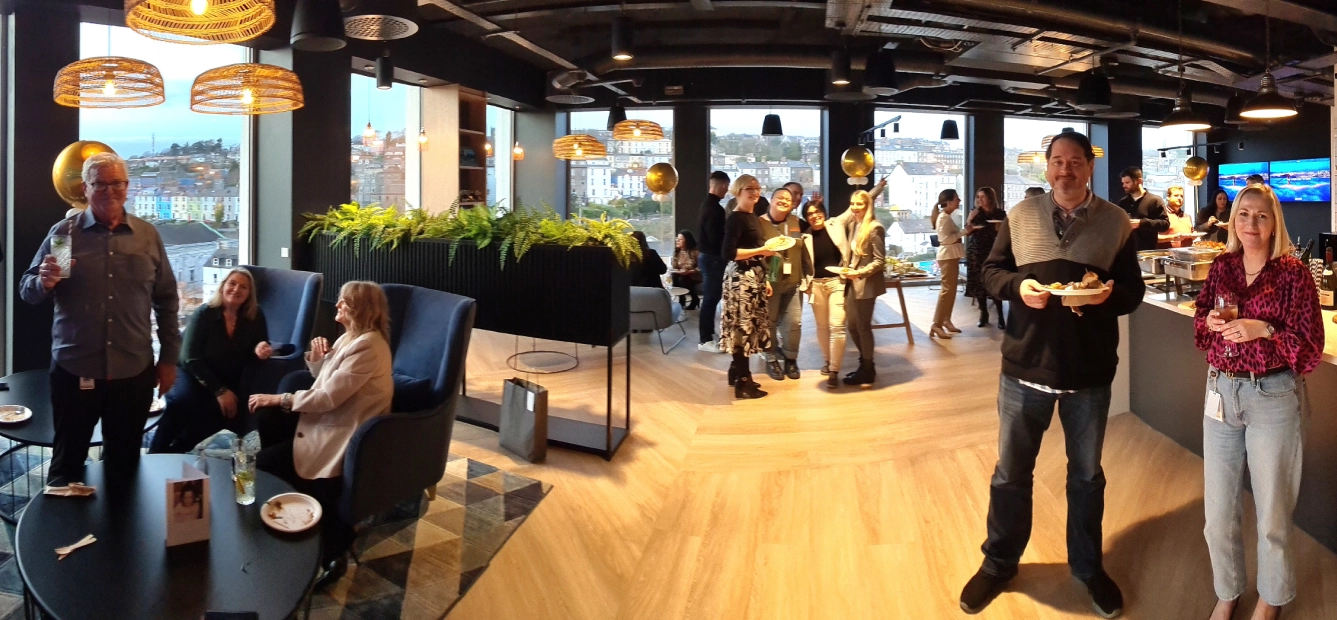 Welcome to NETGEAR Cork
At NETGEAR, we are pioneers. We've been innovating and leading the industry in the creation of advanced networking technologies for homes and businesses around the world for almost three decades.

Everyone at NETGEAR has an impact. Together, we've pushed the boundaries of what can be accomplished in our increasingly wireless and connected world. We hire exceptional people and foster a diverse working environment where everyone feels empowered, inspired, challenged, proud and respected.
Our Cork team
We first established our international headquarters in Cork in 2006. Today, it's home to a tight-knit and diverse community of talented NETGEARians driving NETGEAR's EMEA and global impact.
These teams include finance, customer operations, logistics & distribution, digital marketing, data operations, HR, legal, customer support & advocacy, support engineering, sales and IT support. As we go through an evolutionary change to add software subscription services to complement our hardware offerings, our Cork office will also be home to a software development center of excellence.
Step into our office
In 2023, we moved into our new office, based in the award-winning Penrose Dock development, in the vibrant Victorian Quarter of Cork City.
Based on the 6th floor, we're surrounded by stunning views of Cork city and Port and the office provides access to a modern, destination workplace, with state-of-the-art facilities.
Collaboration and community are at the heart of our office design in line with our hybrid working model. Our Cork office runs on the principles of flexibility, inclusion and trust. We're committed to a culture and working environment where employees are empowered to do their best work and where everyone is welcomed, celebrated, and respected.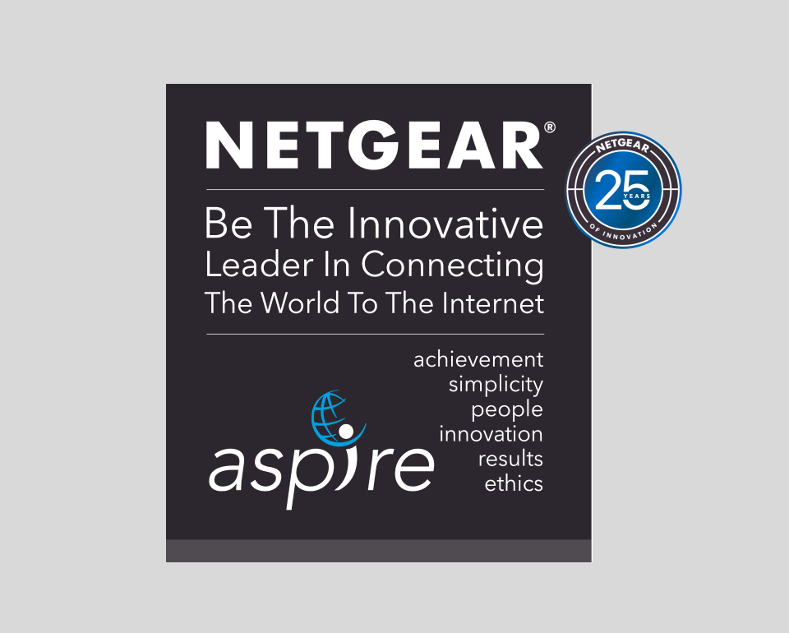 Mission and values
At NETGEAR, we're more than just a technology company, we're a community of passionate NETGEARians who are driven by our mission:

To be the Innovative Leader In Connecting The World To The Internet.

Everything we do is about enabling people to connect to what's important to them and to do more with their lives at home and at work. We're dedicated to pushing the boundaries of what can be accomplished in using innovation to power connection.

We have six core values that we ASPIRE to every day which are critical to our success: Achievement, Simplicity, People, Innovation, Results and Ethics.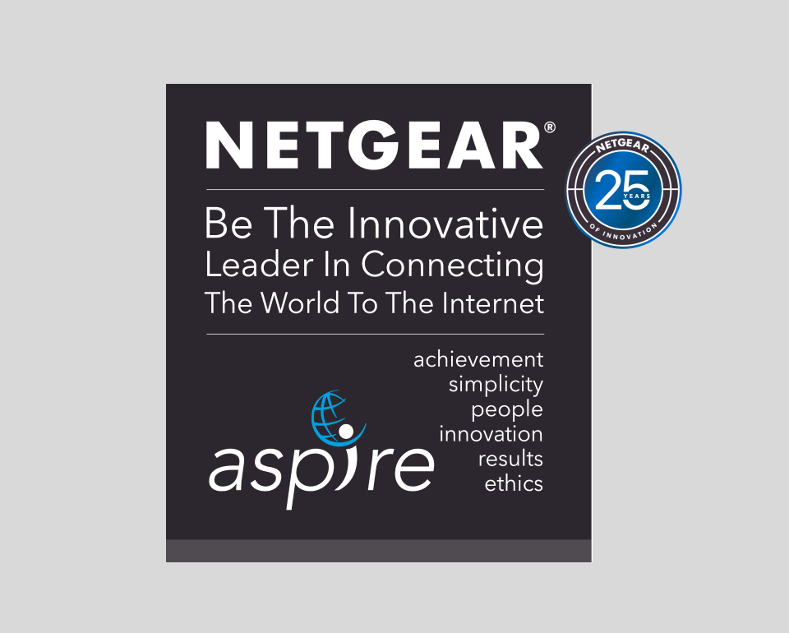 Mission and values
Achievement
We demonstrate persistence, purpose, resilience, accountability, resourcefulness, and agility to achieve our goals. We recognize and celebrate our wins and successes.
Simplicity
We minimize complexity and promote simple solutions in all that we do.
People
We collaborate and work as a team to achieve our results. We appreciate diversity and together we create an environment where everyone is appreciated, respected and has an equal place to play and contribute to the company's success.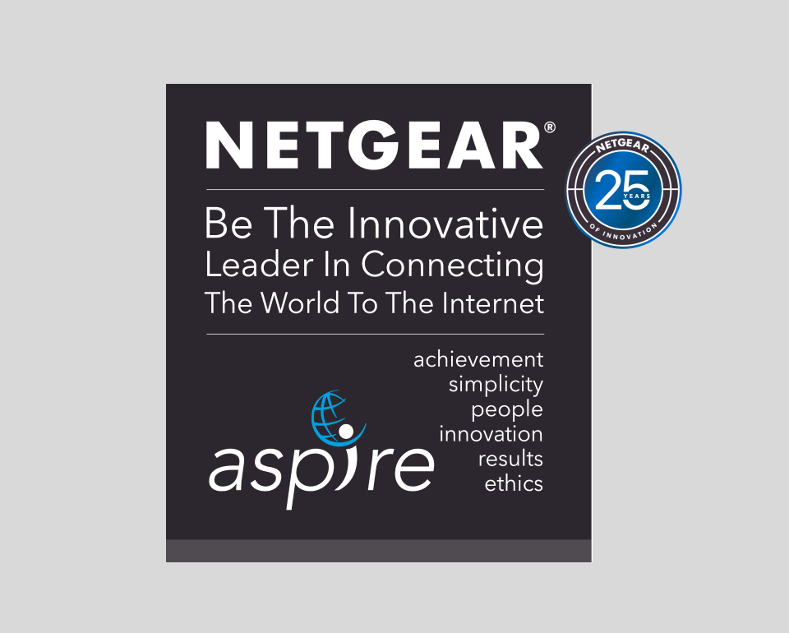 Mission and values
Innovation
Innovation is in our blood and is the root of our success. We find opportunities to innovate by coming up with new combinations, leveraging new technologies and discovering new ways to satisfy our customer needs, through innovative solutions. We question "as is", we embrace change, and we continuously seek to improve what we do.
Results
We achieve Results through our strong sense of achievement, by keeping it simple, being innovative, and by respecting and working well with the team. We are focused on consistently achieving measurable results that improve our bottom line and we hold ourselves and each other accountable.
Ethics
Ethics are our foundation. We hold ourselves to the highest standards of honesty and integrity at all times. We are authentic and inclusive; we meet commitments and are trustworthy.
Hear from NETGEARians
Fiona Spratt, VP HR EMEA & Managing Director NETGEAR International Limited
"I joined NETGEAR as EMEA HR Manager in 2014 and since then have had many fantastic opportunities to learn, grow and progress my career. At NETGEAR, we are a lean, diverse team and it really is true that every NETGEARian has an impact on the success of the company. Working with exceptional people across the globe, I love that together we connect people to what they care about most through the best WiFi. We're at a very exciting point in our company's history as we transform from a traditional hardware to a more software-centric company. NETGEAR has been in Cork since 2006 and I'm really excited about what the future holds."
Camila Rezende Rodrigues O'Brien, EMEA Logistics Specialist
"At NETGEAR, I saw the opportunity to widen my logistics sector knowledge working for the industry leader in advanced networking technologies. NETGEAR is a global company that provides their employees with the opportunity to work with different teams based around the world. It provides a very diverse environment which is a great benefit to my own personal and professional growth. I learn every day from people in all areas of the business and with different backgrounds. I am lucky to be surrounded by an exciting team of highly motivated, hard-working professionals, always willing to collaborate to achieve success."
Aidan O'Mahony, Digital Marketing Director
"NETGEAR has given me so many opportunities to progress my career and in 5 years I have moved from Senior Analyst to Director, learning many new skills. What sets NETGEAR apart are the opportunities, the exposure to and opportunity to learn from our CEO and senior leaders from day one, the flexibility which is part of the NETGEAR culture and the team I work with. It's the smartest, most analytical team I've ever worked with, and we have lots of fun together. Our Cork office is a special place for various reasons but the location of our new office in Penrose Quay in the last year is a huge bonus. Penrose Dock is modern with unbelievable facilities, amazing views of the whole city and close proximity to the city's best restaurants and bars."
Sarah Murphy, EMEA Senior Operations Manager
"NETGEAR has supported and encouraged me both professionally and personally over the years. Personally, NETGEAR provides the support I need to balance my family life, while also getting to the office to collaborate with my colleagues. The NETGEAR Cork office has a unique feeling of support and comradeship and I have made friends for life here. Professionally, I've had the opportunity to continuously grow and develop my career, move roles and work in multiple teams which has enabled me to become a highly experienced supply chain professional. Every day is different, interesting, and challenges me in new way."
Financial Wellbeing
Competitive Compensation, Generous Pension Scheme, Bonus, Employee Equity, Employee Share Purchase Plan, Permanent Health Insurance, Life Assurance
Health & Wellness
Competitive Health insurance for Employees and Dependents, EAP Services, Mental and Physical Health Initiatives, Bike to Work Scheme
Personal Development
Educational Reimbursement, Career Development Support, Access to Udemy Business, Bespoke Training Programs, Lunch and Learn's
Flexibility & Time Off
25 Days' Vacation, Parental Leaves, Hybrid Working Model, 4 Work from Anywhere Weeks per year
Community & Team
Employee Resource Groups, Paid Volunteer Day, Work Together Wednesdays Lunch, Team Building and Social events, People Awards Programs
Join our NETwork
We're not just building careers; we're building a connected world. Join us on our journey to powering a future that connects us all. Explore our latest job openings and apply today.
NETGEAR is an equal opportunity employer and makes employment decisions on the basis of merit. We want to have the best available people in every job. Company policy prohibits unlawful discrimination based on race, color, religious creed, sex, gender, gender identity, gender expression, marital status, registered domestic partner status, age, national origin or ancestry, physical or mental disability, medical condition including genetic characteristics, sexual orientation, military and veteran status, or any other consideration made unlawful by federal, state, or local laws. It also prohibits unlawful discrimination based on the perception that anyone has any of those characteristics or is associated with a person who has or is perceived as having any of those characteristics.