NETGEAR Study Validates That Fast and Reliable High-Performance Wi-Fi is an Essential Ingredient for Small Businesses' Customer Retention
More than 1,000 Small and Medium Size Businesses Surveyed in Over 40 industries
San Jose, CA — November 14th, 2018 — NETGEAR®, Inc. (NASDAQ: NTGR), the leading provider of networking products that power today's small to medium-sized businesses (SMBs), has released findings from a sponsored survey on Wi-Fi system usage for more than 1,000 small business with 50 or fewer employees across 40 different industries, including accounting, education, construction, hospitality and tourism, legal and law offices, non-profits, and manufacturing. Survey results indicated that a good Wi-Fi network is understood to be a critical tool for customer retention because it enables better customer service and customers expect to have Wi-Fi available.
It is clear from the survey results that businesses are in need of a more powerful and easier to manage Wi-Fi solution to address both their business and client needs. When asked what types of issues the businesses were experiencing with their Wi-Fi, nearly 44% responded that their network performance had been impacted by congestion due to the quantity of devices connected to the network. Nearly 20% of the respondents also stated that their current Wi-Fi network doesn't provide enough coverage for their business needs. Survey respondents noted dropped connections and described their Wi-Fi as being 'too slow.' These findings come as no surprise to NETGEAR, the developer of the Orbi™ Pro Tri-band Wi-Fi System for Small Businesses (SRK60), a purpose-built do-it-yourself Wi-Fi mesh solution designed for businesses to resolve known coverage, connection and bandwidth issues.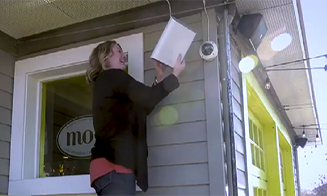 Orbi Pro customer Deanna Bower, general manager at Mo's Breakfast + Burger Joint in Almaden Valley, Calif previously faced a similar challenge with performance issues with her Wi-Fi network that had been described by respondents to the survey. "We were looking for a simple solution that would provide complete coverage throughout the restaurant," said Deanna. "Other solutions provided spotty coverage, especially on the patio. NETGEAR's Orbi Pro and the new Orbi Outdoor Satellite delivered. And the added bonus, it was not complicated to set up."
Today, businesses and their customers rely on Wi-Fi to connect, communicate and collaborate. When asked why Wi-Fi is important to your business, nearly 70% replied that making Wi-Fi available for our clients "improves customer service." Their replies also included "meeting customer expectations" for having Wi-Fi available as well as "helping to attract new customers" and for the hospitality and service industries, "more time spent on the premises." By offering Wi-Fi, businesses can also help establish their presence in the local community, keep customers busy during wait times as well as enabling customer advocacy through social media and provide the capability to gain greater customer insights. 
The survey respondents noted that much of their customer experiences include activities such as streaming music (>49%) and streaming content to big screen televisions (>46%) as well as business-critical functions like wireless point-of-sale ordering systems (>36%), adding a separate guest network (> 32%) and operating conferencing equipment (< 33%),  all of which are made possible by NETGEAR's Orbi Pro solution.
Information systems manager for Surf Air, Charlie Nuttall says that "With Orbi Pro, Surf Air can reap the benefits of enterprise-class Wi-Fi with a single Wi-Fi name, which means there are no more dropped VoIP or video calls as we walk throughout the office. And with the advanced security options and pre-defined networks, such as a separate network for guest access, Surf Air can keep business running smoothly and keep our members happy." Surf Air's statement mirrors that of over 60% of respondents from the survey, who referenced that offering Wi-Fi to their customers is of the utmost importance for their business.
NETGEAR Orbi Pro Wi-Fi system provides a mesh Wi-Fi network, by using a dedicated high throughput wireless backhaul, the patented Fastlane3 technology connects the satellites and the router creating a Wi-Fi blanket that can cover tens of thousands of square feet by eliminating Wi-Fi dead zones and managing congestion with MU-MIMO.
Although mesh Wi-Fi could be a benefit to the majority of businesses, the survey found that nearly 90% of SMBs asked, do not understand how Wi-Fi mesh technology can improve their wireless network experience.
Orbi Pro Mesh Wi-Fi System is the first purpose-built Wi-Fi solution specifically designed for small business owners to install themselves, which provides secure, reliable, and blazing fast Wi-Fi. It is the perfect Wi-Fi solution for commercial locations such as professional offices, restaurants, retail, or bed and breakfast inns, which could benefit from easy to set up expansive Wi-Fi. With Orbi Pro, there is no complex wiring or a need for professional installation and you can avoid the cost of outsourcing your IT.
See the detailed survey results and gain insight on how NETGEAR's Orbi Pro can cost effectively provide a professional mesh Wi-Fi for your business.   At the same time, enter a drawing to win a NETGEAR Orbi Pro Tri-band Wi-Fi system. Visit Bye-bye Bad Wi-Fi.
About NETGEAR, Inc.
NETGEAR (NASDAQ: NTGR) is a global networking company that delivers innovative products to consumers, businesses and service providers. The Company's products are built on a variety of proven technologies such as wireless (Wi-Fi and LTE), Ethernet and powerline, with a focus on reliability and ease-of-use. The product line consists of wired and wireless devices that enable networking, broadband access and network connectivity. These products are available in multiple configurations to address the needs of the end-users in each geographic region in which the Company's products are sold. NETGEAR products are sold in approximately 26,000 retail locations around the globe, and through approximately 23,000 value-added resellers, as well as multiple major cable, mobile and wireline service providers around the world. The company's headquarters are in San Jose, Calif., with additional offices in approximately 25 countries. More information is available from the NETGEAR investor page or by calling (408) 907-8000. Connect with NETGEAR on Twitter, Facebook and our blog.
©2018 NETGEAR, Inc. NETGEAR, the NETGEAR logo, and ProSAFE are trademarks and/or registered trademarks of NETGEAR, Inc. and/or its affiliates in the United States and/or other countries. Other brand and product names are for identification purposes only and may be trademarks or registered trademarks of their respective holder(s). The information contained herein is subject to change without notice. NETGEAR shall not be liable for technical or editorial errors or omissions contained herein. All rights reserved.
Safe Harbor Statement under the Private Securities Litigation Reform Act of 1995 for NETGEAR, Inc.: This press release contains forward-looking statements within the meaning of the U.S. Private Securities Litigation Reform Act of 1995. Specifically, statements concerning NETGEAR's business and the expected performance characteristics, specifications, reliability, market acceptance, market growth, specific uses, user feedback and market position of NETGEAR's products and technology are forward-looking statements within the meaning of the Safe Harbor. These statements are based on management's current expectations and are subject to certain risks and uncertainties, including, without limitation, the following: the actual price, performance and ease-of-use of NETGEAR's products may not meet the price, performance and ease-of-use requirements of customers; product performance may be adversely affected by real world operating conditions; failure of products may under certain circumstances cause permanent loss of end user data; new viruses or Internet threats may develop that challenge the effectiveness of security features in NETGEAR's products; the ability of NETGEAR to market and sell its products and technology; the impact and pricing of competing products; and the introduction of alternative technological solutions. Further information on potential risk factors that could affect NETGEAR and its business are detailed in the Company's periodic filings with the Securities and Exchange Commission. NETGEAR undertakes no obligation to release publicly any revisions to any forward-looking statements contained herein to reflect events or circumstances after the date hereof or to reflect the occurrence of unanticipated events.
Source: NETGEAR-G
U.S. Media Contact: Timothy Polakowski, (408) 907-8069, timothy.polakowski@netgear.com
U.S. Sales Inquiries: (408) 907-8000, sales@netgear.com
U.S. Customer Inquiries: (888) NETGEAR