NETGEAR DEBUTS DIY WIFI FOR SMALL BUSINESSES WITH ORBI PRO WIFI SYSTEM
Affordable, easy-to-install system covers your office or retail site with fast, reliable WiFi without requiring networking expertise, cabling or professional installation
BERLIN — August 31, 2017 — NETGEAR®, Inc. (NASDAQ: NTGR), the leading provider of networking devices that power small and medium-sized business (SMBs), is introducing the Orbi Pro WiFi System to provide growing businesses with secure, reliable, and blazing fast WiFi. The Orbi™ Pro Tri-band WiFi System for Small Businesses by NETGEAR (SRK60) with patented Fastlane3 technology joins the award-winning Orbi Tri-Band Home WiFi System product family as the industry's first purpose-built WiFi solution specifically designed for small business owners to install themselves.
Orbi Pro is the perfect WiFi solution for commercial locations such as professional offices, restaurants, retail, or bed and breakfast inns, which would benefit from easy to set up WiFi. With Orbi Pro, there is no wiring, professional installation, or added IT costs.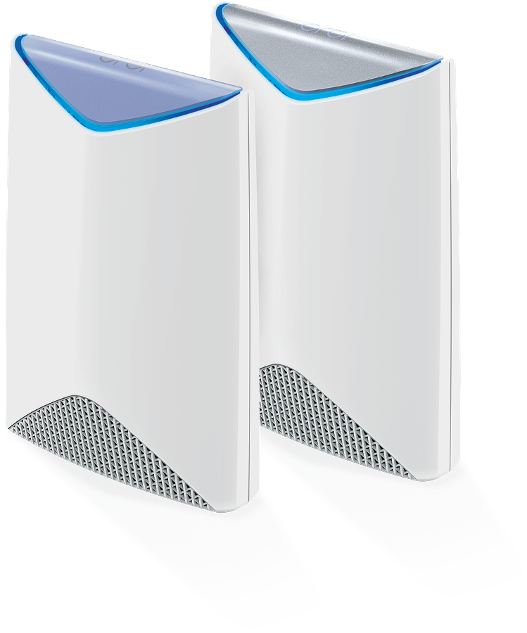 "Many small businesses would find value in having WiFi for their guests, employees and business systems, but the cost and complexity of setting up and managing such a network is beyond their means," explained Nader Attar, senior product line manager for SMB WiFi and Security at NETGEAR. "The Orbi Pro Tri-band WiFi System guided install allows anyone to set up separate WiFi for guests, employees and business traffic. The product is designed to complement office décor and sit unobtrusively anywhere or be mounted out-of-the-way."
NETGEAR's patented FastLane3 Technology is made up of three critical components: (1) Tri-band WiFi, (2) a dedicated WiFi link from the extender to your router, and (3) optimized antenna design. The Orbi Pro Tri-band WiFi System includes an AC3000 router and matching satellite engineered to cover a site of 5,000 square feet, and up to 10,000 with two add-on satellites. With setup and management features that make it easy to add Orbi Pro satellites to cover larger areas, Orbi Pro delivers enterprise-class WiFi and advanced router features with the network performance and reliability a growing business demands.
Admin, Employee and Guest Networks
Orbi Pro comes with three pre-defined WiFi networks for traffic separation: an administrative network for business connectivity, an employee network for internet access, and a guest network for visitors to enjoy the internet.
Admin Network: Designed to provide access to critical infrastructure such as private servers, VoIP systems, or computers that contain sensitive data like patient files, Point of Sale (PoS) terminals, printers, etc. It enables access to the Gigabit Ethernet ports on Orbi for connecting wired devices.
Employee Network: Designed for employee BYODs (Bring Your Own Device) which need access to the internet, but do not need access to the systems on the Admin Network or the Gigabit Ethernet Ports. It has an SSID that is different than the admin network, and its password can be easily changed as employees leave.
Guest Access Network: Completely isolated from the other two networks, it is designed to be used by customers, patients, clients and other visitors. Their devices get access to the internet through a captive portal for only a limited amount of time as easily set by the network administrator.
Orbi Pro delivers the seamless WiFi performance to keep your company, employees, and customers online, for up to 40 simultaneous connections.
Key Features and Benefits of Orbi Pro
Easy setup without wires: Deliver business-class WiFi everywhere without requiring additional, complicated wiring or installation costs
Tri-band high-speed WiFi: Delivers both reliable WiFi coverage and maximum internet speeds even as more devices connect through the fast, dedicated wireless connection between the Orbi Pro Router and Satellite
Blazing-fast 802.11ac WiFi: Supports speeds up to 3Gbps (AC3000*)
Multiple SSIDs: Defines 3 dedicated and completely isolated WiFi networks for your business, employees, and customers
Grows with your Business: Easily extends WiFi network coverage up to 10,0000 square feet with additional Orbi Satellite(s)
Seven Gigabit Ethernet ports (3 on the router and 4 on the satellite): Support wired connections for devices to the Admin Network
Advanced security options: Supports WPA/WPA2-PSK
Flexible placement: Sits on a desktop or can be easily mounted to the ceiling or wall with included mounting solutions
Easy management: Creates secure, personalized, business-grade WiFi in minutes through the Orbi app or any web browser
Pricing and Availability
Orbi Pro AC3000 Tri-band WiFi System (SRK60) for Small Businesses will be available worldwide in the coming month through authorized NETGEAR partners and other reseller channels and ecommerce sites at an MSRP of $499.99 (USD), £479.99 (GBP) and €529.99 (EUR).
More Information
NETGEAR is introducing Orbi Pro at the IFA trade show running September 1-6, where NETGEAR will offer technology demonstrations in Hall 3.2, Booth 202 of the Messe Berlin exhibition center.
Visit NETGEAR for more information on Orbi Pro for Businesses and the Orbi Tri-Band Home WiFi System product family. NETGEAR offers a broad array of other innovative wireless networking solutions designed for small and growing businesses.
About NETGEAR, Inc.
NETGEAR (NASDAQ: NTGR) is a global networking company that delivers innovative products to consumers, businesses and service providers. The Company's products are built on a variety of proven technologies such as wireless (WiFi and LTE), Ethernet and powerline, with a focus on reliability and ease-of-use. The product line consists of wired and wireless devices that enable networking, broadband access and network connectivity. These products are available in multiple configurations to address the needs of the end-users in each geographic region in which the Company's products are sold. NETGEAR products are sold in approximately 31,000 retail locations around the globe, and through approximately 28,000 value-added resellers, as well as multiple major cable, mobile and wireline service providers around the world. The company's headquarters are in San Jose, Calif., with additional offices in approximately 25 countries. More information is available from the NETGEAR investor page or by calling (408) 907-8000. Connect with NETGEAR on Twitter, Facebook and our blog.
©2017 NETGEAR, Inc. NETGEAR, the NETGEAR logo, and Orbi are trademarks and/or registered trademarks of NETGEAR, Inc. and/or its affiliates in the United States and/or other countries. Other brand and product names are for identification purposes only and may be trademarks or registered trademarks of their respective holder(s). The information contained herein is subject to change without notice. NETGEAR shall not be liable for technical or editorial errors or omissions contained herein. All rights reserved.
* Maximum wireless signal rate derived from IEEE standard 802.11 specifications. AC3000 equals 400Mbps at 2.4GHz 802.11n with 256 QAM support + 1733Mbps at 5GHz 802.11ac with 256 QAM support + 867Mbps at 5GHz 802.11ac with 256 QAM support. Actual data throughput and wireless coverage will vary. Network conditions and environmental factors, including volume of network traffic, building materials and construction, and network overhead, lower actual data throughput rate and wireless coverage. NETGEAR makes no express or implied representations or warranties about this product's compatibility with any future standards.
Safe Harbor Statement under the Private Securities Litigation Reform Act of 1995 for NETGEAR, Inc.: This press release contains forward-looking statements within the meaning of the U.S. Private Securities Litigation Reform Act of 1995. Specifically, statements concerning NETGEAR's business and the expected performance characteristics, specifications, reliability, market acceptance, market growth, specific uses, user feedback and market position of NETGEAR's products and technology are forward-looking statements within the meaning of the Safe Harbor. These statements are based on management's current expectations and are subject to certain risks and uncertainties, including, without limitation, the following: the actual price, performance and ease-of-use of NETGEAR's products may not meet the price, performance and ease-of-use requirements of customers; product performance may be adversely affected by real world operating conditions; failure of products may under certain circumstances cause permanent loss of end user data; new viruses or Internet threats may develop that challenge the effectiveness of security features in NETGEAR's products; the ability of NETGEAR to market and sell its products and technology; the impact and pricing of competing products; and the introduction of alternative technological solutions. Further information on potential risk factors that could affect NETGEAR and its business are detailed in the Company's periodic filings with the Securities and Exchange Commission. NETGEAR undertakes no obligation to release publicly any revisions to any forward-looking statements contained herein to reflect events or circumstances after the date hereof or to reflect the occurrence of unanticipated events.
Source: NETGEAR-G
U.S. Media Contact: Nathan Papadopulos, (408) 890-3889, NPapadopulos@netgear.com
U.S. Sales Inquiries: (408) 907-8000, sales@netgear.com
U.S. Customer Inquiries: (888) NETGEAR