The World's Fastest, Most Advanced WiFi
---
Learn more about NETGEAR's selection of Tri-band, exclusive Quad-band, and gigabit routers. Browse the latest WiFi 6E-enabled devices on Nighthawk and Orbi, and compare speeds, capacity, and features.
WiFi 6E Stands Alone
WiFi 6E is WiFi 6, evolved. WiFi 6E technology adds an all-new 6GHz WiFi band— an extra-fast, ultra-exclusive superhighway for today's newest devices, providing the fastest speed and the most device capacity ever, even for the most sophisticated smart homes.


The First WiFi 6E Quad-Band Mesh
Up to 10.8Gbps WiFi Speeds

Exclusive new Quad-band technology with
6GHz WiFi band

Supports up to 200 connected devices

Dedicated backhaul for the fastest speeds
throughout your home


Nighthawk WiFi 6E for every home
Speeds of up to 10.8 Gbps

Tri-band technology with new 6GHz
WiFi band

Multi-Gig internet speeds of up to
2.5 Gbps

Quad-core 1.8GHz processor

NETGEAR Armor advanced security
What does WiFi 6E mean for my kids' generation?
LEARN MORE
What's the Difference Between WiFi 6E and WiFi 6?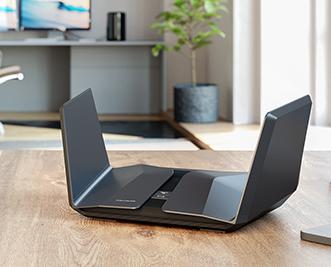 LEARN MORE
FREQUENTLY ASKED QUESTIONS

Trusted for over 20 years.
When you choose NETGEAR, you choose decades of trusted performance.