NETGEAR DELIVERS INDUSTRY'S HIGHEST DENSITY 10GbE SINGLE-NODE NETWORK STORAGE SOLUTION
Powered by enhanced ReadyNAS OS 6.7, new ReadyNAS 4U 60-bay offers lowest TCO for ultra-high capacity of over 1 petabyte for multi-tenant data center service providers, disaster recovery, and IP surveillance storage
SAN JOSE, Calif. — March 20, 2017 — NETGEAR®, Inc. (NASDAQ: NTGR), a leading provider of networking equipment for homes and small-to-medium businesses (SMBs), is launching the NETGEAR ReadyNAS® 4U 60-bay 10GbE Rackmount Network Storage (RR4360X), the highest density rackmount network storage system for SMBs on the market today. With three EDA4000 expansion chassis, the ReadyNAS 4360X offers 1.32 petabytes (PB) of data storage on today's 10 terabyte (TB) enterprise hard disk drives.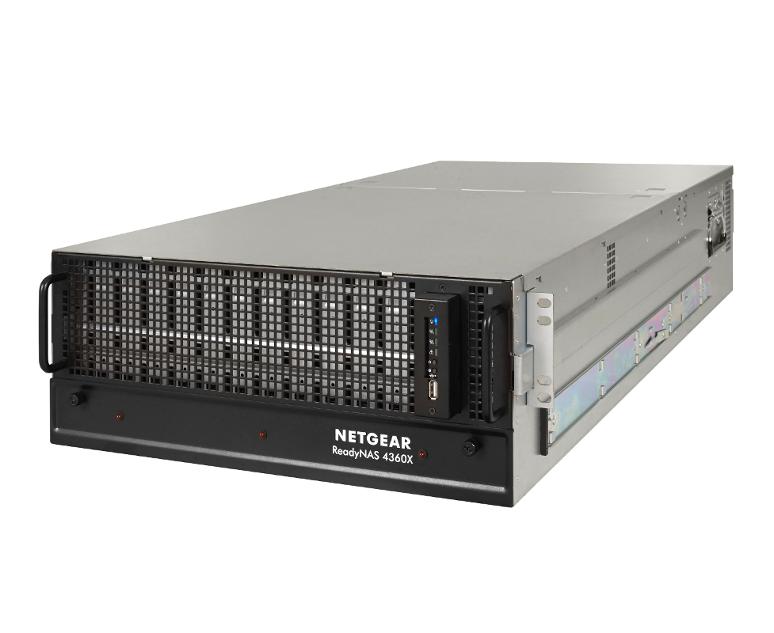 The new ReadyNAS 4360X is ideally suited for businesses that have ultra-large storage capacity needs and demand high levels of data reliability and security. It's appropriate for applications such as multi-service/multi-tenant data center operations, virtual machine backup, disaster recovery backup, archiving and IP surveillance camera video storage.
With 5 levels of unrivaled data protection, ReadyCLOUD® flexible file sharing, and ReadyDR® block-level backup and disaster recovery, ReadyNAS 4360X Network Storage offers outstanding performance and scalability with the industry's lowest Total Cost of Ownership (TCO) for a storage solution in its class. It's also the easiest to manage with the NETGEAR Insight management application for iOS and Android™ that enables setup, monitoring and management from a mobile device.
ReadyNAS 4360X is powered by the industry-leading ReadyNAS OS, now in version 6.7, which enables a flexible RAID configuration for performance, reliability and capacity optimization by offering unprecedented RAID 0, 1, 10, 5, 6, 50 and 60 options. The new ReadyNAS OS 6.7 offers new enterprise-level capabilities such as synchronization with public cloud storage services including Amazon S3, Amazon Cloud Drive, Google Drive and Dropbox. ReadyNAS OS 6.7 also expands capacity of ultra-performance ReadyNAS Rackmount models already on the market —ReadyNAS 3312, ReadyNAS 4312S and ReadyNAS 4312X—by two EDA2000 (12-bay) or EDA4000 (24-bay) expansion chassis.
"Our innovation in storage over the last decade has been to bring enterprise-class functionality to the SMB, without the typical Big IT premium. The new ReadyNAS 4360X for rack deployment is no exception," said Richard Jonker, vice president of SMB product line management for NETGEAR.
"ReadyNAS 4360X is a complete hardware and software data protection solution with exceptional performance in a single backup appliance that combines the highest-density storage capacity with new usability and synchronization features to safeguard the security and privacy of your data, along with the lowest TCO in the industry."
Key Hardware Features of ReadyNAS Rackmount 4360X
The ReadyNAS 4360X keeps up with the demands of high workload virtualization and applications with a high-performance architecture powered by an Intel® Xeon® E3-1225v5 Quad Core 3.3GHz Processor, along with 16GB of DDR4 with ECC expandable to 64GB. The ReadyNAS 4360X is equipped with four 1GBase-T ports and two 10 gigabit per second network interfaces, either 10 Gigabit Ethernet (GbE) copper (RR4360X model) or 10 Gigabit SFP+ (RR4360S model).
ReadyNAS 4360X is housed in a space-efficient rackmount 4U chassis offering SAS or SATAIII selectable hard disk drive interface for all 60 bays to enable IT managers to optimize cost and performance. Its three built-in SAS interfaces can connect to three ReadyNAS EDA2000 12-bay or EDA4000 24-bay expansion chassis. Fully loaded, ReadyNAS 4360X offers a 132-bay single node network storage solution for any business demanding ultra-high capacity and reliability. Supporting 1.32 PB of data, it is the first such solution on the market designed for the SMB to offer this level of density.
New Cloud Options in Enhanced ReadyNAS OS
ReadyNAS Rackmount (RR4340X) is powered by the latest version (6.7) of the industry-leading ReadyNAS OS, which enables a complete, reliable and cost-effective backup platform, starting with its BTRFS File System with 5 levels of data protection:
Flex RAID protection against disk failure while maximizing drive capacity utilization
Incremental backup copies with unlimited snapshots to protect against operational error
Built-in, real-time anti-virus solution
Bitrot protection against media degradation; and
Easy-to-setup cloud-managed replication
ReadyNAS makes the ideal hybrid cloud solution for small business ensuring the cloud and local storage are synchronized. ReadyNAS OS 6.7 helps you backup on-site storage to Amazon S3, or backup your Amazon S3 storage to the on-site storage.The ReadyNAS OS supports automatic bi-direction synchronization between any ReadyNAS model and the data storage offered by public cloud services popular with businesses such as Google Drive, Amazon S3, Amazon Cloud Drive, and Dropbox.
The newest ReadyNAS OS also supports a Docker app so that software developers, businesses, and computing enthusiasts can quickly build, run, test, and deploy distributed Docker container applications
In addition to supporting connections to these commonly used public cloud services, ReadyNAS ReadyNAS 4360X offers NETGEAR ReadyCLOUD® for an instant, secure VPN-based private cloud for local and remote data access for file sharing, without additional costs. Its versatile sync and remote management capabilities enable employees to enjoy the same unified interface regardless of location.
ReadyNAS OS (version 6.6 and above) automatically installs ReadyDR™ (Disaster Recovery), the ultimate backup solution for all mission-critical data for SMBs requiring minimal downtime in any catastrophic event. ReadyDR performs incremental and block-level backup and restore to a second compatible ReadyNAS, ensuring LAN replication of even the largest backup files and databases.
ReadyNAS OS Expands Capacity of ReadyNAS 3312 and 4312
The new capabilities in the latest version of ReadyNAS OS are available for additional models in the ReadyNAS Rackmount Network Storage family. Launched in late 2016, ReadyNAS 3312, ReadyNAS 4312S and ReadyNAS 4312X are 2U rackmount network storage systems with 12-bay capacity of 120 TB and 600 TB of total storage in expansion mode. Now with ReadyNAS OS 6.7, each unit can connect to two EDA2000 (12-bay) or EDA4000 (24-bay) expansion chassis. The ReadyNAS RR4312X has four 1GBase-T network interfaces and dual 10 Gigabit per second ports, either 10GbE copper (RR4312X model) or 10-Gigabit SFP+ (RR4312S model).
Pricing and Availability
The new ReadyNAS 4U 60-bay 10GbE Rackmount Network Storage (RR4360X) will become available worldwide on March 20, at an MSRP of $9,999 for both the ReadyNAS 4360X with two 10GBase-T ports and the ReadyNAS 4360S with two SFP+ ports.
Other ReadyNAS Rackmount devices powered by the new ReadyNAS OS 6.7 are already available worldwide, at the following MSRPs in the U.S. All prices are for diskless models.
ReadyNAS 4312X with two 10GBase-T ports and four 1GBase-T ports; $4,399
ReadyNAS 4312S with two SFP+ ports and four 1GBase-T ports; $4,199
ReadyNAS 3312 with four 1Gbase-T ports; $2,999
More Information
NETGEAR backs its ReadyNAS business-class products with the industry best-in-class 5-Year Limited Hardware Warranty, 5-Year Next Business Day Shipping for part replacement, and multiple support options to provide peace of mind for years to come.
Learn more about the many network storage options in the NETGEAR ReadyNAS product family and determine which one is right for your business.
About NETGEAR, Inc.
NETGEAR (NASDAQ: NTGR) is a global networking company that delivers innovative products to consumers, businesses and service providers. The Company's products are built on a variety of proven technologies such as wireless (WiFi and LTE), Ethernet and powerline, with a focus on reliability and ease-of-use. The product line consists of wired and wireless devices that enable networking, broadband access and network connectivity. These products are available in multiple configurations to address the needs of the end-users in each geographic region in which the Company's products are sold. NETGEAR products are sold in approximately 31,000 retail locations around the globe, and through approximately 28,000 value-added resellers, as well as multiple major cable, mobile and wireline service providers around the world. The company's headquarters are in San Jose, Calif., with additional offices in approximately 25 countries. More information is available from the NETGEAR investor page or by calling (408) 907-8000. Connect with NETGEAR on Twitter and Facebook.
©2017 NETGEAR, Inc. NETGEAR, the NETGEAR logo, ReadyNAS, ReadyCLOUD and ReadyDR are trademarks and/or registered trademarks of NETGEAR, Inc. and/or its affiliates in the United States and/or other countries. Other brand and product names are for identification purposes only and may be trademarks or registered trademarks of their respective holder(s). The information contained herein is subject to change without notice. NETGEAR shall not be liable for technical or editorial errors or omissions contained herein. All rights reserved.
Safe Harbor Statement under the Private Securities Litigation Reform Act of 1995 for NETGEAR, Inc.: This press release contains forward-looking statements within the meaning of the U.S. Private Securities Litigation Reform Act of 1995. Specifically, statements concerning NETGEAR's business and the expected performance characteristics, specifications, reliability, market acceptance, market growth, specific uses, user feedback and market position of NETGEAR's products and technology are forward-looking statements within the meaning of the Safe Harbor. These statements are based on management's current expectations and are subject to certain risks and uncertainties, including, without limitation, the following: the actual price, performance and ease-of-use of NETGEAR's products may not meet the price, performance and ease-of-use requirements of customers; product performance may be adversely affected by real world operating conditions; failure of products may under certain circumstances cause permanent loss of end user data; new viruses or Internet threats may develop that challenge the effectiveness of security features in NETGEAR's products; the ability of NETGEAR to market and sell its products and technology; the impact and pricing of competing products; and the introduction of alternative technological solutions. Further information on potential risk factors that could affect NETGEAR and its business are detailed in the Company's periodic filings with the Securities and Exchange Commission. NETGEAR undertakes no obligation to release publicly any revisions to any forward-looking statements contained herein to reflect events or circumstances after the date hereof or to reflect the occurrence of unanticipated events.
Source: NETGEAR-G
U.S. Media Contact: Nathan Papadopulos, (408) 890-3889, NPapadopulos@netgear.com
U.S. Sales Inquiries: (408) 907-8000, sales@netgear.com
U.S. Customer Inquiries: (888) NETGEAR