What's the Difference Between WiFi 6E and WiFi 6?
Recently, the NETGEAR Nighthawk RAXE500 Tri-band WiFi 6E router became available for purchase exclusively on the NETGEAR Store. While the improvement of the latest WiFi standard is gaining lots of buzz and excitement from tech enthusiasts and early adopters alike, the significance of WiFi expanding to the new 6GHz band might not be as clear to some. After all, the introduction of WiFi 6 is still recent news. Here, we'll dive into both WiFi 6 & WiFi 6E and point out the main differences between the two.
What is WiFi 6?
WiFi 6 (802.11ax) was introduced in 2018, and mainstream adoption of this standard soon followed with the support of many end devices – iPhone, Samsung Galaxy, PlayStation 5, laptops, smart TVs, and more. As the latest wireless standard, WiFi 6 represents improvements from the previous WiFi standard, 802.11ac. Key benefits of WiFi 6 over previous standards like WiFi 5 (802.11ac) include 4x connected capacity, increased data throughput, and faster speeds, resulting in improved performance. This makes WiFi 6 ideal for supporting smart homes with multiple connected devices, 4K and 8K streaming content, large file downloads and uploads, and gigabit internet speed tiers, delivering a more enjoyable WiFi experience.
What is WiFi 6E?
WiFi 6E was announced in 2020. It takes the WiFi 6 standard and expands it into an exclusive, brand-new 6GHz band. This expansion essentially unlocks potential that hasn't been seen since the introduction of 5GHz over 20 years ago. With 3.5x more super-wide WiFi channels, WiFi 6E introduces even more capacity, more speed, and less traffic, making it the ideal networking solution for the hyperconnected smart home.
Today, as we are constantly using WiFi hungry apps, joining video calls for work and school, streaming in 4K/8K UHD, and enjoying AR/VR gaming, our WiFi networks are competing for bandwidth more than ever before. Not to mention the number of smart home devices we use at home is ever-increasing. With WiFi 6E, you can expect less congestion and interference, thanks in part to the 6GHz band being exclusive only to 6E-supported devices, ultimately opening up the potential to unlock many more applications. As NETGEAR's Abhay Bhorkar, Senior Director of Product Management – Connected Home, puts it, "It's like constructing a new, wider, freeway looking at today's congestion and anticipating future traffic growth."
What's the difference between WiFi 6 and WiFi 6E?
The main difference between the two is simply the new, unused 6GHz band. WiFi 6E will still provide you with the fastest speeds and more connected capacity for more devices, but the addition of more spectrum and high-bandwidth channels helps relieve congestion and interference — some of the biggest WiFi issues today. With WiFi 6E, you can expect the smoothest and fastest streaming experience, lower latency, and ultra-fast speeds, giving you the best WiFi experience possible.
Additional differences include:
No legacy devices on the 6GHz band
: The 6GHz band is exclusive to WiFi 6E devices. 6GHz networks don't have to slow down to accommodate older devices. This means that WiFi 6E devices can take full advantage of the bandwidth, spectrum, and speed improvements of 6GHz without competing with any non-6E devices.
Additional spectrum: The 6GHz band supports up to 14 80MHz channels, or seven 160MHz channels. More available WiFi channels means more available WiFi spectrum and less overlap between networks in crowded areas, like apartment complexes or offices.
More high-bandwidth channels: The 6GHz band supports almost twice as many high-bandwidth (80GHz, 160MHz) channels as 5GHz. More available high-bandwidth channels means more capacity for applications like 4K and 8K streaming, virtual reality gaming, and high-definition video conferencing.
No DFS scanning required: Unlike 160MHz channels in the 5GHz wireless band, devices operating in 6GHz don't share the spectrum with radar devices or TV stations. As a result, people who cannot take advantage of 160MHz channels because they live near places like airports or TV stations can benefit from vacant 160MHz channels.
Supports WPA3 WiFi security protocol: WPA 3 is mandatory for all WiFi 6 Certified devices operating in 6GHz. WPA3 is the latest Wi-Fi Alliance security certification. WPA3 provides the latest in security and authentication protocols. As a result, 6GHz WiFi traffic is more secure than ever and 6GHz networks are more difficult to hack.
What does the future hold for WiFi 6E?
While some might question how soon they'll be able to take advantage of the 6GHz band, it's safe to say that end devices may be on their way sooner rather than later. As leaders of smartphone technology, Samsung announced earlier in the year that the Samsung Galaxy S21 would be WiFi 6E ready at the time of its release. Additionally, Samsung recently announced that its 2021 Neo QLED 8K TVs have earned the world's first WiFi 6E certification from the Wi-Fi Alliance. Vizio's M-Series and V-Series smart TVs also support WiFi 6E. And if that doesn't already excite you, according to Tom's Guide, this summer we can expect WiFi 6E devices ranging from mesh systems, routers, laptops, tablets, phones, AR headsets, and more!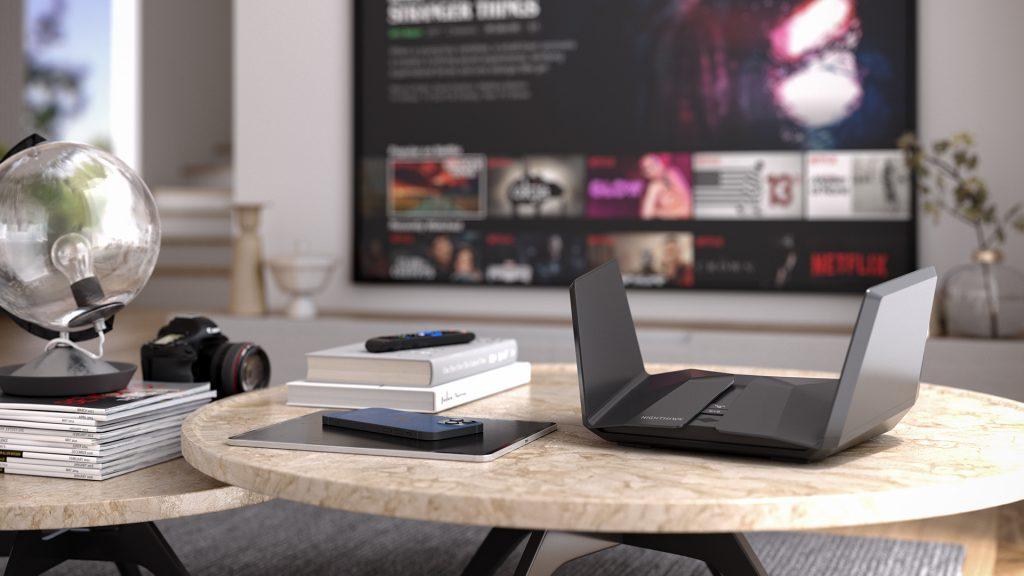 Click here to learn more about WiFi 6E!
Click here to learn more about the RAXE500 Tri-band WiFi 6E Router!
Are you planning to upgrade your WiFi network to WiFi 6E? Tell us in the comments below!