5G WiFi 6 Mobile Router (MR5200)
Nighthawk M5 5G WiFi 6 Mobile Router
5G WiFi 6 Mobile Router (MR5200)
Nighthawk M5 5G WiFi 6 Mobile Router
BEST PERFORMING WiFi WITH 5G - The Nighthawk M5 Mobile Router is powered by the Qualcomm® Snapdragon™ X55 Mobile Platform to deliver premium performance and groundbreaking speeds*. With the latest WiFi 6 technology, enjoy more capacity for connected devices anytime, anywhere. Unlocked device accept SIM cards from all 5G & 4G LTE network operators.
5G Network for Home Internet
If Fibre, DSL, or Cable Internet speeds are not optimal in your area, use the cellular network as your primary internet connection. Simply connect your 5G Mobile Router to your existing home router or mesh system via the ethernet port, or pair wirelessly with a mesh extender to deliver 5G speeds into your home network and all your devices.
Secure WiFi for Work or Play
Keep your entire family or business teams connected to reliable, secured WiFi on 5G speeds. Perfect for traveling or mobile staff on the go, from service technicians to first responders - access secure WiFi wherever your work takes you.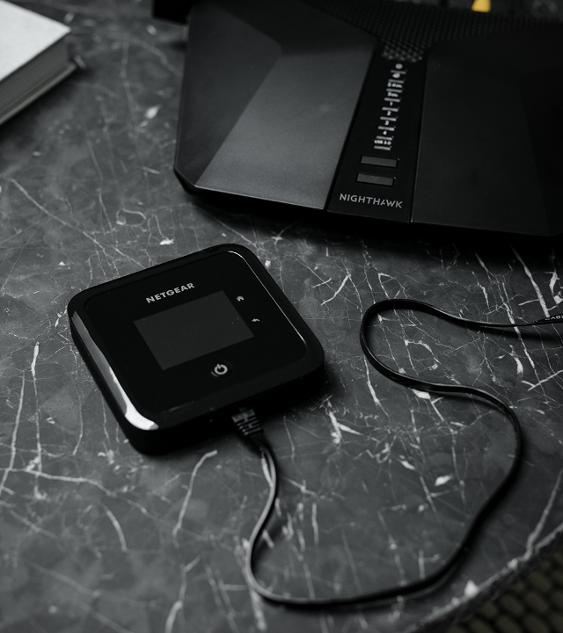 5G + WiFi 6
Coupled with the latest WiFi 6 technology, the fastest 5G speeds are shared with WiFi devices of today and tomorrow, with up to 4X more capacity than AC WiFi.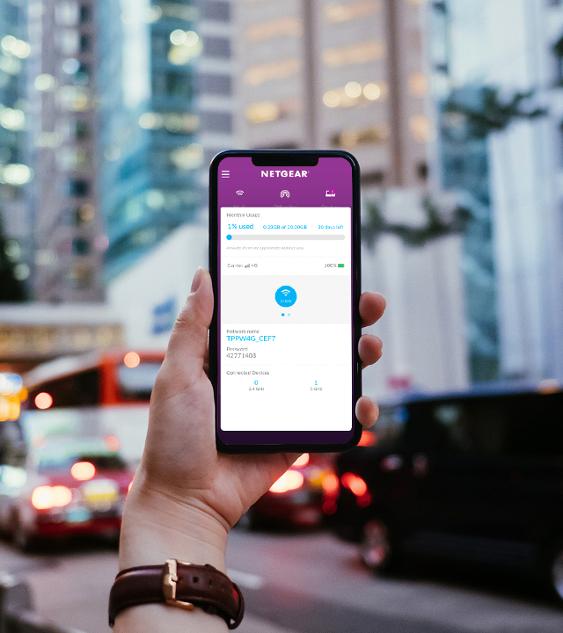 NETGEAR Mobile App
Manage your NETGEAR mobile router from the convenience of your smartphone or tablet. Track data usage by month and session, check the status of your WiFi connection, and battery life in real-time. You can also offload to WiFi or Ethernet, turn off your mobile router or hotspot, enable Dual-Band WiFi, beep your mobile router or hotspot, and view and play media files.
Super-Fast 5G Speeds
5G delivers blazing-fast speeds so you can stream, browse, download, and more without slowdown.
WiFi 6
With increased capacity, enjoy faster speeds for simultaneous high-end video streaming on up to 32 WiFi devices.
Fixed Wireless Options
If wired internet is not optimal in your area, use 5G as the primary internet connection for all your devices at home or the office.
Secure and Reliable Network
Avoid the dangers of connecting to public WiFi. The Nighthawk M5 is equipped with VPN pass-through support and password protection.
Flexible Battery Operation
Stay connected for up to 13 hours on a single charge – or remove the battery and plug into the wall for all-day use.
Simple Control via the App
With the NETGEAR mobile app, you can offload to WiFi or Ethernet, track data usage by month and session, manage guest WiFi, and customize WiFi settings.
NETGEAR Insight for M5
Device configuration and ongoing monitoring and management of mobile hotspots for always-on Internet access anywhere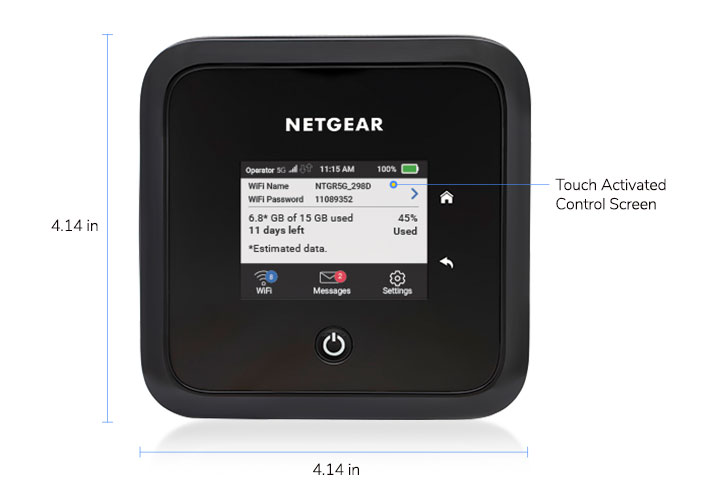 5G WiFi6 Mobile Router (MR5200) :

Dimensions: 105mm x 105mm x 21.5mm, 4.14in x 4.14in x .85in. Weight: 240g (.54lb) with battery
TECHNOLOGY/BANDS :

Latest 5G Technology: 5GNR Sub 6 GHz (NSA). Supports LTE CAT 20, LTE Advanced, 4x4 MIMO, 256QAM. Always-on connection you can count on and connect up to 20 devices. Increase network performance and reduce interference with 802.11ax (WiFi6), 2x2 MIMO and 2.4/5GHz Standalone. IPV6 Support

CHIPSET :

Qualcomm SDx55

WiFi :

2x2 + 2x2 11ax/ac 80 MHz DBS. 11ax: SU + Beamforming, 1024 QAM. 11ax: BSS Color, Extended Range STA. 802.11a/b/g/n/ac/ax

Max Throughput (PHY) :

1.2Gbps on 5GHz. 600 mbps

DATA USAGE METER :

Manage your data and how much you use

Max Theoretical Downlink Speed :

Ethernet : Close to 1Gbps. WiFi : 11ax can support up to 1.2Gbps

USB 3.1 Gen-2 tethered/Sub 6 NSA: RNDIS :

Close to 2.5Gbps. RMNET: Close to 4Gbps
Footnote :

*Actual throughput will vary depending on your internet subscription with your provider. The transfer rate may be reduced by the volume of network traffic or your service plan. The transfer rate may also be reduced by the service provider's specific network implementation.
Footnotes:
*Actual throughput will vary depending on your internet subscription with your provider. The transfer rate may be reduced by the volume of network traffic or your service plan. The transfer rate may also be reduced by the service provider's specific network implementation. ††Actual battery life will vary depending on network and environmental conditions, device used, content streamed and device settings